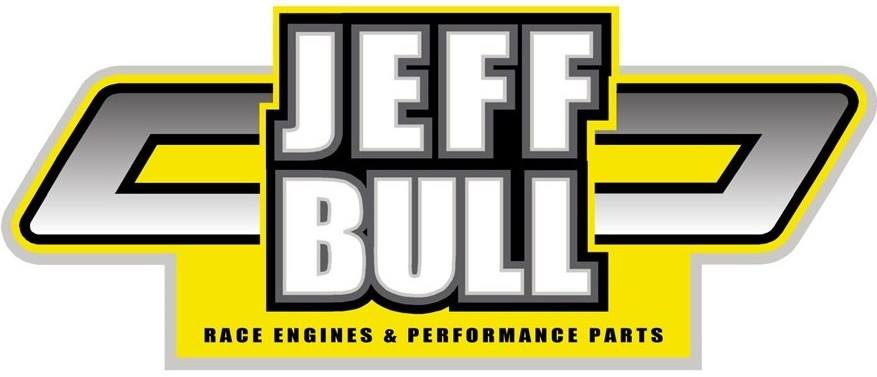 Wheatley's first OFF win.
28th July: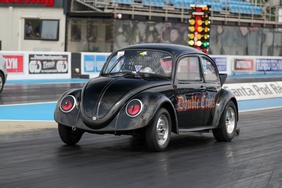 Dave Wheatley, winner of Outlaw Flat Four at Bug Jam, had to overcome a long journey and mechanical issues in order to compete, but overcame these problems to win the class's first eliminator of 2021.

Dave told us: "I started racing on airfields in 2012 and built up a business called Bugbitz in Armagh restoring VWs and building engines. I joined the VWDRC and started to race at Bug Jam and VW Action. I've always loved the festival events because there is always something to do, even if it rains! During 2017 I raced at Avon Park with VWDRC and the car was running in 11s. At Bug Jam in 2019 I made a fluky 10.9, just below the 10.99 cut-off for Outlaw Flat Four.. But I never got the car running right and it was stuck in the mid-11s.

"During 2019 and the Covid-affected 2020 I didn't race as my daughter was studying and eventually started at the University of Stoke on Trent. I had a chance to drop her belongings in Stoke and race the car at Bug Jam! So we left Armagh at 11pm on Wednesday and took the three hour Stranraer ferry, arriving at Santa Pod at 11am Thursday after 450 miles travel.

"My Beetle has a lot of stock parts which I've modified. The turbo 2.1ltr cases are is from a T25 van with the water cooling parts removed and I made the cylinders using ductile iron, you can see pictures of the result on my Bugbitz web site. I did most of the machining myself. The cylinder head is modified to fit the cases, the turbo is a HX35/40 hybrid 110mm. I did have normally aspirated engines but breaking them is very expensive!

The crank is a stock 76mm one and a friend honed the cylinders, the pistons are Wiseco and rods are by Scat. The engine runs on E85. The gearbox is from a Type 1 which I strengthened a bit by welding some webbing around it. The innards are good, however many others run stronger van cases.

"Otherwise the suspension is standard, with stock torsion bars and 20 year old shock absorbers with stock driveshafts. The car is a floorpan with roll cage and the body has fibreglass wings and doors, the remainder being double skin steel, overall it weighs 700kg.

"The main issue was preventing the gearbox and drive train components breaking. My strategy was to start the event with 25psi in the rear slicks and passing up the burnout, driving around the water box. This resulted in us proving the power of the engine allowing us to tune it. The tyres were spinning in first and second, but I was pleased that the second half of the pass was quicker than other Outlaw cars. I set new PBs on each qualifying run and my final one was my first nine, 9.8955/142.13. This was achieved with a two step launch which lowered my 60 foots from 1.7 to 1.4, however for eliminations I chose to stay with the two step but at a less aggressive rpm setting. The staging for quarter final wins was a bit odd but the car went 10.009/140 against Jonny Marriage and 10.395/137 over a broken Darren Shephard in the final.

"My thanks go to tuning guru Mark McCabe of Elite Motor Performance, Liam on spanners and Steve who kept the car gleaming, they all came over with me and helped with funding. It was my first time in eliminations as before I had breakage, but hope it won't be long before I travel over the Irish Sea to compete again at Santa Pod".

Big NSS entry at Mopars.
28th July: Many thanks to Nostalgia Superstock organiser Don Scott for letting us know that the class entry for the Mopar Euro Nationals has reached levels not seen since…er…Dragstalgia three weeks ago.

"Nostalgia Superstock have another fantastic entry of 48 cars (I know it only says 46 on the SP website but there's a couple of late entries) at the Mopar Nationals, also a little surprise for everyone, there will be a car tagging on the back of our class in the pairing lanes, not in competition, just testing but should be quite a sight". We have no idea what Don is talking about.

Welcome James Sweeney, Howard Holmes, Shelby Watts and James Ellis who will be making their competitive debut in the class this weekend and welcome back to Craig Elliott and Mick Elsworth who will be racing competitively for the first time since 2016 and 2017 respectively.

UMC becomes DFR.
28th July: Thanks to Travis Smith for sending a report of the newly merged Dual Fuel Racing team racing in Hutchinson & Dibley Sportsman ET: Well, what a couple of weekends it has been for Dual Fuel Racing, our first event under our new name previously United Modified Cruisers. Not only did we re-brand but we gained a great team member Carl Magedera driving Kuki the Tesla.

At the Summer Nationals, Carl placed 2nd in qualifications and Steve Mellors driving Hulk MX5 placed 3rd. It was time for eliminations, where Steve unfortunately red lit in round 1, however Carl smashed it coming second to Felicity Gibbs who took the number 1 spot.

Dual Fuel Racing driver Steve stayed on at the pod to repair Hulk MX5 and help Santa Pod Raceway. Set up for Bug Jam 34 with the VWDRC guys. We had a ball of a time helping out securing the pits, setting up the Bug Wam and a few other bits.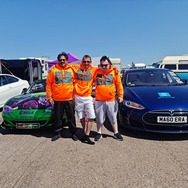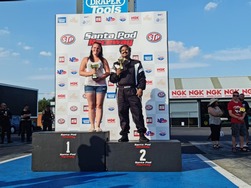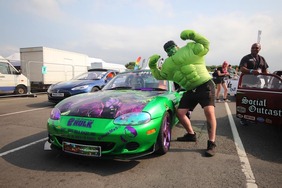 Then it was time for Bug Jam. Both drivers tested on the Friday ready for qualifying round 1, Carl placed 9th and Steve 10th. After participating in the human powered race wearing the Hulk suit, Steve got back to the pits ready for qualification runs, with a twist. Team member Dillon Window took the suit and lined Hulk up in true Hulk style really getting the crowd behind Hulk MX5.

In eliminations Carl won his first round and then was knocked out in round 2 , Driver Steve Mellors ran a side by side run in E1 with Jon Crawford of Crawford Motorsports what a race it was, the cars were right next to each other all race, then in eliminations round 2 Steve won due to Gill Medley unfortunately red lighting and then breaking out.

It was quarter finals time and Steve lined up against Rob Creswell however the gearbox let go when trying to select 3rd and had to go straight to 4th gear. We are nevertheless still very happy on how both drivers raced during both weekends. Steve Mellors clearly has the racing bug he wants to go faster alot! Faster. Give the team and cars a follow on Instagram Dual Fuel Racing will be back at the Greenlights, we might even bring Hulk out again. A huge thank you to everyone that got behind the cars this weekend!

Swift snippets.
28th July: Photographer Alice Fairhead has posted 344 photos from Bug Jam 34 to this Facebook Gallery. Alice's desciption of the event, which we echo, was "What an amazing weekend!"

Car signing on and scrutineering at SPRC events.
27th July: Many thanks to to Santa Pod Racers Club Secretary Ian Marshall who has sent details of signing on and scrutineering for car classes for the remainder of the season:

Following further changes to the current requirement for car scrutineering, it has become necessary to continue with the current Signing on and Scrutineering Declaration for the remainder of the 2021 season. This includes the Green Light Nationals: if you race a car and have already entered the Green Light Nationals prior to the 27th July, please follow this link to also complete the MSUK form. You do not however need to complete the track and trace element of the form, just the declaration for signing on and scrutineering. For the remaining two events in 2021 (Euro Finals and National Finals), the entry form will now include the declaration.

To summarise, Bike racers do not need to complete this form. Also, Junior Dragster entrants do not need to complete this form as you will sign on and scrutineer as normal.

But, if you completed your entry before 27th July, please complete the form. After the 27th you will not need to complete the additional form, it is now part of the entry form. You do not need to complete the crew information/contact details sheet.

Three threes are...
27th July: Top Fuel racer Susanne Callin of Slick Tricks ran times of 3.9556/267.09 on Friday and 3.9919/250.85 with an evening 3.9866/264.93 on Saturday at Bug Jam last weekend. They were tremendous performances as the team's Facebook video (click on image) shows. Also, we gather from team member Gary Page that damage was limited to only a repairable crank and a blower belt over both days. How big an achievement is that, running three 3-second Top Fuel passes in a single event?

Looking through past race reports, have found only one other European TF racer who ran their first three and followed it up with two more consecutive 3-second passes at the same event. At the Scandinavian Internationals at Tierp in August 2013, Anita Mäkelä ran her first three, 3.9747 in Q4 and followed it up with 3.9683 and 3.9909 in E1 and E2. So Susanne's achievement is remarkable, the first time ever that a maiden three second pass has been followed up by two others at Santa Pod Raceway. It also places Susanne in a strong position for next year's FIA Championship that, after two years, teams and fans will be looking forward to with relish.

Ida's Top Fuel baptism.
27th July: Ida Zetterstrom has kindly given permission to publish her Sunday post describing her Top Fuel licensing at Santa Pod at Bug Jam:

"Just got back to our room at the airport hotel after a great weekend at Santa Pod Raceway working on my Top Fuel license. The weekend was super!

"My first time in a Top Fuel car and it can't really be compared to anything else out there, it's definitely incredible. I've done everything needed for the licensing except backing it up with a full 1000ft pass, weather today didn't cooperate and the track was very cold so we didn't run anything today.

"But I did get a fantastic run to the 1/8 mile yesterday with a 0.83 60ft and a 3.07 to the 1/8 mile, straight as an arrow! The run after was gonna be a try for the 1000ft but a cylinder out and tire shake took it away and made me drift towards the wall instead. I've experienced both tire shake and wheel spin and I've learned so much this weekend!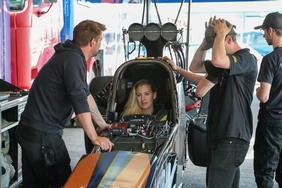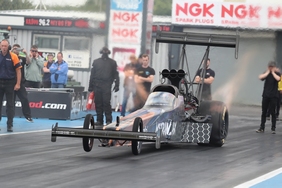 "I had an amazing team around me that made me feel both calm and confident in the car, I couldn't have had it any better. What an experience, now I want back to continue soon, I want to get a replay of that 3.07 run and take it all the way to the stripe".

Ida's boyfriend who works for Ida's sponsor Mstrand.ax, also known as construction company Eklunds Bygg, Super Street Bike racer Kim Hilander, said "This has been a weekend I never will forget, some hard work and awesome people arround the car! I learned a lot about these cars and I think it has worked really good. Thank you for this everyone, and of course Ida is badass for doing this!"

Post-Bug Jam points posted.
22nd July: Many thanks to Yvonne Tramm for forwarding the latest points standings in the UK National Drag Racing Championhips and SPRC Club Championships after Bug Jam 34. You can check out the UK and SPRC points on our points standing pages by clicking here, or by clicking the Points Standings link under News in the main menu above.

Hodson's big Bug Jam haul.
27th July: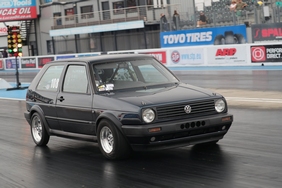 Many thanks to Bug Jam VW Pro winner James Hodson for telling us the story of how he got on at the race with a new engine, eventually overcoming his problems and winning the big cash prize fund on offer after VW Pro were allocated it in a class shootout:

I arrived at Bug Jam second in the points but still with an unhappy engine. I had to change it two rounds ago as my 17 year old race engine finally said enough was enough. It is a slightly different spec and I haven't been able to get it remapped on the rollers yet. On top of that the nitrous wasn't working. We had our annual Pro vs Sportsman competition at lunch on Saturday. I unfortunately lost my round but Pro did win overall so all money would go to the winner of Pro.

In qualifying I came 10th with a disappointing 12.6. Saturday night, and a couple of beers in, my crew chief Noel Sosso and me decided to try and fix the nitrous. Repositioning the activation switch worked and we were good to test in the final qualifier on Sunday morning. Well, after a panic that I had lost the ignition key overnight! Thank you to who ever found my key in the dance tent and handed it in to security. Disaster avoided. Phew. Final qualifier and the gas was working. I ran a 10.49 which was great although it was on a 10.50 dial in!

Eliminations came and after some cracking races I made it to the final against Adrian Solly, VW Pro points leader. I had gear change issues but that didn't matter as Adrian broke out handing me the win and all the Pro vs Sportsman competition winnings! Am now just 80 points behind with 2 rounds to go. Bug Jam 34 was a truly fantastic event and I thank Santa Pod and all the staff for a great weekend. I'd also like to thank crew chief Noel Sosso and the whole of the VWDRC.

Swift snippets.
27th July: All of us at Eurodragster.com would like to wish our good friend the currently unfired Drag Race Union organiser Markus Münch a very Happy Birthday. Have a great day Markus.

Wild Bunch racers Matthew Hollins and Alan Skipp, previously known for their Ratchet Strap slingshot, have announced they are the new owners of The Villain body and chassis. Best of luck to Matt and Alan for getting the car back on track in the future.

The web site Chronicles of Boost has published a well-written article in English about Dutch Pro Modified racer Marck Harteveld, the history of his team, what drag racing means to him and his ambitions in the sport. Well worth a read.

Our good friend Lena Perés has written a preview of the August meeting at Tierp, now titled the Summit Racing Scandinavian Nationals, at www.dragracingeurope.eu. The final registration date is tomorrow.

Event entry update.
26th July: Many thanks to to Santa Pod Racers Club Secretary Ian Marshall for posting version 1 of the entry list for the STP Greenlight Nationals on 21st-22nd August. A reminder that event entry at normal rates closes this Friday, 30th July.

The Greenlight Nationals is a National or Club Championship round for the following classes: Comp Eliminator, Super Comp, Super Gas, Super Pro ET, Pro ET, Sportsman ET, Street Eliminator, Outlaw Anglia, Nostalgia Super Stock, VW Pro, VW Sportsman, Wild Bunch, Outlaw Flat Four, Junior Dragster, Pro Stock Bike, Funny Bike, Comp Bike, Super Street Bike, 8.50 Bike, 9.50 Bike, Super Twin Top Gas, ET Bike and Junior Drag Bike. Racers may enter for the Greenlight Nationals by going to this link on santapodracersclub.com.

Bug Jam results.
26th July: Congratulations to the winners at Bug Jam at Santa Pod Raceway over the weekend:

VW Pro: James Hodson 11.5268/98.84 (10.50) def. Adrian Solly 11.1731/124.23 (11.30) breakout
VW Sportsman: Paul Day 16.8713/63.21 (13.30) def. Rob Creswell 13.7718/102.16 (13.90) red
Outlaw Flat Four: David Wheatley 10.3957/137.41 def. Darren Shephard, broke.
Hutchinson & Dibley Sportsman ET: Dan Holloway 16.3468/79.65 (16.25) def. Gary Lake 14.2633/95.23 (14.20)
Topspeed Automotive Street Eliminator: Andy Bond 7.5812/206.29 def. Al McSweeney 14.4422/75.55
Lucas Oil Junior Dragster exhibition: Caitlin Wilson 8.0514/81.66 (8.02) def. Jacqueline Bartlett 8.0759/79.79

For Supercharged Outlaws see the report below from sponsor Andy 'Fadster' Hadfield.

There were a variety of vehicles carrying out exhibition passes. Quickest were the three 3s passes by Top Fuel racer Susanne Callin, incredible performances in the conditions. Ida Zetterström from Åland, Finland, made licensing passes with only a full run now required before being granted a TF license. We will be publishing tomorrow her thoughts on the weekend. Nostalgia Funny Car racers, Jet cars, Gasser Circus cars and a pair of Junior Dragsters completed the exhibition line-up.

Subject to official ratification the following records were set. Congratulations to:

Motorsport UK Street Eliminator: Andy Bond 212.88mph

Many thanks to Andy Marrs who has updated his table of UK and European bests which you can check out by clicking here or clicking on Data, then UK European Bests at the top of any Eurodragster.com page.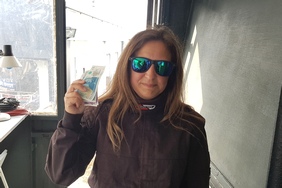 Congratulations to Hutchinson & Dibley Sportsman ET racer and Eurodragster.com member Kirstie Tramm (pictured right) who won the Eurodragster.com/Team Twister Perfect ET Award supported by Andy 'Fadster' Hadfield of £50; the award has been reset to £50, and is next available at next weekend's Mopar Euronationals. The Eurodragster.com/Bad Habit Racing Perfect Light Award supported by Cath and Tig Napier, went unclaimed and rises to £75 at the Mopar Euronationals.

Thanks to David Anniwell of the Santa Pod Timing Crew for sending us detailed timing data which we have posted to our timing data area which you can see by clicking on Data, then Timing Data at the top of any Eurodragster.com page. Official results can be seen at Santa Pod's Official Results Site.

You can check out our John Woolfe Racing-sponsored Festival of Power reports, results and galleries by clicking here or by clicking on the Event Coverage link at the top of any Eurodragster.com page.

Please join Simon in thanking Julian and Diana for their hard work over the race weekend, and many thanks to those who gave feedback on our coverage.

Supercharged Outlaws at Bug Jam.
26th July: Thanks to Perfect ET Award sponsor Andy 'Fadster' Hadfield who has posted a report on the Supercharged Outlaws at Bug Jam:

This is the first time the Supercharged Outlaws UK have been invited to Bug Jam and what an event! We had a nine car field, comprising Mike Couch, Keith Freeman, Andy Fadster, Gary Parkes, Luke Watts, David McCallan, Aaron Windridge, Paul Dale and Steve Clarke with Nigel Rigden making their S/O debut in the Good Guys Topolino.

The action was thick and fast with Keith Freeman (below left) and Luke Watts (centre) grudge racing most rounds and swapping the win back and forth, PB's being nudged bragging rights being swapped.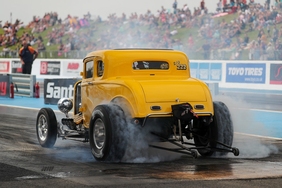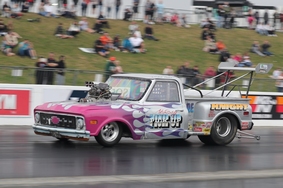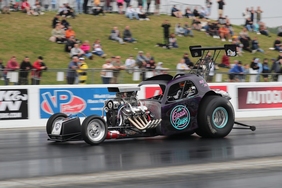 Nigel Rigden and Steve Clarke were alternately driving the Topolino (above right to get some seat time and running into the 9.50's to get into the class index with room to spare, lots more to come from this tidy operation.

Aaron Windridge ran the Tiki T (below left) through to a useful 8 zero pass but the team have some work to do on the blower intake to make the combination work, again there is a lot more to come from the new set up.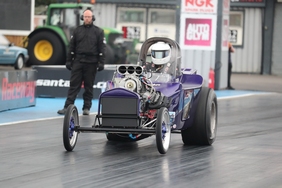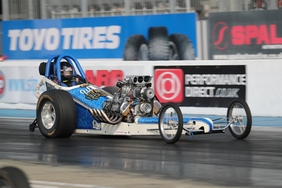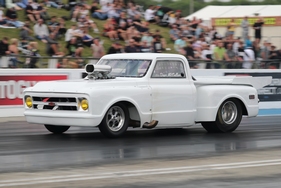 Mike Couch ran the Lil Hemi (above centre) to a new PB of 8.7 but has hit the limit with the rear gears, time to swap them out and chase that low 8. Always smiling Mike was thrilled with the numbers achieved.

Mr Consistent, Dave McCallan, kept hitting the numbers in his super quick C10 (above right) with no dramas and providing the fans with some superb racing.

Having solved the oil pressure issues, Gary Parkes (below left) had a good weekend's racing but the altered is now overpowering the single chute and giving Gary some eye opening shut down action...... twin chute time!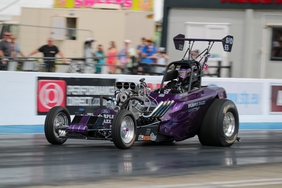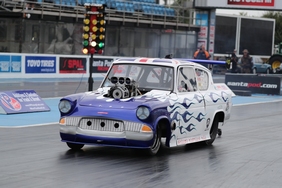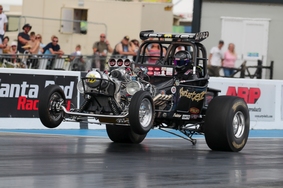 Paul Dale ran a new PB of 8.3 in the Acute Angle (above centre) but finished the weekend with an annoying misfire, the team working hard to track down the problem but I'm sure it'll be back on form for the next round.

Andy Fadster is still trying to get Twister (above right) to launch so there were no PB's but some challenging runs to net a 7.6 run. MPH was always there and showing the power this new set up has. Many plans afoot to get the tyres to plant.

Entertainment at this event was amazing and the atmosphere incredible, I very much hope Santa Pod Raceway invite us back to compete and provide the spectacle for which we are renowned.

Thanks to all our fans and friends for coming to the pits and sharing laughs with the teams and lastly to the track marshals, they keep us safe and always with a smile on their face.

Next Santa Pod Raceway event for the group is Hot Rod Drags.

Lydden Hill No Prep report, gallery.
26th July: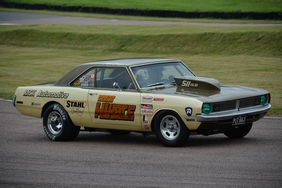 Lydden Hill Race Circuit in Kent dipped its toe into No Prep at this weekend's Custom Cup. Whilst we worked to bring you the Bug Jam news, our former News Editor Tog overcame his circuit reluctance and went along to enjoy some grass-roots drag racing:

As you will see from the gallery of photos from the event, there was an impressive turn-out of cars. Some were regular attendees – the Taz Racing team really should get an award for their ceaseless support of events such as this – but there were a number of racers whom I guessed were Lydden track day enthusiasts.

Making its racing debut in its new owners hands was Mick Sharpe's just-acquired classically-styled 1971 Dodge Dart which is already sporting a Nostalgia Super Stock number. Herb Andrews said that the car is street-legal and that Mick had in fact driven it to a show in Brighton very recently. I also met longtime racer Dave Gibbons who mentioned that he was looking at selling his fabled Rough Diamond altered; if you fancy an eight-second car with some great history then get in touch with Gibb.

The racing surface started right on the end of a bend, necessitating an immediate but very slight left turn upon launch, and then headed uphill; the track initially appeared narrow to my eyes but once two cars were side-by-side it was clear that there was plenty of room – this is plain to see in the gallery.

The first session started with byes to allow racers to get used to the track but then in the later sessions the majority of runs were singles with not that many pairs. It could have been coincidence but it appeared to me that the pairings were between racers with a lot of experience in running side-by-side. Having said that, there was a single track-wide set of timing equipment so maybe those on singles were Lydden regulars being timed as part of the larger competition.

The track held most of the cars. There were some heroics – a few good driving jobs especially by Taz Racing who are used to such things and Mick Sharpe chose to eschew drifting on a couple of occasions – but as you would expect from experienced racers there was no stupidity.

The weather mizzogs got one in the eye again as apart from a few sprinkles which almost without exception fell during planned breaks it was dry and mild, and indeed hot when the sun broke through.

A big Well Done to Lydden Hill Race Circuit for giving No Prep a try; a little bird tells me that they have already decided to do it again which is great news. I can see this taking off not least because the track is so easy to reach, being next to the A2 a few miles from Dover. Paul Marston and the No Prep team also deserve a big pat on the back as do the racers who repeatedly support the events. Personal thanks to Reuben Elman at Lydden Hill for his help and to Paul Marston and the No Prep team.

You can find the Lydden Hill No Prep gallery, which is presented in association with John Woolfe Racing, by clicking here or by clicking on the Event Coverage link at the top of any Eurodragster.com page.

The next No Prep event is at Melbourne Raceway on 7th-8th August and you can find out more either here on Eurodragster.com News or on Facebook at No Prep Drag Racing.

(Pictured: Mick Sharpe's '71 Dodge Dart, photo © Tog)

Dutch PM teams for Tierp.
26th July: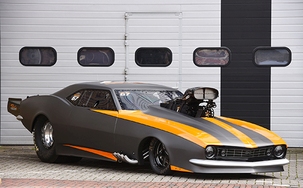 Many thanks to our good friend Remco Scheelings who has contributed an article to www.dragracingeurope.eu about Vegter Pro Mod Racing's plans to visit Tierp to compete at the Summit Racing Scandinavian Nationals.

Prior to the race the team will pay a visit to European Pro Modified record holder Andreas Arthursson's company PPF Racing. "PPF have a test facility capable of simulating the whole run over the quarter mile, including shifting through all the gears. "It's a great way to collect data and to find a good set-up without having to make many expensive runs at the track," said team owner David Vegter.

Vegter Pro Mod Racing have been working with the Dutch company and Eurodragster.com sponsor Post & Dros Performance Parts, the European distributor for leading brands like Racepak. David and his team will take a wide range of Racepak parts to Tierp Arena and can deliver parts there to teams who placed orders with Post & Dros.

Dutch Pro Mod teams have been particularly hard hit by the travel restrictions brought about by the Covid pandemic, without a permanent champsionship standard home track to run on. David Vegter's team will be joined at Tierp by Marck Harteveld and Michel Tooren, and we fervently hope the three teams, along with many Scandinavian teams, will be able to travel unrestricted to the UK in September.

M&M Racing's Summer Nationals.
26th July: Many thanks to Dave Turner for sending us a report of brother Mark Turner's Summer Nationals at which he switched on his Toyota Supra's nitrous for the first time:

STP Summer Nationals turned out to be the hottest ticket of the year so far (not just for the cars) as reported a couple of weeks ago we had taken the decision to fit NOS to the M&M Racing Supra and to say it worked would be the understatement of the year! Straight out the trailer the car went 8.63 @ 153 mph which was an improvement of 0.55 on our previous best ET with only a 100 shot of gas! This meant that we had gone from being just outside the Super Pro ET to fully entrenched in it, now all we had to do was get a number on the board as we had underestimated our dial in (8.80), oh well, we had two more shots and finished up 11th.

Sunday morning saw us paired up against Bob Doyle in his lovely 240Z who had qualified 3rd, well this meeting brought an end to our weekend as Bob cut a great light and held us off for the win. But after 4 runs with the new combination, we now have ourselves an 8 second Supra, video of which you can now find on our YouTube channel M&M Racing.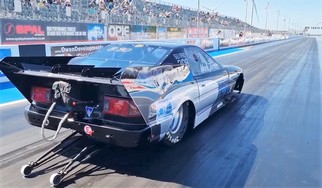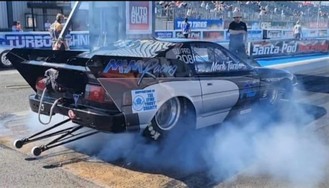 We want to say thanks to everyone that's helped and supported us achieve our eight second goal starting with the Crew Michelle, Dave, Paul, Kieran T and Kieran B, Also to Colin Millar, Jedd Guy and Jeff Bull for their guidance with the nitrous system. To AD Coach Systems Ltd and Scope Automotive Ltd for their support for the team.

Some of the sharper eyed may have noticed new decals on the rear quarter of the car? This is to show our support for the Lyme Trust a charitable organisation based in Newcastle under Lyme, Staffordshire. The Trust provides support and accommodation for people living with mental health issues. Alongside aiding people with drug and alcohol addiction. The Trust aims to provide a safe, stable and comfortable environment in which residents have access to high levels of support and a good quality of life.

So, we now look forward to the STP Green Light Nationals over the weekend of 21st and 22nd of August.

Swift snippets.
26th July: The Mad Welshman has updated his Flickr site with two large albums from Dragstalgia covering a total of 254 images, which can be downloaded as hi-def copies. You can check out Mad's pictures at this link.

We wish a Happy Birthday to Nitro Junkie and Top Fuel Bike racer Kevin Charman, have a great day Kev!

Lydden Hill No Prep this weekend.
23rd July: This weekend at Lydden Hill Race circuit in Kent, the Custom Cup event will run on 24th-25th July with a No Prep race on Sunday 25th. Paul Marston writes:

"This weekend all roads lead to Lydden Hill No Prep. With the rest of the booked in Custom Cup No Prep Competitors. The total car count with our eleven entries makes it over 50, yes you read that, 50 cars.

"So it should be a fun weekend. Take no prisoners. We have a reputation to upkeep".

Included in the line-up will be up to five cars from Kent-based Taz Racing, Paul's own nine second Procharged SN95 Mustang, Mick Howling in his new era Dodge Hemi Challenger and many others. Eurodragster.com will publish a photo gallery courtesy of former editor Tog.

Lydden Hill Circuit announced: "Action on circuit is now going to be run on just the Sunday, but there will be a raft of entertainment on Saturday including a show & shine competition for static displays, live music from Hullabaloo, an outdoor cinema (weather dependant) from our friends at The 360 Cinema, bars, street food and camping.

"This has been done to ensure that we can make this event as good as it can be for those on-track and those off-track, condensing the Custom Cup into just the Sunday will result in one action packed day to remember!"

Spectator tickets, only availble on-line, can be obtained from this link and further details on the event are at this link.

Newmarket charity display appeal.
23rd July: Mark Firmin, Director of Autism In Motorsports (AIM) has been in touch with a request for a car to be displayed at a charity karting event on 14th August:

"Last October, Ollie Card, a 12 year old karting enthusiast, tragically died from a brain tumour. His parents, together with many friends, have organised a special charity karting event on 14th August, taking place at the Wild Tracks Activity Park near Newmarket in Suffolk. Funds raised will go to three charities chosen by Ollie's family, in his name: The Air Ambulance, Autism in Motorsports and the Shooting Stars Hospice.

"If there is a local drag racer, from any class, on two wheels or four, who would be kind enough to bring their machine across for the day (or part of it) so that the youngsters can marvel at it and have their pictures taken with it, it would be wonderful. No financial reward can be offered, but the other rewards, and what it might spark in these young people, could be priceless. The event is open from 0900 to 1600.

"Any assistance would be most gratefully received, and the hosts will be delighted to ensure that anyone bringing their car or bike will be suitably fed and watered on the day!

Please do contact Mark Firmin direct on 07968 525733 if you can help.

Stilwell's LSR bid curtailed.
23rd July: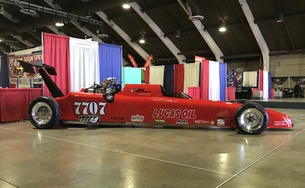 British Land Speed racer and Eurodragster.com Nitro Revival sponsor Geoff Stilwell fears that, as a result of travel restrictions lasting longer than expected, he will have to curtail his planned trip to Bonneville with his 7707 fuel roadster (pictured at the 2020 Grand National Roadster Show) to break the 300mph barrier and set a new record.

"Originally the borders were going to be opened up on 21st July but the latest announcement from the U.S. President indicates this now won't happen until 21st August which is after Speedweek, scheduled for 7th-13th August.

"My team have been working on the car in Pomona and it is fully ready to be towed to Bonneville in August for our record attempt and to see which of Ron Hope and I can be first to 300mph. Flying to Mexico and quarantining there for two weeks is not an option business-wise. I am getting in the position now of having to think about cancelling consumables, for instance 15 barrels of nitro are due for delivery to Bonneville in August.

But any disappointment over Bonneville does not signal the end of Geoff's 2021 season. "I am still planning on racing at other events such as El Mirage on 12 September and 24th October, the World of Speed 10th-13th September and World Finals at Bonneville 28th September to 1st October". Speed records set at other events run by the Utah Salt Flat Association will be included in Southern California Timing Association record books.

"The condition of the salt this year is amazing, even better than last year when George Poteet ran 481mph on his record run (470.015 official record) in the wheel-driven Speed Demon, and there are hopes that he will exceed 500mph this year using a twin turbo engine running on methanol. The salt condition is suitable for running up to a 12 mile stretch and after the brine pumped on it over the winter months has spread and dried, the condition is harder than 2020.

"Danny Thompson is also returning this year with a front engined Fuel Roadster having sold the iconic Challenger which set the previous piston driven record at 448.75 mph.

"There has been great media support such as a documentary film by Brad King about the paintwork design and application on Geoff's trailer for 7707, and MAV TV were planning to film the car at Speed Week including Go Pro cameras on it for its record runs.

"I'm grateful to my team out in California who have been continuing to prepare the car even though my travel plans have been in doubt for some time. Tony Thacker has been going through the car and found the non-mandatory blower restraint was out of date, so got through to DJ Safety and Big Ben supplied replacements which Tony and Mick Jenkins installed. Thanks also to Silky and Cory Silk for their help and John Beck for his engine building, Kiwi Steve, Pauly Rivera, Rick Le Fever, Donny Cummins, Paul Bowman, Nick Davies, Rob Loaring and Scotty Barnes (when are you I.C.E. guys going to build a LSR car?)

"I'm also disappointed for sponsors Lucas Oil, Rat Trap Racing, CARS Recon, Inc., Mick's Paint, Circle City Hot Rods, Henderson Insurance, and So-Cal Speed Shop.

"The battle for the first to 300mph between me and Ron Hope is still on although Ron has a not-so-secret weapon in the services of Shane Tecklenburg to tune his 755 roadster which will be capable of running 300mph".

Let's all wish Geoff well for being able to get to the US and reach his dream.

Post-Summer Nats points posted.
22nd July: Many thanks to Yvonne Tramm for forwarding the latest points standings in the UK National Drag Racing Championhips and SPRC Club Championships (cars and motorcycles) after the STP Summer Nationals. You can check out the UK and SPRC points on our points standing pages by clicking here, or by clicking the Points Standings link under News in the main menu above.

Points for ACU bike classes will be published at a later date.

Bug Jam Perfect Awards.
22nd July: £100 is up for grabs at this weekend's Bug Jam courtesy of Eurodragster.com and our sponsors.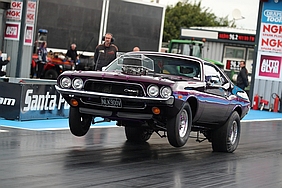 This weekend's Eurodragster.com/Bad Habit Racing Perfect Light Award has been reset to £50 after it was won by Super Comp/Super Gas racer Paul Brown at the STP Summer Nationals. The money will be paid in cash to the first racer at the event to record a Reaction Time of 0.000 seconds. The Perfect Light Award is available from 16:00 on Saturday to racers in all classes during qualifying and eliminations, but will only be awarded for the first Perfect Light of the event. The Perfect Light Award is presented in association with Cath and Tig Napier of Modurstang Pro ET team Bad Habit Racing.

Decals are not mandatory for the Perfect Light Award but we would appreciate it if Eurodragster.com decals are carried. Eurodragster.com decals are available in Signing On or from Eurodragster.com staff.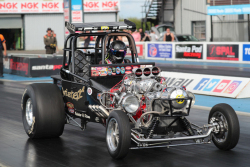 The Eurodragster.com Perfect ET Award supported by Andy 'Fadster' Hadfield of the Twister Race Team has also been reset to £50 after it was won by VW Sportsman racer Steve Stone at the STP Summer Nationals. The money will be paid in cash to the first racer at the event to tun +0.000 on index or dial-in. The Perfect ET Award is available this weekend to racers in Hutchinson & Dibley Sportsman ET, Lucas Oil Junior Dragster (eliminations only), VW Pro, and VW Sportsman but will only be awarded for the first Perfect ET of the weekend. The Perfect ET Award is presented in association with Andy Hadfield aka Fadster of the Twister Race Team.

Decals are not mandatory for the Perfect ET Award but we would appreciate it if Eurodragster.com decals are carried. Eurodragster.com decals are available in Signing On or from Eurodragster.com staff.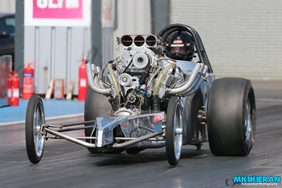 Private Test Day results, video.
22nd July: A private test day organised by Scott Lewry of Yam Yam Racing took place at Santa Pod Raceway on Monday. To those leaving the track after the conclusion of the STP Summer Nationals, this will come as no surprise, as cars were being towed to the strip on Sunday evening.

You can see trackside footage of the test day taken by our Kieran at (Part 1 - morning) and (Part 2 - afternoon), also video from the tower taken by Luke Stevenson and his trusty iPad on the European FWD Facebook video page.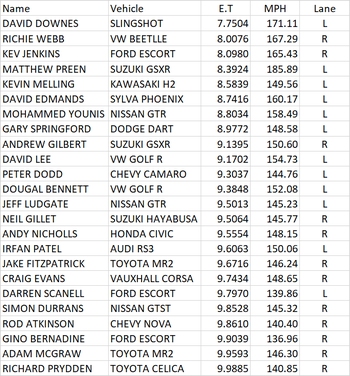 A list of racers' quickest times is shown opposite. Trophies were given for the best times in each class:

Class A (FWD treads): Calvin Skerritt – 10.8900
Class B (RWD/AWD treads): Rod Atkinson – 9.8610
Class C (FWD slicks): Andy Nicholls – 9.5554
Class D (RWD/AWD slicks): David Downes – 7.7504 (see above picture)
Best Reaction Time overall: Chris Winn – 0.1041
Fastest MPH overall: Matthew Preen – 185.89
Best ET overall: David Downes – 7.7504

Organiser Scott Lewry commented: Thanks to everyone that attended today. Hopefully everyone enjoyed the day and got as much out of it as possible with the weather. It's great with the uncertain times just to get out and meet up with like minded people. Thanks again to all who supported and a big shout out to the track staff, Darren Krauesslar, Ricky Loughborough and the team who work so hard to get the track moving. Thanks to Luke, Callum and Kieran for the awesome media support as always. Keep your eyes peeled in a few weeks for hopefully some further dates!

Other racers commented: "Thanks as always to Scott Nobby Lewry and to the others who helped organise today. Quality day as always. Was a battle all day but buzzing to finally be in the 11s new PB 11.91@ 119mph. (Ryan Wilson, Vauxhall Corsa)". "Pete Dodd did really well considering he had never driven a race car, let alone a wheelying race car. Never driven the car until this morning and after going down the track just to get himself acclimatised to the situation, made his three licensing runs and was licensed". (Mike Lacey)

Neil Gillet hot-lapped to no less than 27 passes, all runs bar two in the nines at over 140mph, giving him great value for money.

As well as posting videos to Mk1 Kieran, Kieran has posted photos to his Mk1Kieran Facebook page. Also our good friend Callum Pudge posted a gallery of 132 photos on his Pudgey's Pictures Facebook page.

Swift snippets.
22nd July: Yesterday would have been the birthday of Nev Mottershead. Leah Hinchcliffe writes, after a special gathering held to mark the occasion: "Happy heavenly birthday, you aren't here and yet everyone still wanted to be together for your special day, we miss you and love you lots". We echo Leah's thoughts and will always remember Nev on what would have been his special day.

Photographer Richard Smith has updated his web site with shots from Dragstalgia and you can see his results in a gallery on his Zenfolio site. Also included are photos from he first three events of the year at Melbourne Raceway.

Amongst our Jeff Bull Race Engines-sponsored Swap Meet, we have a For Sale advert for a special engine with lots of trick parts. If you have a chassis, £25,000 and want to go at least 7.0s/200mph, why not contact Chris Manning on the contact details shown?

Bug Jam racer update.
21st July: Many thanks to to Santa Pod Racers Club Secretary Ian Marshall for sending us details of track opening and signing on at this weekend's Bug Jam, 23rd-25th July.

The main gates to the track will open from 10am until 9pm only on Thursday, 22nd July and then from 9am on Friday, 23rd July.

Junior Dragster will have to sign on and scrutineer for this event, but that is the only car class that is required to scrutineer.

Friday 23rd July:
09:00 Main Gates open
10.00 Signing on open for RWYB only
12.00 Signing on open for race vehicles (Junior Dragster only)
12.00-19.00 RWYB only

Saturday 24th July
07.00 Scrutineeting and signing on open for competitors (Junior Dragster only) Competition licenses required.
09.30-15:00 RWYB only.
16:00 Competition vehicles only – qualifying

Sunday 25th July
10.00 Track Open for qualifying/eliminations.

The detailed running orders and printable entry list can be seen in our event coverage page.

Annie's thanks and radio interview.
21st July: Pro Mod racer and winner of the STP Summer Nationals on her debut Annie Wallace has sent us her impressions of her landmark weekend:

"What a weekend! When I first got into the car on Friday and ended up in the field on the first run after the parachutes failed I would never have thought that a day later I would have my pro modified licence and continue to win the event. I got more comfortable and confident with the car on every run that I made and exceeded my expectations of myself by miles. This weekend has been an experience I will never forget.

"Thank you to everyone that has supported me and for all of the kind messages and I look forward to getting back into the driving seat in two weeks time."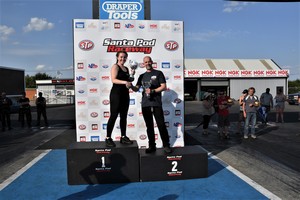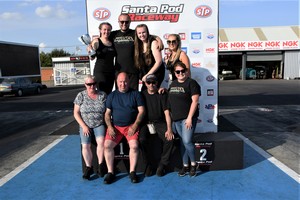 Photos © and courtesy Andy Willsheer. Pictured (left) Annie and runner-up Nick Davies, (right) Annie, Bobby Wallace, Bonnie Wallace, Hannah Salton (top row); Sandra Wallace, Bob Wallace, Andy Wright, Ellie Davis (bottom row). Click on photo for larger version.

Yesterday evening Annie was interviewed by Chris Milligan on BBC Three Counties Radio, here is a transcript of the interview:

Chris: Some great news in the world of motorsport happened when Bedford drag racer Annie Wallace created drag racing history on Sunday at Santa Pod Raceway. She made her debut in the Motorsport UK British Drag Racing Championships and she won first time out, a feat not previously achieved.

Women compete equally in men at all drag racing levels, one in seven of this event's entry list were female yet few have ventured into Pro Mod either side of the Atlantic. She is only the second British woman to do so. I'm very excited to chat to her.

Congratulations, how does it feel?

Annie: Thank you very much, very good.

Chris: Did you ever expect to come out on top?

Annie: Not at all, especially when I was in the field on Friday!

Chris: Research suggests that you are the youngest female driver ever to race in Pro Mod in Europe or America. What does that feel like, that you hold that record?

Annie: Crazy!

Chris: I saw a picture of the car it's a Ford Mustang it has a massive hood scoop, and I can't imagine how you can see past it. How did you get involved in drag racing, how did it all start?

Annie: My dad's always been into cars and my dad and my brother went up originally in a Ford Pop just to play with the car. From there we ended up buying a Willys. We were meant to be going into Super Pro but my brother decided to go straight into Pro Mod.

Then I started in the juniors with my sister Bonnie and then I moved on to the Ford Pop when Bobby was getting used to the Willys and then I decided that I wanted a bigger car as well. I always loved this Mustang because It was my friend Dave's (Dave Townsend - Editor) car.

I always used to say to him I really want your car, and then one day he said I'm going to sell it, so I said to Dad please can I have it. I got used to it with the engine that was in it and then I decided to be like my brother so I decided to go into Pro Mod.

Chris: Amazing! What is it about drag racing that is so special to you?

Annie: You get a big adrenaline rush and also just being with your family, you just get to spend that quality time even though you're doing the car you're still doing it all together. We are a close family and we do it all together so that's nice.

Chris: It seems pretty inevitable you were going to get into it. It was an incredible weekend, it's a pretty amazing achievement. You're racing now at Santa Pod, do you go and race up and down the country at different drag strips?

Annie: When we were in Juniors we went to Stratford Upon Avon but that track has shut down now, so we don't have anywhere else. There is a track at Hockenheim in Germany that I've been to with the junior but haven't been there with anything faster than that yet.

Chris: How fast does you Mustang go?

Annie: I've been at 229mph so far but it might have a bit more in it, I'm not too sure how much more.

Chris: What was best time you got?

Annie: My best was a 6.13, I wasn't really aiming for anything in particular, the best that I did previously was a 6.92 so anything quicker than that would have been a bonus. When I ran the 6.1 it was just unbelievable!

Chris: It was an incredible achievement and you must be so proud, well done to you, what's next for you, to go faster?

Annie: Every one's dream is to run a five, I think definitely think I can aim for that.

Chris: Congratulations and well done to you. How can people follow you on line and on social media?

Annie: A lot of my racing stuff is on Facebook and also Santa Pod Raceway's page shares a lot and they are very good at promoting the sport.

Chris: Amazing achievement, brilliant work, on her debut as well, she won first time out, a feat not previously achieved, and only 22 years of age.

Jayne's biggest break-out.
21st July: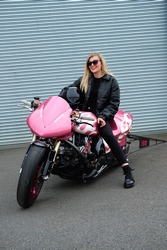 Many thanks to ET Bike racer Jayne Kay who has been telling us about her progress with the transfer from a blown funny car and an altered to an eight second bike:

We've made loads of progress this weekend at the Summer Nationals. We finally got a full pass down the track, with new PB's of 8.81 and 156mph – and the biggest break out of the weekend!

We ran without the nitrous this weekend so the bike was a little slow off the line, but now I've been down the track and got a really good feel for the bike, we can work on going faster. I've been asked a few times over the weekend if I prefer two wheels to four… I've loved everything I've driven but it's a bit more wild going down the track head first, the bike is just bad ass.

We'd like to thank Steve French for his help and guidance over the weekend, we were struggling to burn out with the set up of our new clutch, but we are now close to perfecting it. I'd also like to thank the guys in ET Bike for welcoming me into the class, and congratulations to Phil Pratt who went on to win the event after beating me in the first round, (I will get you next time!)

Always a big shoutout to my Dad for building this awesome bike! And my crew; Mum, Aidan, Phil and Dawn.

We have some exciting news that we will be able to share next week, you may find some spoilers over on our Facebook page

JT's hot, hot, hot.
21st July: Many thanks to Pro Modified and Super Pro ET racer John Tebenham who was racing in Pro ET with his Crew Killer Pop at the STP Summer Nationals for his event report:

Hot, hot, hot...

We lost Friday as the timing figures were wrong, so by Saturday we soon discovered the little white Pop doesn't like the heat.

On the first run I did such a big burnout I ran out of fuel in the shutdown area (no...) We changed classes and went into Pro ET, man, they greeted us with open arms, tough, bloody tough, all are great race teams. We didn't last too long.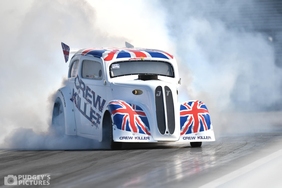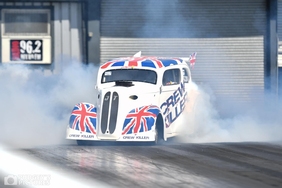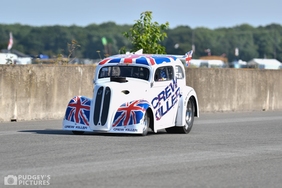 Photos © and courtesy Callum Pudge.

Two of my crew drove the Pop around the pits and couldn't believe they don't steer, brake and accelerate like a car. Massive thanks to the Santa Pod team in incredible conditions. Next time will be Pro Mod and Crew Killer. We will be back to run 5s this year. Never give up faith. JT.

Greenlight Nationals entry closing in 10 days' time.
20th July: Many thanks to to Santa Pod Racers Club Secretary Ian Marshall for reminding us that entry to the STP Greenlight Nationals on 21st-22nd August closes on Friday 30th July.

Ian adds "The Greenlight Nationals is a National or Club Championship round for the following classes: Comp Eliminator, Super Comp, Super Gas, Super Pro ET, Pro ET, Sportsman ET, Street Eliminator, Outlaw Anglia, Nostalgia Super Stock, VW Pro, VW Sportsman, Wild Bunch, Outlaw Flat Four, Junior Dragster, Pro Stock Bike, Funny Bike, Comp Bike, Super Street Bike, 8.50 Bike, 9.50 Bike, Super Twin Top Gas, ET Bike and Junior Drag Bike".

Racers may enter for the Greenlight Nationals by going to this link on santapodracersclub.com.

Happy 80th Arthur!
20th July: "A very Happy Birthday to the legend drag racer Arthur Bonner today, writes Nigel Taylor:

"Arthur Bonner started racing in the early 70s with the Detroit Spinner Ford Prefect built in his back garden, powered by a strong Pontiac 400 motor. He campaigned the car for many years, becoming a true legend, not only on the track but also in the bar. Arthur's smiley face and his sense of humour was contagious and became a well liked figure through the UK drag racing scene.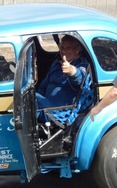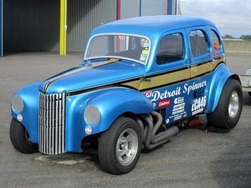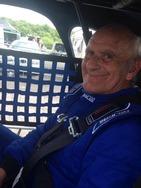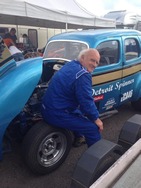 "After a couple of incidents and a long time racing, Arthur sat the car up until 2014 when a great group of friends, supporters and sponsors helped me rebuild it and back it came again with Arthur Bonner back behind the wheel! A superb sight that everyone in the drag racing world appreciated and we continued to campaign the car at nostalgic events to 2018 when although we called it a day.

"The Detroit spinner, now owned by Pep Xampro in Barcelona, is guaranteed to return and we will do our utmost hardest to make sure Arthur sees his car run yet again.

"Happy 80th Birthday Arthur Bonner from all the Detroit Spinner Racing supporters, friends and crew and a massive thankyou for all them years of entertainment! A true Legend!" Congratulations to Arthur from all of us at Eurodragster.com.

Summer Nationals racer quotes.
20th July: We've gathered comments from social media following the weekend's STP Summer Nationals: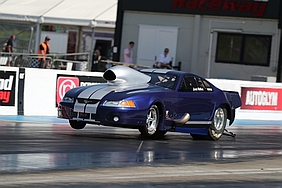 Pro Modified was dominated by Annie Wallace (pictured right) who sensationally made a couple of practice passes on Friday (one a 6 at over 200mph), licensed on Saturday morning and then went on to win the event. Her performance improvement during the event was something we hadn't ever seen, six consecutive personal best ETs coupled with PB speeds. Annie will be sending her account of the event which we look forward to bringing to you.

Runner up was Nick Davies of ICE Automotive - Project 260 who said "Well, it seems that we've built ourselves a bracket car. 4 x 6.0 ETs all at 240 and change. Would have been a fifth in the first round had the ECU loom not nearly fallen off. A sixth in the final? Who knows? A loose fuel fitting prevented us finding out…Huge congratulations to Annie and the Wallace Motorsports team for an amazing debut and well-deserved victory.

"Thanks to my supercrew of Rob, Scott, James, Callum and Dave. Also to the Santa Pod track prep and safety guys who save us more than we realise (cheers Bob!). And to the Santa Pod faithful whose support is valued hugely and also to my competitors who provide friendship and/or motivation. All greatly appreciated! See you at the Mopars..."

Blown Bird Drag Racing team boss and driver Kev Slyfield made it to the semi-finals STP summer Nationals 2021 when a blower belt snapped, but up until that point had provided great entertainment with long burnouts and a pole-setting 6.017/237.31.

Lucky Devil Drag Racing team boss and driverWayne Nicholson remarked "We were dealing with a greasy track and a little issue on the motor, which we found to be a cracked liner, so ended up struggling with a 6.30 at 230 in qualifying. So , Team effort putting a liner in and we decided to fit a set of rods too , a little early . Our new rods are a touch shorter as it's all we could get and it hurt our combination too much we ended up all in one piece though. Wayne thanks his team, wife Belinda, Joe Nicholson, Amy Gibson, Richard Harker, Tim Asquith, Sandy Cockram, Andrew Wright".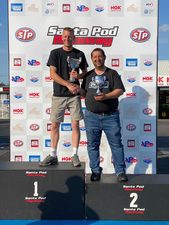 In Competition Eliminator the final came down to two Stock/Super Stock cars, allowed to compete in Comp Eliminator so long as their index is below 12.15. Williams Bros Racing were represented in the class by team owners Nic and Dan and customer Spencer Tramm. They said After Q1, all cars made great passes, seeing where we sat with the heat. Dan in 2nd, Nic 3rd and Spencer 4th. During Q3, Nic jumped to 1st in Comp. In Comp E1, Spencer took the win over Elaine Hancock in the Zephyr and Nic took the win over Robin Orthodoxou in the Chaos Bros altered. During E2, Spencer was on top of his game and took the win over Kev Perkins and Nic also def Kevin Jenkins. This set up the final for Comp meaning Spencer and Nic raced eachother in the final with Nic taking the win (pictured left). Congratulations to them both and thank you to all the Comp Elim competitors for some awesome races!

Runner up Spencer Tramm posted "I'm not usually one for big posts but after a great weekend I'll break tradition. After a 12 year 'hiatus' to go Pro Mod racing I got back in the driver's seat at the Festival of Power, just two meetings later and with a combo of luck and half decent driving found myself runner-up at the Summer Nationals.

A massive thanks to the whole Williams Brothers Racing team, especially Nic, Dan, Keith and Lorne who have made the whole journey of driving again easier and more enjoyable than I could ever want or hope.

Also, I have always had the support from my family, Mum, Dad and especially Kirstie who has gone out of her way to be around to help me with the Camaro (see @quantumleapracing on Instagram)

To everyone who has taken the time to say such nice things about the new car, it's appreciated, see you at the next one.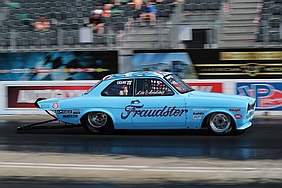 Kev Jenkins ran some good times in Comp Eliminator in the Fraudster, not quite as quick as the Fraudster's PB of 7.867/172. However as reported by son and Eurodragster team member Kieran, We had some issues yesterday with what we think was the map sensor not allowing the car to rev in the burnout, so managed to source one from Dave Rowe at EPS Motorsport on Friday night.

"Problem solved the car ran 8.0890/164.83 in Q3 and 8.0492/163.03 in an E1 bye but then the electrical gremlin reappeared, 1.16 to 60ft and then out of it to a 8.69 at 126 mph, going out to Nic Williams. This little pressure sensor has caused us a plethora of headaches this weekend, we were getting erratic values in the data logging on every run and also random misfires and cuts, turns out it was intermittently shorting the 5V sensor supply to ground bringing the 5V supply down that also supplies other engine sensors.

"Just before the finals at the Summer Nationals, Kev was able to do a time trial pass to see if the electrical fault was in fact down to that sensor, 8.22 at 165 mph and a clean run with useful data that we can now work with."

The team remained at Santa Pod on Monday for Scott Lewry's private test day so got a couple of chances to resolve these issues. The result was two great runs of 8.19/152 mph, 1.18 60ft, 5.19 at 133 mph to the 1/8th followed by 8.09 at 165 mph, with 1.16 60ft and 1/8th mile - 5.14 at 133 mph, so back on the right path.

Sticky Situation Drag Racing Team Comp Eliminator racer Jordan Payne said "An unfortunate first round loss here for the team today at Santa Pod Raceway. An electrical issue prevented the car from exceeding the burnout rev limiter on the pass. Consequently I needed to abort the run just after the hit. Congratulations to Kev Perkins and team for the first round win. It was time to service the car, load up and make our way home after yet another busy race weekend".

Elaine Hancock returned after repairs and said before the meeting "Huge thanks and gratitude to Wayne Allman, David Smith, Spencer Henley, Gary & the lads from Bristol Car & Commercial for all your hard work over the last 2 weeks". Elaine improved her PB to 7.7181/180.66 in her round one defeat to Spencer after qualifying with a 7.7379/171.06.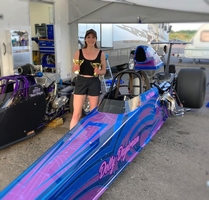 Super Comp and, first-time Super Pro ET racer Leah Kellett (pictured left) had a great Summer Nationals. She wrote:

"Was definitely not expecting that! First time entering Super Pro and first time double classing and ended up reaching both finals?! Eh? How in the hell? Honestly cannot believe it. What an absolutely awesome weekend though! As much as the weather was killing me (and everyone else) we wouldn't want it any other way to have such a great weekend!

I started off the meet in Super Pro with Dan Giles as he was my first pair, and ended the meet with him in the final. Well done Dan for taking the win! Racing my Girl Power Pal for the first time too, Laura Grace Turburville-Wilson, was just the best thing ever.

Massive thank you to my fabulous crew, my amazing dad Pete Kellett for managing not only setting everything up but prepping the car, keeping it going etc etc whilst hot lapping.

To my borrowed and stand in crew man Jordan Wilson (thank you Paul for letting me steal your man!) for absolutely everything!

To Spencer Tramm as always for your help and huge well done for reaching the final in Comp Eliminator.

And a massive thank you and well done to my bro Joe Kellett for setting the stop and making me run a perfect dial in the final in Super Comp, but just so sorry I lost my focus and let the team down but these things are sent to try us from time to time eh! Massive well done to Simon Fulton taking the win. Got to say thank you as always to the track crew, wow you guys in this heat must have been super tough! But as always gave us a great track to play on I still have no idea how to work that blinky blinky tree but it's something id like to practice a bit more.

Thank you as always to everyone who has supported me this weekend, your well wishes, your messages, it gives me the boost and i do appreciate it so thank you and as always to Jeff and Belinda Bull for their amazing continued support and for such an awesome ride!

And thank you to Callum Pudge for these awesome shots.

Already want to do it all again even though I'm absolutely knackered see you in a few weeks! And well done to everyone this weekend.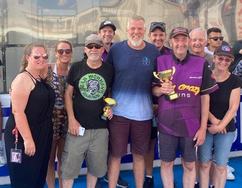 In Pro ET, the presentation photo of winner Simon Innes and runner-up Keith Herbert and their families summed up the sheer joy in the class.

Jim Massey of Keith Herbert's team wrote: "What a brilliant time I had at the Summer Nats, after not having the Fury out for nearly a year,we dragged it out blew the dust off and raced it. In a 29 car field we managed to get to the final. All the races were really close and in the semi final we beat William Clark who he'd become a bit of a nemesis. Clark racing are great friends with us and took it brilliantly big hugs all round.

I'd like to thank the Herb's crew of Kyleigh Devlin and Anna-Marie Herbert both done a great job on the line and helping keeping us fed and watered, oh and Keith's driving was top notch as ever. In the final Keith red lit giving the win to Simon Innes who thoroughly deserved to win his first event. Great racer and lovely family.

Keith doesn't do as many events as we were doing in past year but in the last three meetings we have got to two semi's and one final. So beware, the Herbs are back.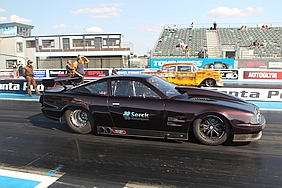 In Street Eliminator Mark Todd took the win after a final against fellow 6 second, 200mph runner Andy Bond, and said "We needed this after the lows of having to miss The Festival Of Power and a big thank you to my crew Spud and Aussie Nick".

The Street Eliminator UK racing association added "Congratulations to a couple of our members for getting new personal bests! Elliot Day has now joined the 8 second club. Al Mac (McSweeney) got a 8.3 at 160mph, Damian Halliwell Ran a 10.4, Anthony Higgs a 8.3 at 166mph before not making it to the first elimination due to the fuel pump leaking."

In Eurodragster.com sponsor Renegade Outlaw Anglia, there were some great passes and the quickest racers in the class are getting massive practice at pedaling with their latest setups. No sixes (yet) but huge entertainment.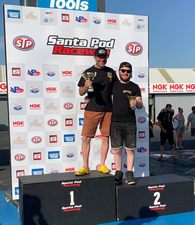 Winner Colin Millar with a best over the weekend of 7.1154/190.61 remarked "She done real good, Aaron Springford finding the tune, not the best way to win the final but hats off to Jedd Guy for a hard fought weekends racing, GreenLight Nationals bring it on!"

Early in qualifying Colin had a 202.47 timing ticket but admitted "Jedd Guy blew the last block away giving an incorrect MPH for me, would be nice to run over 200mph but not on this occasion but nice 0.0044 reaction time"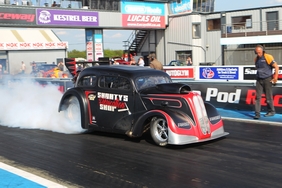 Eurodragster.com sponsor Jedd Guy had a great weekend performance wise but had a part fail in the final. Wife Jemma said "Where to start....we ran a 7.04 even with backing off at 1000ft we then couldn't do Q3 on Saturday as, unknown to us at the time, the starter switch cable had come off. Sunday morning we then ran a 7.07 and then while doing the valve lash found it was loose, thought it was fixed, next run a pop and a flame from the exhaust suggested it wasn't fixed so we replaced the parts ready for the final, however it obviously just wasn't meant to be as after the burnout Jedd heard some loud knocking so he shut off, initial investigations have found the top of the pushrod is melted/smashed, however fingers crossed we should be back out at Greenlight Nationals!"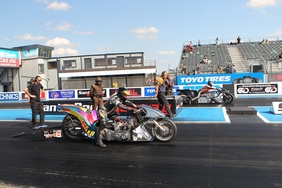 In Top Fuel Bike Phil Baimbridge, team boss and engineer for Al Smith (pictured in the far lane against Steve Woollatt in the final), in his comprehensive PBR Top Fuel Bike Facebook page wrote: "It was much hotter than we are used to with the startline air temperatures when we ran ranging from 27.7-33.9C (82-93F). Air density was typically around 90%. We knew that it was going to be a challenge with a racebike which already struggled to keep the cylinders lit in the second half under "normal" ambient conditions.

The weekend was hard work, but turned out to be rewarding. The Rocket completed a total of 8 passes – two at the pre-event test day and three each on the Saturday and Sunday. The cylinder leak downs were consistent throughout. We changed the top big ends shells once (they we OK, but while we were in there…..). We didn't damage any of the drive belts. It really was just a case of changing the oil, resetting the clutch, gapping spark plugs and refuelling. Al won the race meeting and closed the gap on Neil Midgley in the ACU championship. To cap it off, it looks like we have our race bike back!

The team members who undertake the majority of the routine activities (Andy Kirk and Neill Curtis) worked efficiently and effectively despite the conditions (more so because I was suffering a mild arthritis episode and was more physically useless that usual). Joo Smith kept us well fed and watered". You can read much more in Phil's Facebook page.

Neil Midgley's team owner on the Lucas/Cannon Engineering bike, Chris Hannam, wrote "It was not our weekend this time as we just chased the whole meeting from low oil pressure which we put down to heat, then a gearing change back due to different conditions. We got a half decent test pass on Sunday morning only to get no data as we had left the card out, we made what I think was a good call but had a blower drive belt issue in the semi against Al, so we called it and let Al single to the win. After looking at the bike it would have run but we made the best call , congrats to Al and the PBR team on a ground out win , for us it was hero to zero but we will be back. Thanks to Lucas Oils for a great product and Santa Pod for a great place to race.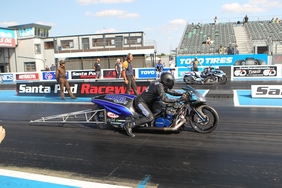 In Funny Bike racing, Stuart Crane of Warpspeed racing (near lane) again dominated the event with record-breaking performances. Our pit note contributor Mike Kraaij wrote "Again a new PB for Stuart Crane in Funnybike during the Summer Nationals, a great 6.4702@207.99mph! A new ACU record too! And backed it up with an 6.50@207.20mph! How about that for concistency!". Stuart thanked his sponsor Hel Performance for great brake calipers and Simon Lane and Lee Owen for turbo parts which were "working great". Class sponsor and sometime FB racer Dale Leeks added "Congratulations to my team mate Stuart Crane for winning the 3rd Leeks landscapes British Funnybike round in a row and collecting £200 contingency from The Leeks Landscapes Group, also resetting the British record".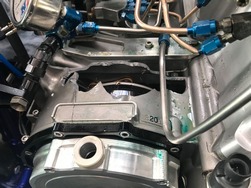 The other member of the Warpspeed team, Mark Smith of Draper Tools had another torrid time on his Funny Bike. "Well what a weekend. Shame it had to end. Sorry, Ann Smith (Mum), I broke it..." The problem, a broken clutch gear, resulted in an aluminium shower on the start line and this dramatic photo of the damage. We documented the ups and downs of the Storm Dragbike team in our race report. Rider Lorcan Parnell ran a great 6.674/210 in testing on Friday, but a tendency of the bike to go left, originally suspected to be the front wheel contacting the inner fairing on braking, resulted in Q3 in a more serious incident. Lorcan wrote: "Q3 saw our hardest launch yet and quickest 330' ever but the bike broke traction, turned, tucked under and hit the wall. I stayed on but have a badly bruised forearm. Thanks to the Santa Pod medical centre for their swift attention".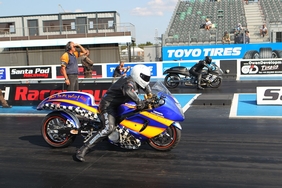 In Super Street Bike Steve Venables' main sponsor D.M.E. Racing said "Steve Venables breaking more records with a 217.17 mph British Super Street Bike record today in round two of qualifying at the STP Summer Nationals at Santa Pod Raceway. He then went on to reset the record in round 1 of eliminations running 218.24 mph. He ultimately won the event to make it a perfect weekend".

Super Street Bike runner up (near lane) Mark Dainty's crewman Mark Lemis said "In the Finals we found ourselves in 2nd place losing to Steve Venables by 0.006s. A big thanks to all the sponsors and people who helped achieve this 2nd place. Thanks to Kostas Giannopoulos Stephen Mead Steve Venables who helped replace the engine on Friday night and a big thank you to Harold Finklemyer for his excellent tuning and support all days of the race. Mark added: Thank you to all my crew, tuner, and friends and family who supported me this weekend and made this all possible. Congratulations Steve Venables on the win".

Suze Morris posted on the ET Bike UK Facebook group: "Congratulations to Phil Pratt and Robbie Dobbie on reaching the Final. Gutted for Blade King who suffered engine damage during Q2. I'd also ask you to please join me in sending our very best wishes to Peter Harrison who was taken to Bedford Hospital by ambulance but not admitted due to an incident which occurred after racing involving a finger, a bike chain, a bag of ice and an ambulance... I'm sure you know where I'm coming from. We all wish you a speedy recovery after plastic surgery Peter."

Return of the Good Guys.
19th July: Many thanks to The Good Guys, Steve Clarke and Nigel Rigden who have given us details of their new blown altered which makes its debut at Bug Jam this coming weekend. Nigel writes:

So back in the day, in the 1980's, Steve and I campaigned a front engined dragster with a 3.8 Jag motor, injected and running methanol. The chassis was the old Methdrinker (before that Limelight, before that Phaeton II), and we ran under The Good Guys name (ED/36) and, as now, shared the driving duties. After a case of piston assisted valve closure at North Weald the car got laid up and then a whole lot of life type things got in the way and that seemed to be the end of it.

Pause for 40 years, where the hell did that go?

In 2018 Steve persuaded me to go to Dragstalgia, I was blown away by what an amazing and civilised facility the Pod had become, proper clean toilets for heaven's sake and, more than anything else, there was a place for race cars from the era that I loved to come out and play.

We sat there watching car after car go down and wondering why it hadn't been like that when we were racing. At the end of the day we both knew this was going to have been an expensive day out.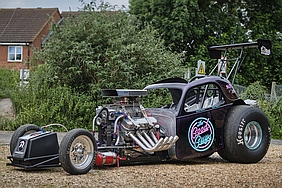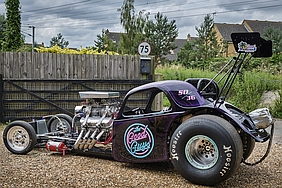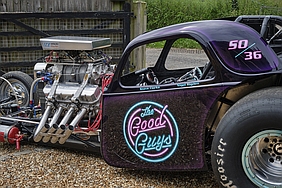 The decision was made, we were going racing again, on the nostalgia circuit. Firstly we thought of getting the old car out (yep, we still have it) but (and I am still not quite sure how this happened) we ended up buying the ex El Bandito (before that Felstead Best & Lotsabeera, before that Time Warp) rolling chassis from John Reeve. Shortly afterwards we bought Adam Clayton's old motor and work started.

We do have a slight problem in that Steve lives just outside Ely and I live on The Black Isle, just north of Inverness, so things were never going to be straightforward. It would seem that we are older but no wiser. As before we are equal partners in the project, sharing costs and driving and, in theory, work. Covid restrictions however have meant that Steve has had to do the lion's share of the build and survive without my unique skill set of systematically setting out to break every drill bit that he owns.

He has done a great job under very difficult circumstances.

There is not a bit of the car that hasn't been reworked in some way and we couldn't have done it without the talents of the following:

Jon Webster - Webster Race Engineering – Roll cage, steering and front end. (We can't praise Jon enough, helpful, friendly and stunning workmanship)
Ben Speechley – Hanger 30 – assorted fabrication and welding
Colin – Insignis Performance Engineering – Machine work on the back axle
Paul Allen – assorted fabrication and welding
Ted – Ted's Fab P.A. – the headers
Nick Davies – ICE Automotive – For answering all our stupid questions and never once getting cross, oh, and for building a damn fine motor
All at Przym Paintworks, the paint speaks for itself
Elaine (my wife) and Sharon (Steve's wife) for supporting our madness.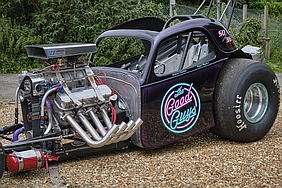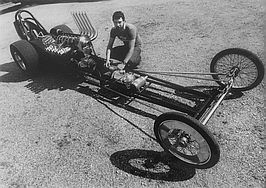 So,the details.

It's a Fiat Topolino Altered, with ICE 489ci BBC, 8-71 Blower, 2 Holley 950cfm blower carbs running on 120 racing gas. The motor is set up for a 150 shot of nitrous but it has never been used and for this year we will be running on motor only. Neil Chance torque converter and 2 speed Powerglide.

We will be running with the Supercharged Outlaws.

The data would suggest that the car should run low eights, high sevens but it's early days. The aim is to get it running solidly in the sevens next year. Steve and I will both be driving, sometimes alternating at the same meeting (just to confuse everyone) and we are running a small crew, the two of us and Steve's wife Sharon.

Sorry to ramble on, still slightly over excited about the whole thing and it's starting to get real very quickly. The images include one of the old car with a very young Steve looking slightly uncomfortable.

One bike, no rider.
19th July: Thanks to Jeff Kenway, dad of Comp Bike racer Jordan Kenway for his account of a torrid test day and successful race in Comp Bike:

That has got too be the most bonkers weekend we have ever had. We decided to do the test day so Jordan could get some more seat time. We went down for the first run, Jordan did his burnout, the clutch got hot expanded and wouldn't disengage.

He came flying out of the burnout box just missed running his brother Connor Kenway over and the track crew, sorry Ian Marshall, as the bike picked up speed he decided to bail off the side. The track crew were absolutely fantastic the way they looked after him.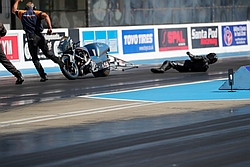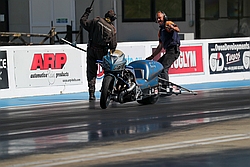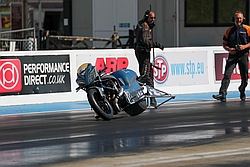 We managed to borrow a better clutch lever, on Saturday he was still a little apprehensive and did a couple of slower passes, then last qualifying came around and the old Jordan was back, a long smoky burnout and a new PB of 8.66/156mph.

We got up Sunday and found out we had two bye runs in to the final. So we went from being on the floor to picking up a runner up trophy and a PB.

I can't thank Chris Hope and Mark Hope enough lending and helping me fit the clutch lever and Mark spends so much time helping Jordan with the Maxx ECU and calling him a knob when he pushes the gear shift to soon. We have a fantastic video that Connor filmed on the GoPro of Jordan coming off, look out for a link to it.

Pictures © Julian Hunt for Eurodragster.com used with permission of Jordan.

STP Summer Nationals results.
19th July: Congratulations to the winners at this weekend's STP Summer Nationals at Santa Pod Raceway:

Motorsport UK Pro Modified: Annie Wallace 6.1333/229.31 def. Nick Davies, broke
Track Worx Comp Eliminator: Nic Williams 10.7933/112.46 (11.30) def. Spencer Tramm 11.2344/114.93 (11.55)
Be Fast R Super Comp: Simon Fulton 8.8860/145.33 def. Leah Kellett 8.9070/166.06
Dave Grady Super Gas Shootout: Tim Adam 9.9172/137.81 def. Simon Fulton 9.9204/147.14
Peter Nee Super Pro ET: Daniel Giles 7.4699/173.01 (7.38) def. Leah Kellett 7.7601/173.01 (7.72)
Modurstang Pro ET: Simon Innes 10.7368/122.05 (10.70) def. Keith Herbert 9.5671/(9.57) DQ red
Hutchinson & Dibley Sportsman ET: Felicity Gibbs 17.4484/80.50 (17.28) def. Carl Magedera 12.7634/70.01 (12.90)
Topspeed Automotive Street Eliminator: Mark Todd 7.6855/189.69 def. Andy Bond 7.5530/156.83 DQ red
Lucas Oil Junior Dragster: Luke Fulton 8.2657/78.00 (8.28) def. Jessica Bishop 8.1194/78.69 (8.02) DQ red
Renegade Outlaw Anglia: Colin Millar 7.2447/190.59 def. Jedd Guy broke
Springbridge Direct Wild Bunch: Pete Brown 8.5560/154.75 (8.51) def. Phil James 9.6278/136.46 (9.39)
VW Sportsman: Jon Crawford 16.0896/73.09 (15.99) def. Steve Stone 15.9263/80.93 (15.90)
VW Pro: Graham Fairhead 11.4951/108.95 (11.24) def. James Hodson 12.9152/117.29 (12.50)

Banks Night Club Top Fuel Bike: Al Smith 6.9420/144.76 def. Steve Woollatt broke
Steve's bike shed a belt on the line. Al's incrementals 1.0497 and 4.1197/171.09.

Taylors Trophy Super Street Bike: Steve Venables 7.2414/197.26 def. Mark Dainty 7.2454/198.89
Leeks Landscapes Funny Bike: Stuart Crane 6.5175/207.01 def. Tony Clark 7.2681/182.87 DQ, hit centre reflectors
Suzukiperformancespares.co.uk Comp Bike: Chris Neary 7.7448/181.40 def. Jordan Kenway 10.3361/117.14
JKE Race Works 8.50 Bike: Jay Roe 8.6444/135.23 def. Joe Elliott 8.7207/155.87
Atlantic Fluid Tech 9.50 Bike: Richard Sawatzki 10.0404/111.95 def. Dave Hall 10.4405/144.77
Blood Cancer UK ET Bike: Phil Pratt 9.1079/145.21 (9.02) def. Robbie Dobbie 10.2436/125.53 (10.50)
Eurodragster.com Junior Drag Bike: Casey Holgate 10.2531/62.71 (9.80) def. Lyra Humber 17.7140/41.94(18.00)

Subject to official ratification the following records were set. Congratulations to:

Motorsport UK Street Eliminator: Mark Todd 6.990
ACU Funny Bike ET: Stuart Crane 6.4702
ACU Funny Bike speed: Stuart Crane 207.99
ACU Super Street Bike speed: Steve Venables 218.24

Many thanks to Andy Marrs who has updated his table of UK and European bests which you can check out by clicking here or clicking on Data, then UK European Bests at the top of any Eurodragster.com page.

Congratulations also to VW Sportsman racer Steve Stone who won the Eurodragster.com/Team Twister Perfect ET Award supported by Andy 'Fadster' Hadfield of £50, and Super Comp/Super Gas racer Paul Brown who was the winner of the Eurodragster.com/Bad Habit Racing Perfect Light Award supported by Cath and Tig Napier, also receiving £50. Both awards have been reset to £50, and are next available at Bug Jam.

Bob's Photo Finish Award of £50 each goes to the competitors in the closest race by distance, thanks to sponsor Bob Roberts for posting the award. Congratulations go to VW Sportsman racers Jon Crawford and Steve Stone who had a margin of 5.56 inches in the final (margin of victory 0.0039). We will be in touch with the winners in due course.

Thanks to David Anniwell of the Santa Pod Timing Crew for sending us detailed timing data which we have posted to our timing data area which you can see by clicking on Data, then Timing Data at the top of any Eurodragster.com page. Official results can be seen at Santa Pod's Official Results Site.

You can check out our John Woolfe Racing-sponsored Festival of Power reports, results and galleries by clicking here or by clicking on the Event Coverage link at the top of any Eurodragster.com page. Please join Simon in thanking Julian, Diana and Paul for their hard work over the race weekend in the hot conditions, and many thanks to those who gave feedback on our coverage.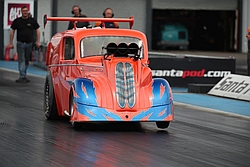 Swift snippets.
19th July: Happy birthday to Simon Barlow, exhibition driver and team owner of the Orange Pop Racing Fordson.

Have a great day from, Jay, Michelle, Karl, Tash, Joe and Ian!

Photographer Alice Fairhead has posted 258 photos from the STP Summer Nationals to a Facebook Gallery. Alice added about her dad Graham who was runner-up in VW Pro: "We were really happy with the result, we've had some niggly problems for a while but it all came together and worked, despite the heat the car stayed quite consistent".

Patrick O'Connor has posted a Facebook gallery of 137 pictures from Saturday at the Summer Nationals which you can see by clicking here.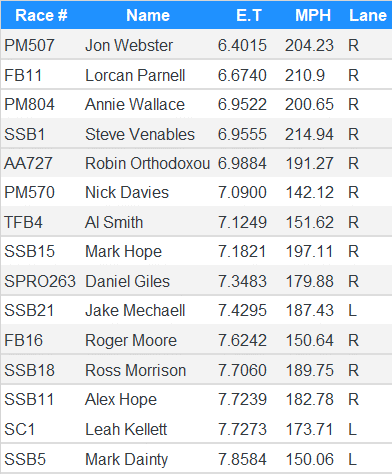 Top times from test day.
16th July: With thanks to David Anniwell and Adam Bentley of the Santa Pod Raceway timing crew, we have compiled from ETSlips.co.uk a list of racers' top times under 8.00 seconds recorded in today's Performance Run What Ya Brung preceding the STP Summernationals (click on image for larger version).

The table on the right shows that Jon Webster's Mustang Pro Mod was the quickest car on the property. Notable for overcoming the issues that had plagued the Storm Drag Bike Team was Lorcan Parnell who ran a great 6.674/210.9, getting close to his bests of 6.567 and 218. Lorcan brought the bike to a safe stop when it took a hard left in the shutdown area. He said "It just about stayed off the left wall with some scraping underneath. The Pod crew were on the scene but no harm done to bike or rider apart from a new belt needed".

Back in the sixes for the first time since September 2019 was Robin Orthodoxou. Annie Wallace ran a great Pro Mod licensing pass of 6.952/200.65, however her second run slowed to a 9.395/80.11, so may need to run another observed pass tomorrow.

Interestingly 19 out of the top 24 runs were in the right (Autoglym) lane.



STP Summer Nationals preview.
16th July: A glance at the STP Summer Nationals entry list and points reveals new teams still coming into the UK championship in its third round with leading teams (in most cases, winners at the Festival of Power) intensifying efforts to remain on top with the fields remaining as full as the first two rounds, and three more rounds available for most classes.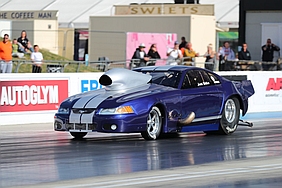 In Motorsport UK Pro Modified, Kev Slyfield is leading the way in points with Nick Davies placed second. Mechanical carnage has claimed a couple of competitors, however Annie Wallace (pictured right) makes her class debut this weekend and becomes the fourth female to compete in the premier doorslammer class in the UK, and only second Englishwoman to do so (the first being Paula Atkin). She will first need to licence, and that can be challenging, as several have found over the years.


Track Worx Competition Eliminator includes Rob Smallworth (pictured left) in his new '55 Chevy with chrome moly chassis and 529ci engine. Having made tremendous efforts to effect repairs to Lethal Zephyr following a burnout whoopsie at Festival of Power, Elaine Hancock is returning to competition this weekend. Jordan Payne leads the points although missing the first round of the year renders him ineligible for bonus points.

Be Fast R Super Comp is seeing a trend of increased numbers and the class is joined for the first time by former motorcycle circuit racing champion Allan Schofield who impressed at the Festival of Power, and Paul Brown who has kept his driving hand in by making several runs in the Santa Pod Raceway two seater. The points leader is Leah 'Dolly Daydream' Kellett. Dave Grady Super Gas has four drivers double teaming with Super Comp, and a field of 10 will ensure a healthy points haul at this event. Andy Harrison in the Brute Force Sierra is the points leader.

Peter Nee Super Pro ET has the first appearance this season of Martyn Jones in his five second dragster, amazing how he lifts to remain above the 6.00 cut-off. The class also has Saskia Jell making her senior class debut in the ex-Derek Flynn supercharged car. Leah Kellett is also in the class for the first time, and Andy Thetford will be making the debut of his new Black Pearl Camaro. Ron Bartlett leads the points after a stunning performance at the Festival of Power, with Scott Hauser chasing hard.

In Modurstang Pro ET there is as often the case a mixture of cars that run lifestyle classes at other races. Question. Which lifestyle class has only featured one car in Pro ET in recent years? Answer: Gasser Circus with Nick Barnett in 2017 and 2018. (ok, Jerry Denning ran Pro ET in 2012 and a few years in the "naughties"). Hutchinson & Dibley Sportsman ET features the competition debut of Stef Pateman, daughter of sportsman racing legend Brian. Stef was runner-up to Carl Magedera at the Dial In Day in March 2020. Perfect Light sponsor Tig Napier joins the class for this event in the right hand drive Barracuda 'Ruby'. Currently the points are headed by Gary Lake.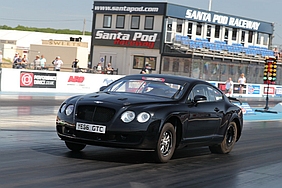 Topspeed Automotive Street Eliminator has a bumper field of 12 cars, the best the class has had since the 2019 Euro Finals. Sadly SPR commentator Colin Theobald won't be racing as during a match race with Santa Pod CEO Keith Bartlett at Dragstalgia last weekend, he suffered transmission damage which won't be able to be repaired. Ben Barnwell makes his second event in the class after a gap of five years with a well known car, the Bentley Continental originally built and brought out by Steve Neimantas 2014-15 and later raced by Martin Smith 2017-18 (pictured right). Andy Bond leads the points.

Lucas Oil Junior Dragster has the competition debut of Ellie Brown, or Miss Stig as her Half Scale built JMA car will be labelled. Ellie was helped in licensing by Andy Fensome who does so much to bring new drivers into the class and train them to be competitive. Luke Mugridge is the points leader with Harry Redshaw and Lara Bartlett not far behind.

Renegade Outlaw Anglia sees the return of Colin Millar after a family wedding last weekend. Although only four cars are entered, it is Colin and Jedd Guy who have made the performance headlines over the last year and Colin will surely want to beat Jedd to the first UK Outlaw Anglia six. We hope that Ben Kennedy manages to get his Toyota 1UZ engine repaired in time for the event following damage at Dragstalgia.

The Wild Bunch will have Bob Hawkins returning after his Big Block Chevy on nitro experienced problems at Dragstalgia. He said "We had ignition problems and after many hours of unreal,crazy dead mag problems…finally we have fire again! Not quite the flame thrower ignition set up I was hoping for but my old faithfully baby Super Mag has saved the day and that's not for the first time!" Phil James leads the Motorsport UK WB points.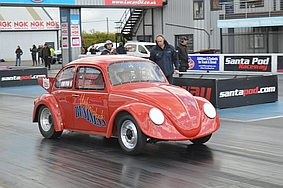 VW Sportsman are joined by Daniel Boucher (Polo) and Paul Robinson (Scirocco) for the first time in competition this season. Rob Creswell leads the points. In VW Pro Luke Stevenson will be making the debut of his Sechstoy dragster which has been receiving last minute detail as you can see in Luke's FB page. John Brewster (pictured left) and Ian Dale are in competition for the first time this season with their Beetles as is James Rhodes in a Lupo. Adrian Solly heads the points.

Banks Nightclub Top Fuel Bike has the four runners from Festival of Power returning. Neil Midgley on the Cannon Motorsports DOHC nitro twin ran a new PB of 6.28 at the Festival of Power and will have his eyes on PB performance as well as the championship. Allan Davies on Surprise Attack has hopefully solved the issues after an engine explosion on launch in Session 1 of the Festival of Power, Al Smith's PBR Top Fuel Bike has reported delivery of a replacement magneto to replace a failed unit at the FoP and identifying a bent connecting rod. Hall of Famer Steve Woollatt completes the quartet of Top Fuel Bikes.

Taylors Trophy Super Street Bike sees the return to the class for former Pro Stock Bike champion Len Paget who was last in the class in the early 1990s. Len will be racing a Hayabusa. Points are led by Alan Morrison Jnr who in his second race in the class ran 7.00/203 and won the event, a great performance.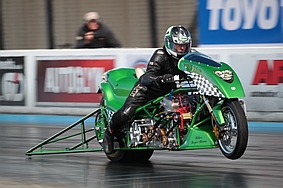 Leeks Landscapes Funny Bike has Roger Moore racing in the class for the first time on his Box Of Frogs Racing bike with a billet Suzuki based engine. Record setter Stuart Crane returns and Lorcan Parnell and Tony Clark will be hoping for better luck this weekend. Suzukiperformancespares.co.uk Comp Bike has points leader Louis Davies who will be looking to run his first six after setting records at the Festival of Power. Jay Roe in JKE Race Works 8.50 Bike, Craig Wright in Atlantic Fluid Tech 9.50 Bike, Phil Pratt in Blood Cancer UK ET Bike and Meg Talbot in Eurodragster.com Junior Drag Bike will all be looking to hold on to their points lead.

The STP Summer Nationals will be held in conjunction with Transitmania, a show for owners and enthusiasts of Ford's legendary Transit Van, this weekend at Santa Pod Raceway. Spectator tickets are still available at Santa Pod's ticket site. Those travelling to Santa Pod today should beware the traffic restrictions in Podington.

ACU points posted.
16th July: ACU Drag Race Series co-ordinator Ian King has updated the ACU points tables which can be seen at this link or via our points standings page.

Many congratulations to the new ACU British record holders:

Stuart Crane, Funny Bike ET: 6.4922 secs
Stuart Crane, Funny Bike MPH: 207.92 mph
Steve Venables, Super Street Bike MPH: 214.89 mph
Louis Davies, Competition Bike ET: 7.0263 secs
Sean Mills, Competition Bike MPH: 198.02 mph

Dragstalgia 10 Gasser Circus report.
16th July: Many thanks to Nick Brooke Langham for sending an exclusive report on the Gasser Circus at the 10th Anniversary Dragstalgia:

For racers the 10th Anniversary Dragstalgia got underway on Thursday, as that's when Santa Pod flung open their gates. Many teams took full advantage of this, and the pits began to quickly fill up. I think it's fair to say that the gathered racers showed a huge if not total bias to UK based teams, with the stalwart race classes of the event being maximised with Gasser Circus, Outlaw Anglia, Supercharged Outlaw, Dragstalgia Cannonball, Wild Bunch, Nostalgic Superstock and Willys Wars. Away from the track action, there was a gathering of Hot Rods and Customs and the British Drag Racing Hall of Fame had a marquee, where they had various donated items up for auction over the weekend.

The event could not have live music, so it was welcome back to the Santa Pod Drive In Movie, Friday taking us back to 1977 and Smokey & the Bandit, Saturday nights offering taking us back even further to 1966 with the 2019 film Le Mans 66.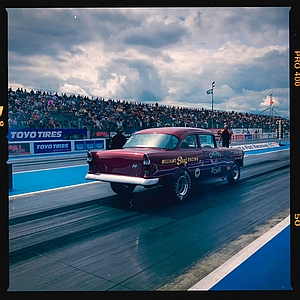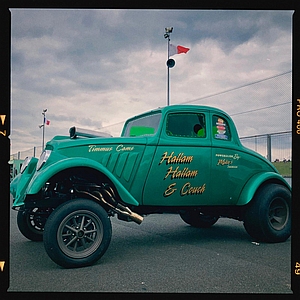 By Friday the pits were packed and the RWYB entries that took to the track were many and varied. Within the Gasser Circus pits excitement was visible as we had our first round of qualifying scheduled for the Friday evening at 18:15 and with 20 Gassers ready to race, this had all the ingredients for an excellent weekends racing. Many eyes were trained on phone and wrist watches waiting for that time to arrive, but soon there was also something else drawing the eyes, and that was a massing dark cloud several miles away but looming ever larger at the end of the track. Shortly after 17:00 the end of the track appeared like someone had turned the lights out as it was in darkness, and 30 minutes later the rain was falling, and that rain was soon followed by what could only be described as a monsoon! The shear amount of water not just falling from the sky but descending at speed was amazing. I recall looking towards the bank, and the rain had sent everyone scurrying for shelter, except for one couple, who had decided to stick out the truly awful conditions. I admired their stoic stand and umbrella control, but when Santa Pod called the day, even they knew it was over and we knew that Round 1 of qualifying had gone with it.

This was frustrating for all 20 of the gathered Gasser Circus drivers, but I am sure there were 4 who felt it a touch more, for differing reasons. Mark Dibley as he was making his debut with the ex Merv Barnett 'Ansen' Pop, Simon Glenn in his 'Straight Shooter' Austin Pickup as he had his newly built and dynode Pontiac engine, Ray Turner as following his disappointment at Retro Weekend, he was back running a 350 Chevy that had be generously lent to him by Jonathan Gibson and last but not least Keith Bartlett and his 'Roarin Rat' 57 Chevy, all so keen to get their qualifying nerves and excitement exorcized.

Saturday arrived and in the Gasser Circus pits we were visited by our International member Dale Snoke, unfortunately this was only via facetime, but once we knew he was planning on watching the live feed from the Pod, many of the cars carried messages to him over the weekend. Rather surprisingly they were all very polite!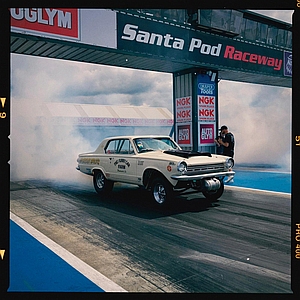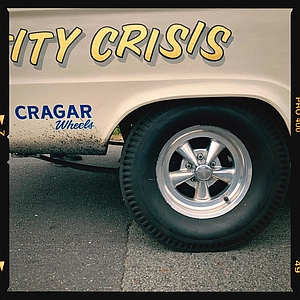 Racing was delayed for a while following a bizarre accident involving Andy Stones, but thankfully he was okay. When racing recommenced the Gasser Circus were soon in action and the not so good soon arrived for Ray Irish in his 'Gas Junkie' Willys pickup. Ray noticed at the end of his first qualifying run, that his oil pressure rapidly dropped and he shut it down. Metal filings were discovered in the oil, which meant he was on the trailer, for him his new blown motor cannot come quick enough.

The problems were not confined to Ray as Martyn Hallam and his 'Hallam, Hallam & Couch' Willys, was still having teething problems with his new Hemi engine. The problems involved the car dying on launch and a flash carb fire, which resulted in a pass of 31.64. Brian Gibson was also getting a bit hot, well his 'Identity Crisis' Dodge was, as the water pump failed on his first qualifying run. Racers are nothing if not resourceful and it also helps if you have a network of friends and family willing to help out. A few phone calls, a bit of house breaking and a 70 mile dash to the Pod with a replacement water pump soon had Brian ready for the next qualifier.

Other Gassers in the 1st round of qualifying, were making good runs and Keith Bartlett was amongst these. Keith dialled in a 10.82 and broke out when he stopped the clocks with a 10.61 signalling his intentions with the first run.

The standout for Round 2 of qualifying was the number of times that No1 qualifier position changed, from Qualifying 1 it was Sean Milsom who was deposed by Billy Jones, who was quickly deposed by Tom Margesson who himself was then deposed by Sean Milsom.

Round 3 of Gasser Circus qualifying got underway but it didn't continue for too long. Ray Turner behind the wheel of his 'Green Onions' 55 Chevy, disappeared in a cloud of smoke just after the gantry. Unfortunately, this was from within the engine, this caused a long stop in proceedings while the track surface was cleaned. This was not only bad news for Ray and engine owner Jonathan, but disastrous news for Mark Dibley in his Pop, this was because he had suffered problems with his battery, and on this the final qualifying with him just 4 thousandths of the Gasser Circus qualifying time, he had opted to start his Gasser with a jump pack. Within the GC rules, this can only be used before the crossing in the fire up road. Mark had duly complied, and even though other Gassers had tried to get him to the front of the lines, the long delay meant he could not keep the engine cool enough, and had little choice but to shut the car down and withdraw from the fire up road.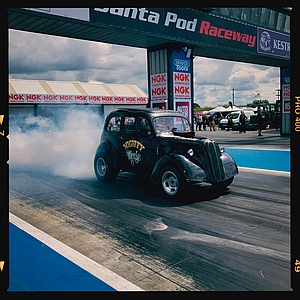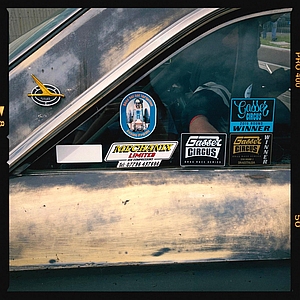 Issues in the Fire Up Road were not confined to Mark, as with 18 cars qualified, number 10 qualifier Lee Pike had not been able to run the final session having had issues with his fuel pump. Resulting in him having to take the long route back to the pits via the exit gates by the garages. The fault was diagnosed late into the evening and without a replacement part it looked like Lee would not make eliminations and he was up against No1 Qualifier Sean 'Chili' Milsom. However, I had two broken Barry Grant fuel pumps at home, so that's where I headed. Once back with the pumps, Lee and his crew were able to rebuild his pump, but with this being completed late into the night, there was no chance to fire the blown Big Block Chevy to be certain if the repairs had worked.

Sunday was a glorious morning, with high temperatures and it was only 8am.

As the Gasser Circus were called to the lanes, the racing was already underway on the strip. As the cars edged their way down the fire up road and neared the end, the track fell silent as unfortunately there had been a crash on the strip, but thankfully the driver Rob Brindle had emerged unscathed from his fresh out, Outlaw Anglia.

When the strip opened again it was soon Gasser Circus Eliminations. However, it was minus Ray Irish, Ray Turner and Slick Mick Allen, whose starter motor had cried foul on his tasty Corvette.

Round 1 of Eliminations got underway just before 11.30 and 'Ain't Misbehavin' red lit so 'Honky Tonkin 2' took the win. Nick Barnett took on and beat Keith Bartlett in a very close race. In a rematch of the final from Retro Weekend, 'Jumpin Jalapeno' was up against 'The Tinsel Town Hustler' of Tom Margesson, with the same outcome as the spicy Gasser progressed. In the battle of the Austin Devon's, 'High Anxiety' put 'Nogbad the Bad' on the trailer winning it on the tree with 0.09 to a slower 0.30. 'Guzzler', 'The Mighty Mouse' and 'Straight Shooter' had byes to the next round as 'Green Onions', 'Quick Buck' and 'Gas Junkie' could not be repaired in time. Steve Matthews 'Honky Tonkin' took on 'Identity Crisis' with the latter taking the win on a side by side race with a 11.22 pass with the margin of victory being 0.0106. This despite both cars leaving the line on two wheels. 'Grumpy Grizz' and the newly named and freshly sign written 'Cherry Bomb' 55 Chevy of Jason Pickett were the final pairing and this one saw Grumpy go through with a 10.74 on a 10.60 dial in. Eliminations 2 paired Jason Hollamby in his 'Jumpin Jalapeno' Falcon against Tony Pearson in his 'Guzzler' 56 Chevy. The former dialling 11.60 and the latter 10.68. At the finish line Tony took the win in an exceptionally close race, which equated to being just 17 inches between them at the finish line. Billy Jones in his Willys Coupe 'Grumpy Grizz' lined up against Graham Barton in his Austin Devon 'High Anxiety', and Billy unleashed a holeshot which took him all the way to the next round.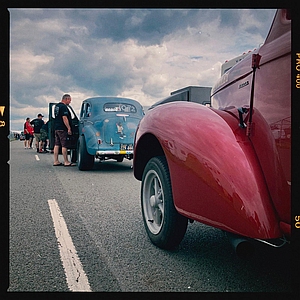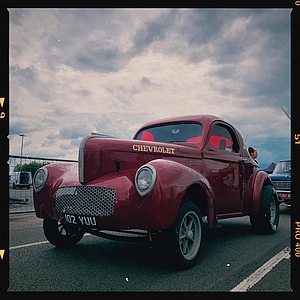 Lee Pike in 'Honky Tonkin 2' Chevy Nova had a bye and Nick Barnett in 'B&G Racing' Falcon prepared to take on Brian Gibson in his 'Identity Crisis' Dodge. The win lights going on in Nick's lane. The final pairing had the 'Straight Shooter' Austin pickup of Simon Glenn racing Katie Booth in her 'The Mighty Mouse' Pop. This was the first time in the second round for Simon, a great achievement as he has had a difficult time with his Pontiac power. The tree activated and he left slightly too early leaving a Cherry on it.

The third round of eliminations began with all the protagonists in the fire up road ready to battle. Lee Pike was taking on Katie Booth, with this the battle of Bristol cars, they came into stage the tree dropped, and Katie left ahead of the green handing the win to Lee. He however, launched hard which by the 60 foot mark had him heading towards the centre line, surely he was not going to throw away a win. He was not and wisely backed out of it. Next up was Tony Pearson in his 56 Chevy, against Nick Barnett. Tony unleashed another of his now customary rolling burnouts. Nick was slightly more subdued in the burnout department. The winner of this run would be on a bye to the final and as the tree activated it was Tony who would take up that spot as Nick left early leaving a red bulb glowing on the tree on a - .006!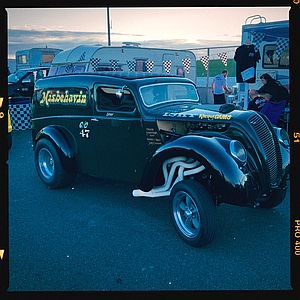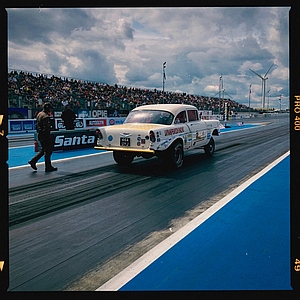 The final race wasn't one as Billy Jones was on a bye run in his ever impressive Willys Coupe. He still ran a 10.77 after which he knew he had the task of racing Lee in the fast approaching semi-final.

Gasser Circus semi-final and Tony had a bye to the final, he waited to see the outcome of the other race, which had Lee in 'Honky Tonkin 2' racing the consistent Billy Jones in his 'Grumpy Grizz' Willys. Both gassers went through their burnout routines and edged to the line, Billy dialling in a 10.72 with Lee choosing 9.30. Therefore, Billy would be leaving the line first by just over a second, Billy blazed away from the line and Lee was not far behind, we had a green light semi-final, with Billy staying ahead all the way and crossing the line first, but the win bulbs did not illuminate next to his side of the track, because they were glowing on Lee's side. A quick look at the boards and Billy had broken out by 300th of a second running a 10.69! Billy was gutted, and Lee was through to the final against Tony who followed Lee and Billy with a more sedate bye run.

As the finalists returned to the pits, all was not well with the blower temperatures for 'Honky Tonkin 2' being excessively high. Normally this may not be a problem as between rounds there is plenty of time to let the components cool naturally. However, we had been notified a quick turnaround may be necessary. Tony's crew removed the 56 Chevy bonnet and the car cooled, in Lee's pit the bonnet was off and a team of 4 – 5 took up roles to cool the Big Block and its blower. Soon cold water soaked rags and ice were being carefully applied to the engine, an airline also put in an appearance as air was ironically blown over the blower to aid the cooling.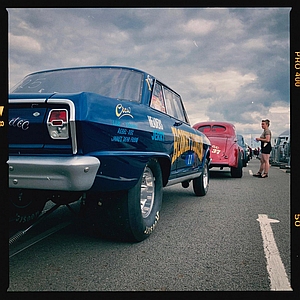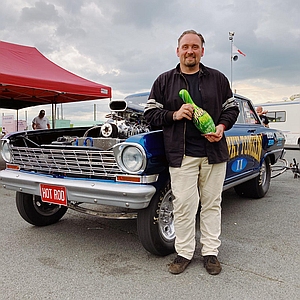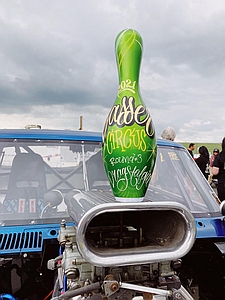 Both cars were soon called and both fired and drove to the Fire Up Road, ensuring they stayed within the rules of the class. This was not Lee's first Gasser Circus final but it was definitely Tony's, both drivers and their ever supportive crews, along with the rest of the Gasser Circus drivers were looking forward to this the clash of the Chevy's.

When signalled to come round to the burnout area, both cars assumed their positions and commenced their burnouts. Lee's was relatively short and Tony's very short when compared to the stonking rolling burnouts he had blessed us all with over the weekend. Ian Marshall signalled them to the line, and they both edged forward, both rolled into pre stage and with the top bulbs lit, Tony was first into Stage. You could hear he raised the revs on his Big Block Chevy, yet Lee still had to stage, Lee edged into stage, and the tree dropped, Tony left and with a green glowing the race was on, Lee left and by mid track they were together and gradually Lee was edging ahead and as both cars flew under the gantry the win lights went on next to the lane occupied by Lee Pike and 'Honky Tonkin 2'. The superb final was a befitting way to conclude what had been a weekend when not only Nostalgic drag racing had made a welcome return to the Pod, but also one which had the stands and the bank buzzing with spectators.

The best thing of course is we get to do it all again at Round 4 the Mopars. Congratulations to Tom Margesson and John Gumble as their Gasser 'The Tinsel Town Hustler' was awarded the Best Appearing Car and Brian Gibson was awarded Best Burnout of the Weekend. The Gasser Circus are grateful for the continued support of Neil Melliard's Modern Pinstriping and Lettering, Simon Prest, the NSRA and Renegade Fuels.

Gasser Circus – Racing the Dream.

Pictures courtesy and © Jungle Pat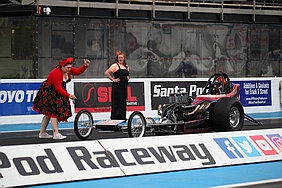 Wild Bunch Dragstalgia news update.
15th July: Wild Bunch co-ordinator Claire Meaddows has posted a comprehensive and entertaining report on the class, following Dragstalgia, on the Wild Bunch web site.

As ever, the report covers in great detail the activities of the class, with 35 teams taking part. Listed in it are the top six with the closest average variance to their dial-in (pictured: Rob Brown, who was top with co-driver Pete), spot prizes for the class, with notes on each and every car taking part.

You can read Claire's report and see the updated points via the Wild Bunch news page at www.the-wild-bunch.co.uk.

STP Summer Nationals racer update.
15th July: Many thanks to to Santa Pod Racers Club Secretary Ian Marshall for sending us details of track opening and signing on at this weekend's STP Summer Nationals, 17th-18th July.

Junior Dragster will have to sign on and scrutineer for this event, but that is the only car class that is required to scrutineer.

The main gates to the track will open at 08.00 on Friday, 16th July 2021.

Friday 16th July:
08:00 Main Gates open
10.00-18.45 Signing on open for Bikes and Junior Dragster only
15.00-19.00 Scrutineering open for Junior Dragster – no specific order
17.00 Scrutineering for bikes – no specific order . Riders, please note the Scrutineers will again be visiting your pit area.

Saturday 17th July
07.00 Signing on open. Scrutineering & signing on open for Bikes and Junior Dragster only.
09.30 Track open for qualifying.

Sunday 18th July
07.30 Scrutineering & signing on open
09.30 Track Open for qualifying/eliminations.

The detailed running orders and printable entry list can be seen in our event coverage page.

STP Summer Nationals Perfect awards.
15th July: £200 is up for grabs at this weekend's STP Summer Nationals courtesy of Eurodragster.com and our sponsors.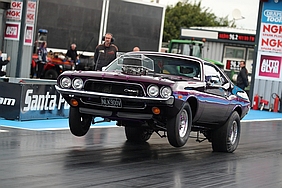 This weekend's Eurodragster.com/Bad Habit Racing Perfect Light Award has been reset to £50 after it was won by Super Pro ET and Super Comp racer Mark Coulsell at the Festival of Power. The money will be paid to the first racer at the event to record a Reaction Time of 0.000 seconds. The Perfect Light Award is available in all classes during both qualifying and eliminations, but will only be awarded for the first Perfect Light of the event. The Perfect Light Award is presented in association with Cath and Tig Napier of Modurstang Pro ET team Bad Habit Racing (racing this weekend in Hutchinson & Dibley Sportsman ET).

Decals are not mandatory for the Perfect Light Award but we would appreciate it if Eurodragster.com decals are carried. Eurodragster.com decals are available in Signing On or from Eurodragster.com staff.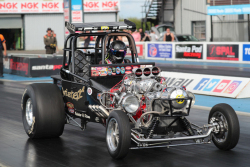 The Eurodragster.com Perfect ET Award supported by Andy Hadfield and the Twister Race Team has reset to £50 after it was won by Super Comp racer Paul Hudson at the Festival of Power. The money will be paid to the first racer at the event to run +0.000 on index or dial-in. The Perfect ET Award is available in Peter Nee Super Pro ET, Modurstang Pro ET, Hutchinson & Dibley Sportsman ET, B Fast R Super Comp, Dave Grady Super Gas Shootout, Lucas Oil Junior Dragster (eliminations only), VW Pro, VW Sportsman, Wild Bunch, JKE Race Works 8.50 Bike, Atlantic Fluid Tech 9.50 Bike, Blood Cancer UK ET Bike, and Eurodragster Junior Drag Bike. but will only be awarded for the first Perfect ET of the weekend. The Perfect ET Award is presented in association with Andy 'Fadster' Hadfield of the Twister Race Team.

Decals are not mandatory for the Perfect ET Award but we would appreciate it if Eurodragster.com decals are carried. Eurodragster.com decals are available in Signing On or from Eurodragster.com staff.

Bob's Photo Finish Award, which is presented in association with Eurodragster.com sponsor Bob Roberts, will award £50 each to the racers involved in the closest race of eliminations at this weekend's event.

The closest race will be decided upon distance rather than time since, for example, 0.001 seconds at 230 mph is further than 0.002 seconds at 110 mph. For this reason the official timing data will need to be consulted so the winners will be announced here on Eurodragster.com as soon as possible after the event and the winners will then be contacted for their preferred method of payment.

Bob's Photo Finish Award is open to all classes during eliminations only and although Eurodragster.com decals are not mandatory we would appreciate if it they are carried. Eurodragster.com decals are available in Signing On.

ACU Festival of Power report.
15th July: Thanks to photo journalist Steve Moxley for letting us know that his report on the ACU bike classes at the Festival of Power has been published on the ACU web site.

The next round of the ACU Championship is this coming weekend at the STP Summer Nationals at Santa Pod Raceway on 17th-18th July.

Villain succumbs.
15th July:
When we reported that the Villain glanced the wall at Dragstalgia on Sunday, moving across the track in the shut down area of Santa Pod, but remaining under the control of driver Chris Manning, we were sadly over-optimistic over the outcome of the incident.

Last night the team announced on Jon Spoard's UK Drag Racing News & Nostalgia Facebook page that "after its visit to the wall at Dragstalgia, the stunning Villain dragster is no more.

"The chassis is beyond repair so the engine, glide, and axle will be put up for sale as well as the body and other bits".

Jon added "The car was without a doubt one of the most popular in our scene with its huge burnouts and storming 200mph low 7 second runs. I want to personally thank Chris, Tania, and all crew for the years of entertainment they have provided us and wish them all the best in the future. The car and the team will be sorely missed."

We echo Jon's sentiments, and thank the team for a fantastic car and wonderful showmanship.

Web site offer.
15th July: Former fuel altered team member Luke Bennett of Escape Web Design has written with a website design and build offer to announce to racers.

Essentially, a 3 page website (including domain name) for £99. We take care of everything. You supply the information, we build it. Simple as that. For those that think that they don't need a website, as you may have a Facebook page, you need one... if you want sponsors to take you seriously.

We build and maintain websites for Malmgren Racing, Bennett Racing, Venom Racing to name a few. All these guys pull in (and keep) sponsorship very well.

Please reach out for options, we can of course build a website with as many pages as you like, but this offer is a great deal for a 3 page website. Our email is escapewebdesignuk@gmail.com - please reach out and ask anything, we're happy to help.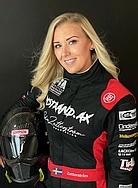 Zetterström to license TF at Bug Jam.
14th July: Many thanks to our good friend Remco Scheelings who has published an interview with Super Stock Bike racer Ida Zetterström about her career to date and future plans.

Following records and the 2019 EDRS championship in Super Street Bike, Ida plans to license for Top Fuel as soon as possible and has the ultimate goal of running a full FIA European Top Fuel Championship in 2022 with Rune Fjeld Motorsport.

We're excited to have learned that Ida's licensing passes will be at Bug Jam in just over a week's time on 23rd-25th July. Also running at Bug Jam will be the Top Fuel Dragster of Susanne Callin, meaning not just a number of exhibition runs, but also the prospect that the two will go head to head should Ida complete her licensing as planned.

You can read all about Ida's plans by going to the Drag Racing Europe web site.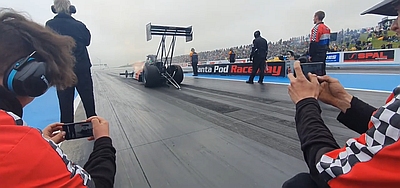 Working with a TF team.
14th July: Many thanks to Harry Briggs, who studies machine engineering at Silverstone UTC, for contributing, via our good friend John Hackney, an account of his first experiences of working with Rune Fjeld Motorsport on Antti Horto's Top Fuel Dragster at the Festival of Power:

It came round to the Saturday morning of my first race weekend at RF Motorsports, and I was fired up and ready to start an amazing weekend with something that I love to do. It was an bright and early morning to start on, and I can remember arriving at the front entrance to Santa Pod Raceway and being nervous but also so excited to start. We started to drive up the long road to where the trailers and the two FIA Top Fuel Dragsters had been parked, just after the pit road to start line of the drag strip.

I dropped all of my belongings in the lounge area of the race trailer and walked out, prepared for what was to come. I spoke to clutch specialist Ruaridh Hart who I worked with and he ran me through everything and what we had to do in a limited time to get everything ready for our race timetabled for 4 hours time.

We had a lot to do in so little time but we managed to get the car out, ready on time but with minutes to spare. Ruaridh had introduced me to the legend himself, Antti Hortto, just before the race was due to take place. I was shy to meet him but I did it, and he is an amazing person to work with. It came round to race time and we were waiting on pit road, two pairs of cars away from being the most tense I had ever been. I was nervous and my heart was racing but I knew I had got this and I knew that I had to get out there and do my family and one of my best mates, John Hackney, proud.

We were just getting ready to send the dragster off for its first run of the weekend, we had just finished the burnout and I felt like I was 50% nitro that had come out of the exhaust, and I was getting into position for when the dragster comes back from the startline to brush off all of the rocks to make the tires last longer and to stop any punctures.

We ran a 0.9152 second 60ft time and my adrenaline rush had just gone through the roof but I had to walk as quickly as I could back to the trailer to get everything ready for me and Ruaridh to get started stripping the clutch and then rebuild it again. We finished rebuilding the clutch and we did it an hour with some time to spare so we could get the warmup done so we could get back out to racing.

The second run just flew by (it was the quickest European 1/8 mile time of 3.0382 - Editor) and my heart was racing quicker than ever before but we had a massive issue when we got back to the trailer. The driveshaft had fallen out of one of the disks inside the clutch and got stuck in the reverser, so we spent over an hour trying to get it back into place, but then we found another way to get it out. We had to take out the rear diff and to do that we had to take off the rear spoiler and wheelie bar and take off the tyres but we had fixed it and had it ready for Sunday! Thank you for reading.

To see Harry's videos of Antti's runs on Facebook, click on this link or by clicking on the above image.

Traffic report for STP Summer Nationals.
14th July: Thanks to Firefighter Racing Juniors team boss Andrew Willcox for giving us a reminder to anyone coming to the STP Summer Nationals at Santa Pod Raceway this weekend the A43 will be closed to through traffic due to the British GP at Silverstone.

Also VW Sportsman racer Jon Crawford has spotted that racers and spectators driving through Podington village to the track will find there is a road closure Thursday to Friday this week from Manor Cottages (at the bottom of the hill) to the New Inn in Wymington). Alternative routes are recommended.

UK champions racing at Dakota.
14th July: Thanks to Dakota Raceway promoter and Eurodragster.com sponsor Lee Child who has updated us on the 1/8 mile heads up cash day race at Dakota Raceway, Smeatharpe, Devon EX14 9RF on 17th July for which entries will close tomorrow, 15th July:

"We have some great names entered, like former Super Gas champion Phil "Do you mind if I stage last" Drewitt in his Ford Anglia, local Outlaw Street racer Dave Mahoney with his turbo charged 68 Camaro, making the trip from East Sussex, fellow Outlaw Street racer Graham Butler with his turbocharged 32 pick up, fresh out of Gasser circus action Nick Barnett with his Ford Falcon who tells us he is ready to call out Phil Drewitt, ET national championship racer John Parker who is a long-time supporter of Dakota raceway, from the very first day, 14 years ago.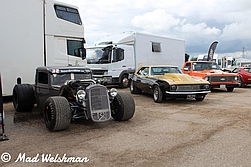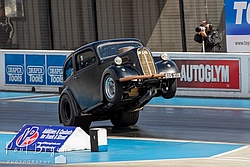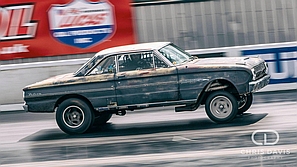 With all the other great drivers entered you will be in good company, so get your entry in for a great day at Dakota raceway. You can see all the details from our post on Monday.

M&M Racing sets their target.
14th July: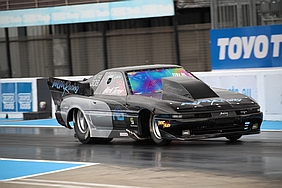 Many thanks to Mark and Michelle Turner for a review of M&M Racing's latest outing, and their objectives for the STP Summer Nationals:

The Festival of Power unlocked at Santa Pod Raceway marked the team's second competitive outing with the Supra, and was a bitter sweet weekend for the team. After finding a few issues at the Springspeed Nationals, we had high hope of achieving our goal of meeting the Super Pro ET requirements and running that first eight second pass.

During qualifying and with super crew Michelle, Scottish Rob, Rich Burton the two Kierans and sunny weather, we lined up: the first run saw us knock two tenths off our previous best, but despite our best efforts we couldn't break into the eights. Our best time was a 9.18 (close but no cigar), so the decision was made to swap into Pro ET for the weekend. On our second attempt we managed to qualify in what was a very tight 32 car field.

Sunday dawned dry and sunny. We set off for our first round race against Geoff Cowley in his beautiful Nova. We dialed in with 9.19 and with a great reaction Mark chased down and passed Geoff for his first ever round win! Next round saw us up against Dave Cherrett, but unfortunately Mark reacted just a little too soon leaving a glowing red in the tree.

After the disappointment of not getting the prized eight second pass, there was a lot of pondering and discussions about how we were best going to achieve this. Thoughts of switching to a methanol set up were looked at, but after discussions with Jeff Bull and Jedd Guy the decision was made to fit the nitrous plate that came with the engine when we bought it from Jedd to give us that extra push we need to get back into Super Pro and that magic eight.

So here we are, the changes have been made to the motor and control systems and, with tuning advice from Jedd and Colin Millar, we are heading back to Santa pod for the STP Summer Nationals!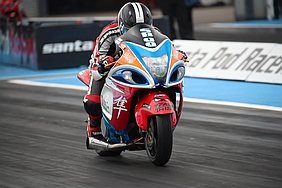 Craig's list.
14th July: 9.50 Bike racer and points leader Craig Wright says he is happy with his achievements so far this season, but is short of funds to be able to see it out:

We've had a dream start to the 2021 Atlantic Fluid Tech 9.50 Bike National Championship, qualifying top twice and an event win is quite unbelievable. After a few upgrades at JKE Raceworks over the winter we knew we'd have a good bike this year and it has been just that. We have been faced with all different types of changing conditions and what ever changes we make to the bike to dial it, it just works. Credit to Jake Mechaell.

We are still looking for anyone to come on board and help us see this season out with various sponsorship/advertising opportunities for the final 4 rounds of the year. Whether it be a one meeting, two meeting or rest of the season deal. We'd be happy to talk to anyone that could help.... We currently have the lead in the National Championship and to throw it away and not make the remaining rounds would be a tough pill to swallow.

We'd just like to thank a few people who have helped us achieve what we have so far this season...

The Santa Pod Raceway crew and marshals who chave worked their butts off at each event this year as always, Jake Mechaell at JKE Raceworks, Steve Ashdown and his Banks Nightclub team, Lewi Williams and his Hendrix BarberCo crew, Chris Hardinges of Straightline Installations, Callum Pudge of Pudgey's Pictures, my parents Eileen and Graham Wright for the support they give us every year, and of course Ian Chrichlow for trusting us with his awesome Hayabusa. Then there's my team, Kat, Chris and Kate who give up their spare time to come racing on a weekend. It wouldn't be possible without these people.

If you want to join our team and get us to the next or remaing events, get in touch. We hope to see you all this weekend.

Williams Bros NSS report.
14th July: The ever-expanding Williams Bros Racing team had a busy weekend at Dragstalgia, as their report testifies:

What a weekend everyone in the Williams Bro's team had, from match races to a final finish, Dragstalgia really had a lot to give! This weekend we had 7 cars running in Nostalgia Super Stock, keeping us super busy. It was also great to have Guy King back with us!

Q1 – In the first qualifier on Saturday morning, most of the team went for a general checkout pass, however Gary Carr went straight to the no.1 spot with a 8.91 on a 8.90 dial.

Q2 – Later in the day, during the second qualifier, Guy stormed up to the no.1 spot with an almost perfect et. Well done Guy! Ollie heads up to no.3 with a 9.298 on a 9.29 dial in, Gary drops to no.4 due to this. Dan improves with a 10.42 on a 10.40 dial putting him in the no.6 spot and Nic in 12th. Spencer breaking out and so ends up in 21st. Simon's car was running consistently into the 9.70's!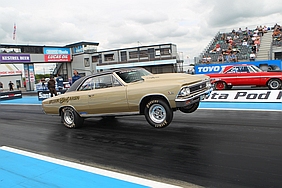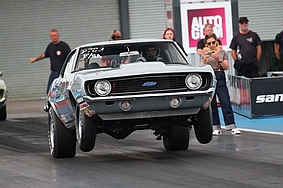 Q3 – During the last qualifying session, Guy kept the crown for no.1, Dan moves up to no.2 with a 10.42 on a 10.42 dial, Ollie moves down to 4th and Gary moves down to 6th. Spencer finishes in 11th with a 11.11 on a 11.09 dial, Nic saw no improvement and Simon finishes in the 13th spot with a 9.73 on a 9.71 dial.

Onto eliminations, this weekend saw a whole lot of holeshot wins and ultra-close races, just how we like it!

E1 – During round 1, Gary unfortunately lost to Paul Smail in a really close race, Dan defeated Glynn in an awesome race. Ollie took the win over Ty Strevett. Spencer took the win over Bev Tyrell due to a breakout. Guy and Nic faced eachother and after a tense burndown, Guy took the win. Simon red lit. On the Saturday evening, Colin Theobald also took a massive holeshot win over Santa Pod CEO Keith Bartlett during a match race in his Williams Bro's 1969 Camaro, 'Bruce'.

E2 – In round 2, Ollie took the win over Adrian Portelli due to a red light. Spencer defeated John Davidson in the 'Soper and Heck' car. Guy had a bye into the next round and Dan defeated Jerry Raymond in a fantastic race with a win margin of only 0.001!

E3 – During the third round, Dan had a bye run into the quarter finals, Guy defeated Jack Bishop with a 10.12 on a 10.08 dial. Spencer had a great close race with the eventual event winner, Stuart 'Kiwi' Thompson.

E4 – Onto round 4, Chris Layram defeated Dan who was unfortunately not close enough to the dialed number and Guy took the win over Dave Billadeau in a holeshot win.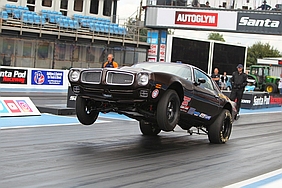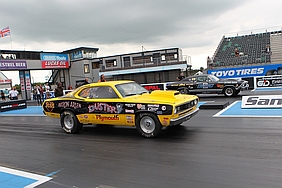 E5 – During the semi finals, Guy defeated Chris Layram due to a red light to move onto the finals against Kiwi.

During the final, Kiwi took the win over Guy who was just a little too far off his dial. It was a great race and congratulations to Stuart and the whole team for the well deserved win!

Overall the whole team had a brilliant weekend with far too many highlights to name. We will be back with 7 cars next weekend at the STP Summer Nationals and hope to see you there!

Motorcycles at Dragstalgia.
14th July: Many thanks to author and commentator Keith Lee who has sent in a report on the NSA Shootout at Dragstalgia: Thanks to all the bike riders, who put on a great show at Dragstalgia, and also those helping out - especially Ray and Neil Baskerville with the start rollers.

In the NSA Shootout, it was excellent to see and hear Gary Norman riding both the Triumph and Norton doubles (Norton pictured left below), which are now sounding so much stronger, after a lot of work has been put in on them. Although class numbers were down this year, there were still five twin-engined bikes running - and all riders were running on nitro! There were a few gremlins; with Jeff Byne (pictured right) sadly plagued by mag problems, which prevented him making a good run on Hurricane. Graham Sykes was a late rider addition, as Chris Illman unfortunately had to pull out of the event. Colin Fallows offered Graham a ride on the Black Cat blown Triumph, as Graham's own Mistral machine is being fitted with a new chassis.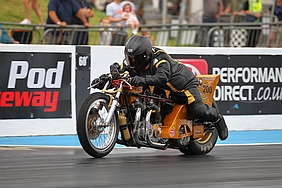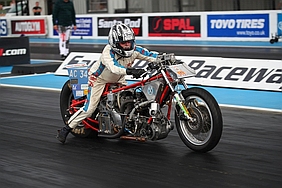 John Hobbs (pictured left below) took another NSA Shootout win, this time on Olympus, which was running flawlessly in the low tens, during his match races against Dave Clee on Shotgun. Martin Willmott would normally be in with a shot at the final on his 500 Triumph, but could not get his new slick to perform. So it was John against Ray Law (pictured right) in the final. John fired up, and waited patiently, but Ray was unable to fix an oil line problem on starting, which left Olympus to win with a solo 10.14/134.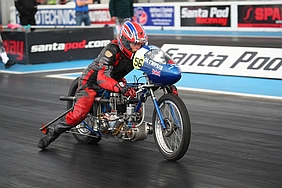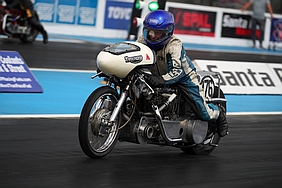 Over in the Old School Stocker ranks, it was two-stroke triples v four strokes. Good to see class organiser Tyne Blight back in the saddle again, on his orange and black Suzuki. Nick Pepper had a wild ride on the old Steve Tong stocker - and needed a change of underwear after somehow keeping the bike sunny side up! Dean Stevens was learning quickly on father Mark's rapid green triple - and dipped into the eights on one run, before breaking the gearbox. After some strong 8 second times earlier, riders were fighting to match these times as the competition progressed. A triple eventually came out on top of the class, with Rod Spry taking the class win over Claire Rule - 9.70 to a slower than normal 10.07s.

Chris Spry (pictured left below) writes that the Old School Stockers, comprising Pro Stock Bikes from back in the day, had he and brother Rod competing, with Rod (pictured left), substituting for a recovering Mark 'Nipper' Stevens, taking the class win after several of the favourites had succumbed to breakage:

We arrived Thursday afternoon to setup camp and be ready for the RWYB and qualifying on Friday.

Rod's second run of the day was a disaster, a gudgeon pin circlip popped out and the motor seized. On checking one other cylinder was about to do the same. Major work entailed with a new piston, a hacksaw and some rusty files and a honing tool to clean up the bore. Pins were modified to prevent this happening again. This work was done trackside.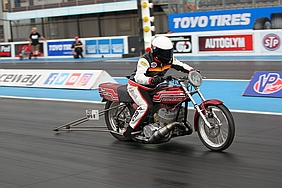 After a few clutch issues were resolved on the FBG bike and the ignition problems sorted on the Super B Carpenter bike, the highlight for us was running a side by side 9 second pass on both H2s.

The damaged motor didn't seem to upset the performance as it ran constantly in the 9s. Rod then went on to win the 2021 Dragstalgia Nostalgia Pro Stock Final. A crazy weekend but so happy to be both running in the 9s.

We had a great time and really appreciate the help and support from Old School Stocker group of guys and gals.

What with Kev's new world record for a piston port H2 on the quarter and Rod's win in the final made for some very happy Kawasaki triple fans.

Dragstalgia photos and web site update.
14th July: You can see more photos posted from Dragstalgia 10 at the following links: Photographer Brian Hicks says "I have been writing a blog for a few years now and has many posts on Drag Racing at Santa Pod, also several pages of my old shots from the 70's & 80's. I have added a new post with some shots from the weekend's Dragstalgia 10". You can see Brian's blog from Dragstalgia at this link.

Jedd goes close.
13th July: Many thanks to Eurodragster.com sponsor Jedd Guy and wife Jemma for sending us an exclusive account of the Shortys Hotorod Racing's landmark Dragstalgia event:

Wow what a weekend! We reset the Outlaw Anglia ET record to 7.01 at Dragstalgia however it certainly didn't come easily!

We arrived early Friday morning for 1st qualifier that night however the clouds opened up and that session had to be cancelled.

Then Saturday Morning came around and unsurprisingly after our PB at Festival of Power (7.14) Jedd was like a kid at Christmas bouncing around waiting to run. When the time then came it didn't quite go to plan as our first 2 qualifying runs we struggled with tyre shake and heading towards the centre line however we still managed a 7.15.

Later that day we then got the call for our 3rd qualifier, we had tyre shake, then further up the track it started to wander so Jedd pedalled it a bit and pushed through to 7.01 @190mph!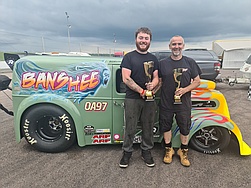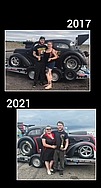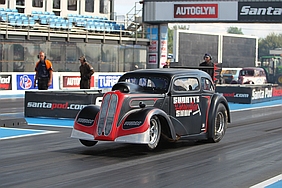 The team were all absolutely ecstatic at having the first half of the new OA record however slightly gutted at being oh so close to that 6...

Sunday morning was then when more issues started, we got through our 1st round against Shane Bird and then our 2nd round we had a bye but as Jedd crossed the finish line an Oil line split causing a big cloud of smoke and a bit of a clean up needed on track (massive apologies to Ian and the track staff). We got the car back to the pits and after a roll of blue roll, all hands on deck and a new hose (thank you Ben Kennedy) we were then ready just in time to head down for our race with Rob Stone which we managed a 7.06 getting us to the semi final and backing up our 7.01 to get us the record.

Semi Finals we then had Ben Rushforth, we started the run with the same 60ft as the 7.01....with more power than before... and then the dipstick came out the gearbox and covered the inside of the car with gearbox oil and Jedd then having to pedal it to the finish to get through to the final!

We then had yet another clean up to do on the car to get ready for the final so again all hands were on deck and blue roll everywhere cleaning the inside of the car this time.

We got down for the final in time and after a bit of a mid track wander again, we managed a 7.49 and took the Dragstalgia 2021 Win. This weekends win was also 4 years after Jedd won Dragstalgia back in 2017 when Jemma had the trophy for best backup girl with the Fez Bra tribute to Scotty Durant. So although we've had a very trying weekend, Dragstalgia is going to stay a favourite for us for a long time! Big thanks goes to Santa Pods staff and Ian and his track staff! Also Eurodragster for all the coverage (you're more than welcome - Editor).

We look forward to this weekends Summer Nationals where we will have another attempt to get the 6 with also Mr Millar returning to give it a try! Side by side 6's?

See you all soon!

JT: one car now, more later.
13th July: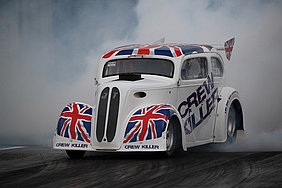 Thanks to Pro Modified and Super Pro ET racer John Tebenham for providing an update on his plans for the STP Summer Nationals this weekend:

One wounded Pro Mod (if you are ever thinking of going Pro Mod, do it - they are beyond belief when it starts shaking, the screen turns into a blur and you can't see your hands at 10,400 rpm - you have to make that choice, change gear, lift, or hit the wall) but, man, we can't stop chasing the damage. So Crew Killer is going to be our no.1 bitch.

Signseen have stepped up and brought us a pair of slicks from Topspeed Automotive. They are about 1" taller and 1" wider. Mmmm...150 mph...

I am just about to buy and build two new cars as we need a new fit for next year. It's not that I'm not happy, but we need more track time. My Dad always said you would have tough days racing, but he never told me we would have so many going home broken again and again and again. (Gladiator) JT.

If you see JT in his pits next weekend, he is still putting all sales of his t-shirts and posters in memory of Dave Rowlands.

Dragstalgia Cannonball racer notes.
13th July: We thank all racers who posted their thoughts on Dragstalgia to social media and giving us permission to reproduce them here:

Winner of the Nostalgia Cannonball Tim Garlick's team worked hard and the established combination allowed them to run consistent 6.2s throughout the weekend (with bests of 6.213 and 231.24) and come winners of the Cannonball. Runner up was Dave Grabham in the alky fuelled Freddies Revenge who ran his PB numbers of 7.24 at 175 and 7.15 at 189 on Saturday, 7.206/189 and 7.212/190 on Sunday. Both teams had engines prepared by I.C.E. Automotive.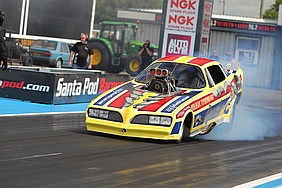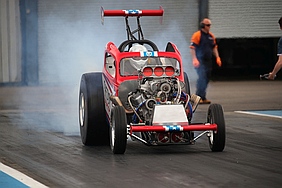 Nostalgia Funny Car racer Tony Betts, placed third in the Cannonball, brought out his latest Venom out for its first runs on the full quarter following a 1000ft pass at the Festival of Power. Tony's times for the quarter were a great 6.400/220.05 and 6.583/157.92. He said "There were a few issues this weekend but the crew worked well and they were nice runs apart from pinching a few piston ring's before the finish line."

The nostalgia Funny Cars were all of show quality, if pressed to select one, the Monza of Paul Harris would be the most admired for its iconic body, paint scheme and association with the late Dennis Priddle who we all remembered on Saturday morning in a minute's silence following a tribute from announcer Darryl Bradford. Paul's best time with the car was negated by an errant timing reflector block.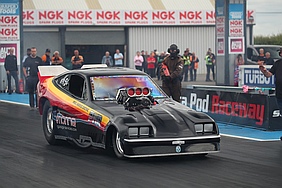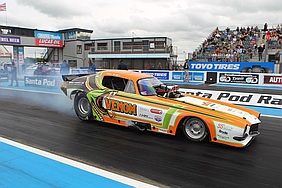 A mention in despatches should go to Rob Elsom whose 'Dirty Deeds' Camaro made it on track on Sunday for a checkout pass, very nice looking car.

The quickest slingshot in the competition was Chris Manning who achieved fourth place in the Cannonball after his engine cut out after the burnout. Chris made representative runs in each round, the best coming in the third with a 7.075/202.45. In an exhibition run after restarting at the end the car suffered directional stability issues in the shutdown area, coming into contact with the wall and we hope the damage is not severe.

Robin Read revealed in his Facebook posts that the nitro fuelled Daimler engine in his dragster suffered a component failure that was serious enough to put the team out of contention for the Cannonball.

"The crankshaft broke behind number 8 connecting rod just where the rod journal joins the rear main bearing web! There could be many reasons for this, age, number of runs, tyre shake! However I'm fairly sure that the best reason is that, after all the work and fuel system modifications carried out, Little Car is making more horsepower than a standard Daimler crankshaft can cope with".

Plans are afoot for a billet crank to be made, a previous one proving durable. Further investigations and a check of the block will determine the extent of repairs needed. Robin thanks his team, Dave Wilson for fuel flow work and Paul Siddles for help with the fuel cost and to the NSRA for the Dirty Dozen award from the 2020 Hot Rod Drags.

Having run rear engined cars throughout his racing career, apart from Hemi Hunter which he ran at the 1979 Fireworks meeting (thanks to Jerry Cookson for the info - Editor), Doug Bond was getting to grips with the Nuthin II Fancy slingshot with a best of 7.681/155.76. It was also great to see and hear Mick Hannah, Bob Hawkins, Steve Johnson and Adam Clayton with his Firecracker altered and hope to see you back at the track soon.

Fadster survives event, Usher returns.
13th July: In the Supercharged Outlaws, sponsor Andy 'Fadster' Hadfield and Jim Usher have both updated Facebook on their experiences at Dragstalgia:

Fadster said "Incredible weekend. My borrowed Pro Mod crew from Team Blownbird were immense. We started with gearbox issues that resulted in a complete strip down on Friday but within 40 minutes, the box was back in on Saturday morning and we were warming up. From that point on, Twister gave very few problems, our biggest problem being getting the new power level to the track. (Fadster's best times were 7.915/176.34)

This new set up is making so much power and with Alan Grimes help, we were down tuning on every run but still blowing the tyres away. But we chipped away and saw some real progress. Lack of track time was really the problem for us to iron out the rear suspension but plans are in hand and we expect to have a different animal for Bug Jam.

Tony, James and Kevin were so professional and didn't miss a trick, on many occasions saving my ass on things that would have normally been missed. Thanks lads, I'm learning so much! My BUGS, Purdie and Charlotte were, as always, stunning and impeccable in their duties so thanks so much to them. We leave Dragstalgia 10 with fantastic memories and zero breakages...and that is always a result. Thanks of course to my amazing Hayley who always has my back and is so supportive when times are tough.

Finally, special thanks to Nikki and Ian Marshall for the loan of your immaculate truck for the photo shoot which was done very kindly by Andy Wilsheer and Jon Spoard on Saturday evening for Thomas and Purdie to celebrate a year together, and thanks to all the marshals and track crew at Santa Pod Santa Pod Raceway who made the weekend so special and memorable especially the commentary from Darryl Bradford and Colin Theobald who had me giggling on the replay of the live feed.

Winning the Spirit of Dragstalgia was the cherry on top. To my supporters and friends, thanks and I really look forward to seeing you all at BugJam or the Hot Rod Drags!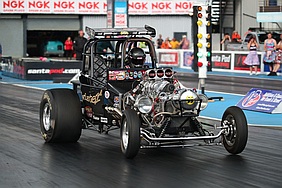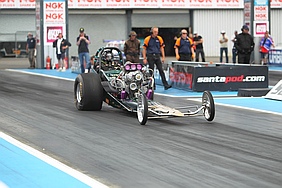 Jim suffered issues following two years since he had a wheelstand causing damage to Hemi Hunter, resulting in chassis repairs. He commented on Saturday that the team had "gone through his historic Hemi Hunter slingshot today, with fuel leaking problems and electrical problems sorted; the oil drive sheared the roll pin but that was fixed, the team worked their butts off to get it sorted". Jim made it to the crackle fest and out on Sunday to a good looking 8.070/ 170.45 and thanks Leo Knight, Roy Wilding, Tony Betts and Mick Hannah for their help.

Other performance highlights in Supercharged Outlaws were Des Taylor running two 7.5s, the best a 7.5720/178.54, Roy Wilding with a 7.3908/179.91, Paul Dale with a 8.539/159 on Friday. It was also great to see the new cars of Luke Watts and Aaron Windridge on track.

BDRHoF's auction success.
13th July: Thanks to British Drag Racing Hall of Fame chair Lesley Wright for reporting on the activities of the Hall of Fame at Dragstalgia:

A huge thank you to all those who supported our Auction at Dragstalgia. It was very well received by all participants, with friends up-bidding each other on the spot and others putting in some very generous bids to absolutely secure the items they wanted. It was a pleasure for us to bring to the Santa Pod audience some rare and autographed items which are now the treasured possessions of the auction winners.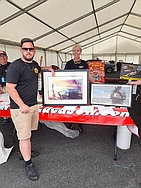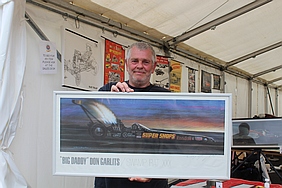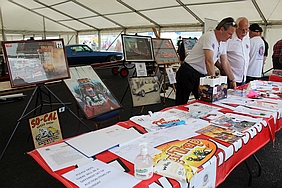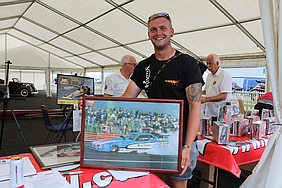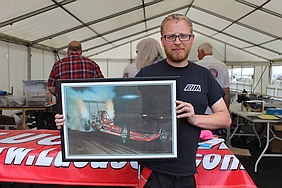 (pictures by Jerry Cookson: auction winners Ryan Bayes (Dennis Priddle painting by Paul Whitehouse), Mick (Don Garlits print by Kenny Youngblood); lower row: Brandon Mitchell (Micke Kågered poster from Fire Up magazine), Ben Rushforth (James Warren print by Kenny Youngblood)).

I would personally like to thank those who donated - Paul Whitehouse, Lynn at US Automotive, Steven Bishop, Paul Harris, Phil Cottingham, Tommy Ivo, Ron Hope, Don Prudhomme, NHRA Motorsport Museum, So-Cal and to Tony Thacker for collecting items from the US and US Automotive for shipping them over for us. We were also offered donations of items for auction during the weekend so we have already started the collection for what we hope will become an annual event for us.

Also my thanks to the BDRHoF team who ran the Auction and Sales - Phil & Angie Cottingham, Robin Jackson, Ian Hart, Graham & Carolyne Beckwith, Syd MacDonald, Bev Bradbury, Ian Messenger and Jerry Cookson. All backed up with technical support from Julian Parsons.

Of course none of this would have been possible without the support of Santa Pod Raceway and especially James Forster who make Dragstalgia the great event that it is.

Dragstalgia photos.
13th July: Several photographers have been posting photos of Dragstalgia 10 over the past couple of days: We'll add to the list as other sets get uploaded. If you've photo sets you'd like to share, why not get them listed on Eurodragster.com by contacting us at editor@eurodragster.com?

More Mike memories.
13th July: Many thanks to former Santa Pod announcer and photojournalist Mike Collins who has supplied a third piece on Dragstalgia, this time from 2018 (first published in Hot Gossip in Street Machine magazine) when we saw visitors from the continent whom we fervently wish to return in 2022.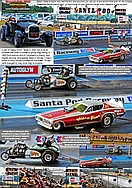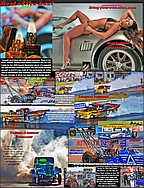 Mike also supplied his 'Best of the best' published by American Autoparts in Retro Ramblin's in 2012, starting with a shot of Danica Patrick from Sports Illustrated. Click on either of the images above for the full pdf version (3Mb each).

Dakota's cash day this Saturday.
12th July: Many thanks to sponsor Lee Child for reminding us of the next event in the South West this coming Saturday:

Dakota Raceway comes to life again this Saturday 17th July with its 1/8 mile heads up drag race cash day. This is a pre-entry event and entry for drivers which closes Thursday 15th. Entries so far are a real selection of drivers from the Gasser Circus , Outlaw Anglia, National Championship winners, bracket race champions, Outlaw Street, tuners and fine RWYB racers. Open practice on the ¼ mile starts from 9.30am until lunchtime, and pairings are out of the hat for the 1/8 mile heads up drag race eliminator.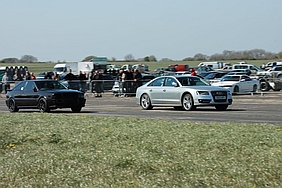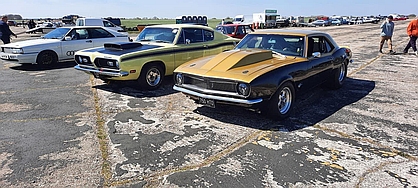 Each sixteen car category has a £400 winner takes all prize fund. Also there are awesome trophies for winners and runners-up sponsored by Outlaw Street racer and winner of the rear wheel drive category at the last event, Pete Lane. Pete's company TheGrassSeedStore.co.uk has given fantastic trophies and are providing trophies for the whole 2021 season.

In the event if numbers in each category are not for filled there will be a reduced prize fund for example, in a 4 car field £150 and in an 8 car field £200 In event of the field exceeding 16 cars the prize will go up from £400. We are looking for sponsors to increase the prize funds so be aware things are subject to change.

All categories will have the 16 car pairings decided from out of the hat selection until the final two race for the money.

Entry fee: Driver and one crew member entry is £100 . If you get eliminated from the 1/8 mile no time drag race, you then can do timed 1/4 mile test runs at no extra charge. Passengers have an additional charge.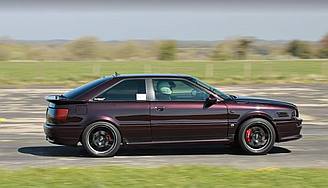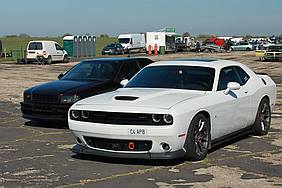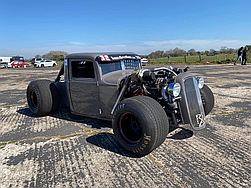 The categories are:

Pro AWD: Modified, competition tyres , interior removed.
Street AWD: Factory appearance, full interior.
Pro Rear Wheel Drive: Modified, competition tyres , interior removed.
Street Rear Wheel Drive: Factory appearance, full interior.
Pro Front Wheel Drive: Modified, competition tyres , interior removed.
Street Front Wheel Drive: Factory appearance, full interior.

Entry is online and it is pre-entry only, no entry on the day. You can enter by clicking on this link. Spectators are welcome, admission is £10 per person and kids go free. Racers can arrive Friday and leave Sunday. The track address is: Dakota Raceway, Smeatharpe Airfield, Devon EX14 9RF. Latest information can be seen on Facebook at Dakota Raceway Southwest.

Dragstalgia results.
12th July: Congratulations to the winners at Dragstalgia 10, held over the weekend at Santa Pod Raceway:

Nostalgia Cannonball: Tim Garlick 6.3888/221.22 def. Dave Grabham 7.2127/190.59
Outlaw Anglia: Jedd Guy 7.4940/159.04 def. Mick Taylor 8.2258/149.11
Gasser Circus: Lee Pike 9.3544/116.53 (9.35) def. Tony Pearson 10.7211/121.72 (10.68)
Nostalgia Superstock: Stuart 'Kiwi' Thompson 9.8489/134.47 (9.80) def. Guy King 10.2294/132.44 (10.10)
Wild Bunch (average variance from dial): Rob Brown 0.0537, runner-up Phil James 0.0772
Willys Wars (quickest ET): Phil Evans, 9.5339/142.10, runner-up John Dalrymple 9.9405/132.85

NSA Shootout: John Hobbs 10.143/134.11 def.Ray Law, broke
Old School Stockers: Rod Spry 9.7063/128.09 def. Claire Rule 10.0796/142.94

Congratulations to Jedd Guy for setting a new Outlaw Anglia ET record of 7.0145 backed up by a subsequent 7.0690. You can see the official timing data for the event by going to this link or by clicking on Data, then Timing Date in the main menu above.

Many thanks to Andy Marrs who has updated his table of UK and European bests which you can check out by clicking here or clicking on Data, then UK European Bests at the top of any Eurodragster.com page.

There were many personal bests also set which we will endeavour to highlight in our usual follow-up to the race as well as gathering racer quotes. If you've a report on the race you'd like us to include, contact us on news@eurodragster.com. The bonus Eurodragster.com / Bad Habit Racing Perfect Light Award supported by Cath and Tig Napier was not awarded as no-one achieved a perfect 0.000 light during the event. The Award will be carried over to the STP Summer Nationals next weekend.

There were four on track incidents, which fortunately resulted in no injury. On Saturday Wild Bunch racer Andy Stones suffered a stuck throttle as he was coming round to the start line, and his 'Frantic' altered crashed into the the steel pillar of the barn at full chat, coming to rest in the garage area with Andy temporarily unconscious. Later, part of Supercharged Outlaws racer Neil Townson's fibreglass '32 Ford body disintegrated at 1000'. On Sunday, Outlaw Anglia racer Rob Brindle got sideways with his newly built car which rolled once and came to rest on its side. Later, Chris Manning's slingshot dragster came into contact with the wall in the shutdown area after a quick run. In all of these incidents, thanks to the quick aid of medical staff and track crew, racers were given the necessary care and attention to ensure they could walk away from the incidents relatively unscathed.

You can see our coverage of Dragstalgia 10, sponsored by John Woolfe Racing, with on-track and pitside galleries thanks to Julian and Diana, at our event page.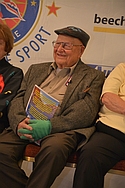 Happy 100th Birthday to Isky.
10th July: Today is the auspicious occasion of Ed Iskenderian's 100th birthday and we at Eurodragster.com on behalf of the British drag racing community would like to wish Isky the happiest of birthdays with many more to come.

Known as the 'camfather' Ed (pictured at the British Drag Racing Hall of Fame Bench Racing session in 2016) is a pioneer of making hi-performance camshafts, and has applied his engineering expertise to develop lifters and valve springs to match his camshafts. He is also one of the first to use computer aided design for camshafts and back in the 1950s pioneered sponsorship displays on racing vehicles.

Happy Birthday Isky!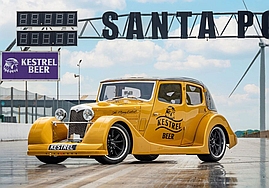 SPR announces Kestrel Beer lane sponsorship.
10th July: Santa Pod Raceway and The Kestrel Brewing Company are delighted to announce a new partnership which will establish the premium lager beer brand as an official Lane Sponsor at the north Bedfordshire motorsport venue.

Santa Pod's Commercial Manager, Caroline Holden, said: "We are absolutely thrilled to welcome Kestrel Beer as our new Left Lane Sponsor and to add them to our growing family of partners. Our Lane Sponsorship is one of the highest-profile programmes on offer and we look forward to developing the relationship throughout the remainder of 2021, 2022 and beyond.

"We all know how hard the events and hospitality industry has been affected by the pandemic, but as we slowly emerge from the restrictions, both Santa Pod and Kestrel Beer will enjoy the return of visitors and fans in greater numbers. Plans are well underway to introduce draught Kestrel Beer and cans to our bar operation as soon as possible."

Enjoyed since the 1980s, Kestrel was acquired in 2012 by Nigel McNally, founder and CEO of Brookfield Drinks Ltd., who recognised the brand's potential and relaunched its beers as award-winning, premium crafted Scottish products. Mr. McNally added: "We at Kestrel Beer are extremely excited to be partnering with Santa Pod Raceway as part of our ongoing investment in the Kestrel Beer brand. Santa Pod is an iconic venue which will no doubt fuel our links with the motorsport industry and will further support our position as one of the UK's leading beers.

"As a bold brand we continue to develop interesting and exciting properties that communicate the originality and personality of a beer that's been enjoyed since the 1980s."

The company recently made news with the remarkable story of its new corporate mascot: The Flying Kestrel.

Last year, Mr. McNally and his son, Joel, both committed motoring enthusiasts, found a 1935 Riley Kestrel 9 which had been gently rusting in a barn since 1965 and delivered it to specialist fabricator Jon Webster, at Webster Race Engineering, for a transformation the car's pre-war manufacturer could never have envisaged. The bold challenge Kestrel beer set itself was to achieve internationally recognised land speed records while retaining the same look and feel of the original Riley Kestrel 9.

When The Flying Kestrel emerged, a new aluminium body, gilded in gleaming company livery, cloaked a turbocharged, 2.5-litre Audi engine dispensing 900 horsepower, with underpinnings and components to match.

In June, with its restorer Jon Webster, a veteran drag racer, at the wheel, The Flying Kestrel clocked 159.63mph on Elvington Airfield to demolish the existing Class D 2.5-litre record for the standing half-mile. The car has since topped 175mph and now has seven official land-speed class records to its credit.

Away from the track, The Flying Kestrel becomes a roving brand ambassador in Kestrel's extensive marketing programme. A busy schedule of guest appearances at shows and events across the UK and internationally includes Santa Pod outings throughout the summer to help cement the new partnership.

Nigel McNally said: "Our recent documentary series with Insight TV also features content filmed at Santa Pod, so the sponsorship was a natural progression for us."

Santa Pod's Caroline Holden echoes the sentiment: "Today's announcement and the backing of Kestrel is hugely appreciated and further strengthens our optimism about the future prospects of our sport."

Happy Golden Wedding to Ron and Diana.
10th July: Our Nitro Revival Sponsor Geoff Stilwell comments: this weekend is a momentous occasion for Ron and Diane Hope celebrate 50 years of marriage.

We all at Eurodragster.com congratulate Ron and Diane on their Golden Wedding Anniversary and look forward to seeing them in the United Kingdom very soon after restrictions are lifted, and at Santa Pod Raceway in Rat Trap whenever possible.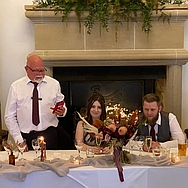 Happy wedding day Laura and Chris!
8th July: Many thanks to Ian King for the following happy message:

All of us at King Racing would like to wish many congratulations to our great friends Laura Turburville and Chris Wilson on the happy occasion of their wedding today. Good luck for the future!

We're sure all our readers will join with us in wishing Laura and Chris every happiness for the future.



Gasser Circus Preview – Dragstalgia.
8th July: Many thanks to Gasser Circus co-ordinator Nick Brooke Langham for sending a preview of the class at this weekend's Dragstalgia:

The countdown is on as we rapidly approach, the Drag Racing Nostalgia event of the year Dragstalgia. The event is celebrating its 10 th Anniversary and it's also the 10 th time the Gasser Circus have raced at the event. The first Dragstalgia was rain affected, but it has steadily grown year by year to the premier weekend it now undoubtedly is.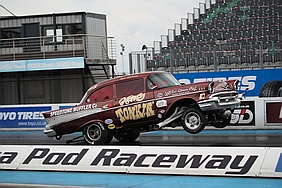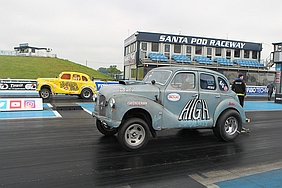 Pictured: Steve Matthews in Honky Tonkin' and Graham Barton in High Anxiety vs Nervous Nick in Nogbad The Bad

I am delighted to confirm there will be 21 Gassers on site this weekend, all doing battle in what is Round 3 of the Gasser Circus Showdown 2021. Within the Gasser Circus pit, you will see all manner of manufacturers and models represented, including Willys '37 & '41, Chevrolet Corvette, Nova, '55, '56 & '57, Austin '48 & '50, '64 Dodge, '47 Morris, Ford Falcon '61 & '63 and of course a trio of Ford Pops. Make sure you visit the pits and to get up close to these period race cars.

Race weekend report to follow next week.

No Prep Nationals 5: 7th-8th August 2021.
8th July: Many thanks to No Prep organiser Paul Marston for updating us on his next No Prep Race taking place at Melbourne Raceway on 7th-8th August.

No Prep is 1/8th mile Heads Up, no rules other than safety. It's doorslammer racing at its very best, featuring two classes.

Big Tyre is where anything goes, as many power adders as you like, superchargers, with no weight limit or cubic Inch capacity. Just bring everything you have. That said, you also have to be clever as the surface is not prepped like at a track like Santa Pod for instance. You have to apply the power effectively and efficiently, you need to prepare the car so it can go from A to B. It's not just a money class, it's a clever class.

The same applies to Small Tyre where the cars are only allowed a 10.5 inch tread width, this is more your stock wheel well class where it's bolt on go fast parts and not pure tube chassis cars. Maybe a back half car at most, here you are the same as Big Tyre, working with what you have, in this class 6-700 hp or less is all you need if the car works well.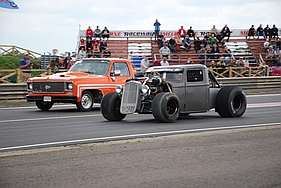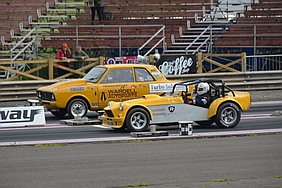 Entry for No Prep Nationals 5 is now open and filling fast, if you want to enter please contact us on the No Prep FB page, email pmdragracing@gmail.com or call Paul on 07831 650230 for details. Entry process has been simplified, so contact us now to learn how it is done.

The classes featured will be the same as No Prep Nationals 4 in June at Melbourne, Big Tyre and Small Tyre. We do expect a good field so don't delay, enter today.

Obviously Melbourne is to all intents a brand new track with a brand new team, as I said prior to No Prep 4. We will all make mistakes and we will all learn. A big thank you to everyone who came to the last event, your helpfulness and cooperation is a credit to you all. The racing was simply stunning in both classes, hard fought and a real spectacle for spectators. Moving on, this is what will be different for the next event:
All No Prep Cars will be pitted in the same area, they will not be spread out as they were last time.
Big and Small Tyre will run to a strict schedule, everyone will be informed of the timetable/Running Order.
There will be specific exclusive allocated staging lanes for No Prep cars and separate lanes for RWYB and other classes. So the pit layout will be a little different to accommodate this.
Scrutineers for No Prep Competitors only will come to you in your pitbay, you do not have to take your car to be scrutineered. There will be scrutineering Friday nite for No Prep competitors only.
Scrutineering for all RWYB and other classes will be moved to the far end of the pit area where there is more space.
The signing on procedure will be alot quicker than before.
The whole pit area HAS been swept very, very thoroughly by the onsite sweeper to clear all debris and small sharp stone. It will be swept again and again just prior to No Prep Nationals 5.
We will be endeavouring to add additional PA speakers to cover the main grandstand for the benefit of the spectators and to keep them all well informed.
We also intend to add an additional Portable PA system to the pit area to aid in keeping the running order schedule on time and everyone aware.
Any cars double classing in other classes will have to work around the schedule of No Prep to keep the show running smoothly for the benefit of everyone. Once again a MASSIVE thank you to all the No Prep Pit marshalls and runners who made No Prep Nationals 4 the success it was. Special thanks to Eurodragster for your excellent coverage (you're welcome - Editor) and the Melbourne/Straightliners organisation for hosting us. We all look forward to seeing you again at No Prep Nationals 5.

Straightliners announces new strip.
8th July:

Straightliners, headed by Trevor Duckworth, has announced Armstrong Raceway, a new straightline racing venue which will host its first event on 31st July-1st August:

"Armstrong Raceway at RAF Dishforth comprises a two lane 1/4 mile dragstrip and a single lane half mile 'top speed' track. The 31st July-1st August event will be the Straightliners Championship round 5 and Run What Ya Brung".

RAF Dishforth is a former Royal Air Force station located 4.4 miles east of Ripon, North Yorkshire and 11.5 miles north east of Harrogate, North Yorkshire, England. It is located next to the A1(M) at Junction 49 with the A168.

The airfield opened in 1936 as use by Royal Air Force (RAF) until 1943, when the Royal Canadian Air Force took over, but the airfield was returned in 1945 before the site was handed over to the British Army in 1992 and became Dishforth Airfield. As Dishforth Airfield it is operated by the 6 Regiment RLC component of the British Army. In November 2016 the Ministry of Defence announced that the site would close in 2031.

Armstrong Raceway is a great addition to the number of tracks already being used in the North of England and it you can support it by going to this page and booking weekend entry for £100 or £50 for juniors.

Report from Jetfest at Melbourne Raceway.
8th July: Thanks to Paul Cumpstone and Martyn Greathead for updating us on Jetfest at Melbourne Raceway on 3rd-4th July:

With rain mid morning after car and bike action down the strip on 3rd July, the decision was made for the jet cars, Firestorm of Roger Goring and Julian Webb's Split Second to do a side by side flame and thunder show, this a rarity, Roger and Julian putting on a superb show like a flame and thunder symphony to great applause from the appreciative crowd.

The weather changed for the better and to finish off the day's racing Roger and Julian did spectacular full power runs. Julian first posted a 4.93sec at 145mph followed by Roger running a 4.56sec at 162mph.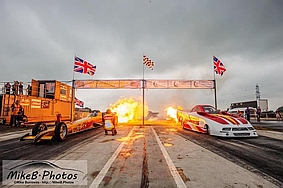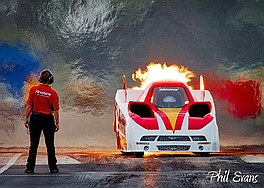 (Picture credits: Mike Burrowes and Phil Evans)

After nature's own torrential rain, thunder and lightning show on Saturday night Sunday 4th July dawned bright and sunny the track soon drying. Prior to the lunch break Julian and Roger did full passes. Roger first with an early shut down 5.37sec at 96mph Julian then let rip with a slow 60ft and 6.64sec but a stunning 169mph, Julian utilising pre planned emergency braking strategy!

Speaking afterwards both Roger and Julian said they had thoroughly enjoyed the weekend so thanks to them and their crew members for a superb show. In Motorcycle classes, with rain curtailing any chance of eliminations, points will be awarded on qualifying times.

How tight it was in the 6.00sec class. David Storrie just pipping Maxine Taylor by 1mph David a 6.41sec at 125mph Maxine 6.41sec at 124mph. 6.50 class saw a battle of the Rose's on Saturday Phil Tomlinson having 24hrs of glory in top spot for Yorkshire edging Lancashire lad Ashley Hodgson by a tenth, 6.52sec to 6.62sec and Leigh Williams suffering machine problems. Come Sunday Leigh had rebuilt his clutch over night and first run banged in a perfect 6.50sec to reclaim his usual top spot and bag an extra point for a perfect time!

7.00sec class was topped by Dan "helfer" Leather with a near perfect 7.05sec run edging Gilbert Cook by a tenth, 7.15sec and Oliver Tindall, on an unfamiliar borrowed bike, a hundredth back on 7.16sec.

In 7.50class Colin Fallows once again bashed the rev limiter unmercifully to an 8.22sec for top spot from Rob Kneeshaw on 8.44sec and Rob Briers on 9.20sec on the wheelie prone Yamaha.

In other classes. Jason King was top of Wheelie class just off record pace. Top Scooter was Eric Cope on 8.50sec just over a tenth from class record pace. Mike and Gill Pacey ran side by side all day, Mike bagging the 9.00sec class and Gill the 9.50sec class.

There was a new record established in 751 to 1000 Racing class Dave Storrie knocking a tenth off the previous record to reset it at 6.57secs with brother Andrew in 2nd. In the up to 750 Racing class, Andy Higham topped with a 7.77sec and Shaun Walker giving the 1983 ex works grand prix Honda 500 triple, Wayne Gardner and Freddie Spencer era bike, a couple of runs in 2nd.

Mark Taylor put down a 6.47sec run in Unlimited Solo after making adjustments to a flat sounding Suzuki and a 6.51sec in the Classic Legends class edging Mick Varey into 2nd.

Thanks to Martyn Greathead, detailed results can be obtained by clicking on the following links:

Saturday: Overall times NSCC Eliminations

Sunday: Overall Times NSCC Qualifying Times NSCC Eliminations

Photo galleries can be found at PWPics, Nightingale Digital Art/Image Village and Ashley Dale.

Joe looks forward to Cannonball.
7th July: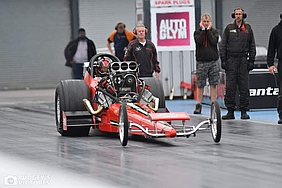 Many thanks to Nuthing ll Fancy slingshot dragster racer Joe Bond for sending a preview of Dragstalgia, at which he will be one of thirteen teams competing in the Cannonball (Tony Betts and Rob Elsom confirming over the last couple of days - Editor):

We've had a busy start to the racing season, with Dad taking out the car at the VW Breakout meeting at the end of May. It was great to see Dad back behind the wheel, proving he still has what it takes to drive these cars. We had a long off season with a lot of changes and updates to the engine, so it was good for Dad to test the car.

We were able to get a half pass in at the Retro Show Lite with myself driving, but the weather conditions put paid to anything more than a half pass. That half pass however had slightly faster short numbers compared to our 6.29 pass at the Hot Rod Drags in less than favourable conditions, so we are looking forward to a good weekend at Dragstalgia.

To get there hasn't been without a lot of sleepless nights and more hard graft than any of the team would like in such a short period of time, with more than just the race car needing attention, with running repairs and changes to support vehicles making it a very tight turnaround indeed for this weekend. I can't thank Dad, Lawrence, Martyn and Mike enough for all their hard work for the last 5 weeks to get us here, as well as a select few others who we couldn't have done it without.

It is a shame that the Slingshot Shootout didn't receive sufficient entries to run as a stand alone class, hopefully those who didn't join can join in the future and we can come back stronger. I am however looking forward to seeing how the car stacks up against the Cannonball runners!

Wild Bunch Dragstalgia preview.
7th July: GM Claire Meaddows writes to tell us that The Wild Bunch can't wait for this coming weekend at Santa Pod's 10th Annual "Dragstalgia" event where they have a brilliant field of 38 teams entered! Check the amazing list on Santa Pod's web site.

It seems like so long since the last Dragstalgia in 2019, where the whole of the Wild Bunch learned that we were to be inducted, as an entire club, in to the British Drag Racing Hall of Fame! An incredible honour and huge highlight of our 25 year history! The whole club is very proud of this achievement and will continue to celebrate the history and pioneers of our great sport of Drag Racing in this country.

We are indeed thrilled to join in commemorating the 55th Anniversary of Santa Pod Raceway this year! It is very exciting to hear that the first driver ever down the hallowed track, 'King' Harold Bull, builder and driver of the "Stripduster" slingshot, will be in attendance at the event!

This weekend we also fondly remember former Santa Pod starter and BDRHoF Chairman Stu Bradbury, who so sadly passed last year. Stu was a true gentleman and legend of British Drag Racing and we honour his memory and legacy to the Sport, and keep those flags flying in tribute.

At Dragstalgia, there will be a wide variety of slingshots, altereds, dragsters and funny cars, backup girls aplenty, wheelies, burnouts and the Cracklefest plus a fantastic show to celebrate all things Nostalgia!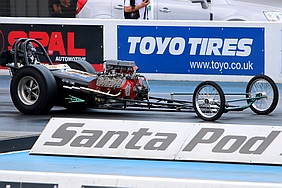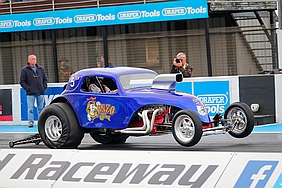 Our field is made up of longstanding regulars (some have been members since the mid 90's like 'Crazy' Chris Hartnell and Mark Coulsell), drivers bringing out new combinations (such as Keith Crampton's switch from Buick to Chevy, instantly propelling his "Soul Town Shaker" slingshot down in to the 9's) and a couple of Wild Bunch newcomers (welcome to Ian Wild with his Jag powered "Wild Cat" altered and John Sharod with his "Never Say Never" altered).

The entry list includes a father and son ('Crazy' Chris & Lee Hartnell with his updated "Metal Mistress" altered), two pairs of brothers (Rob & Pete Brown with both their slingshots "Rebel" and "Wrathchild", and Antony & Wayne Colliver with their respective cars, the awesome "From Hell" Bantam altered and low 9-second "Misfit" slingshot), a brand new Mum and a new Dad (Team "Daddy Cool"s driver Dr Faye Hern and husband Steve welcomed a baby daughter in January and her brother crew chief Kyle Southworth and wife Becky welcomed a new son in May. So we may meet the youngest Wild Bunchers this weekend!).

The youngest driver of the Bunch, Bobby Wright is in his now 9-second altered, plus amazingly two British Drag Racing Hall of Fame members crew chiefing for their sons (Ken 'Mr Flathead' Cooper with the team's flathead powered "Back from the Past" slingshot and Ian Lloyd of 7-second "Gonzo the Great" altered fame, an iconic car with a long pedigree). Many cars have a wealth of history, including Andy & Cathrine Stones' "Frantic" Jag-powered altered which hails from 1977 and James Auld's rear-engine dragster "Little Fauss", built in 1972!

There is also another team that spans most of the history of Santa Pod, Jeff & Sharon Morris. Jeff co-built the "Malibu Express" slingshot in 1969, which has been Crazy Chris' "Backdraft" for some 27 years now! They debuted a brand new awesome slingshot "Malibu Express III" at last year's Hot Rod Drags and the car has huge potential!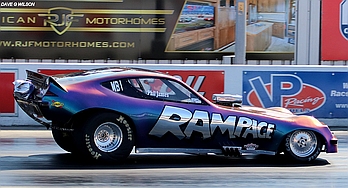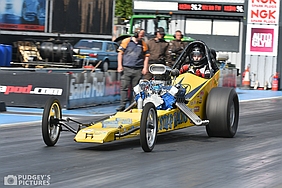 (Photo credits: Bradley Cooper and Phil James © Dave G Wilson, Ian Lloyd © Julian Hunt, Matt Hollins © Callum Pudge)

This year is the club's official 25th Anniversary Wild Bunch Series season and Dragstalgia will be our third event of 2021. The competition will include Wild Bunch Series Round 2, Spirit of Nostalgia Challenge Series Round 3 and Roy Wilding Nostalgia Race Cars Round 2. The Wild Bunch Series is currently led by 2019 Champion Phil James in his "Rampage" funny car (after his great win at the 'VW Breakout' event with very consistent runs), followed in 2nd place by new driver Matt Hollins in the Ratchet Strap Team's "Cheap Thrills" slingshot, Graham Rawlings in 3rd in the team's 9-second VW powered "Little Digger" and Steve Heaven in 4th in the team's low 8-second "Tight Fit" slingshot.

The Spirit of Nostalgia Challenge Series also has the same Top 4, as the 'Springspeed Nationals' did not see any racing on eliminations day. The Roy Wilding Series currently has the same leaders as there has just been one event so far. (We wish Roy all the best running his "Chariot of Fire" slingshot in the Supercharged Outlaws this weekend as he gets ever closer to some magic numbers!). With over 3 dozen teams entered, there is sure to be some hot competition at this event and the Wild Bunch have some great two-tier trophies for our Top 6 finishers and many Spot Prizes to be contested. So we're really looking forward to celebrating the winners this Sunday, Sunday, Sunday!

We would like to say a massive thanks to all the fantastic marshals and officials, track, safety and medical crews, promoters, organisers, media, photographers and the brilliant eurodragster team! You are all stars, especially in this last year! Thank you all for helping us all do the racing we love so much!

Very best of luck to all the teams competing this weekend! See you at the drags! Best Wishes from 'The Wild Bunch Nostalgia Drag Racing Club'.

P.S. We also all wish the best of luck to current Wild Bunch ET and Speed record holder and committee member Bob Hawkins in the "Time Traveller II" blown nitro slingshot, chasing low 6's, fellow 200mph Wild Bunch runner Chris Manning in his fabulous period slingshot "The Villain", hopefully breaking in to the 6's and 7-second runner Leo Knight in his "Knight Rider" altered, all running in the Dragstalgia Cannonball!

Further info can be found on www.the-wild-bunch.co.uk or see our Facebook group 'The Wild Bunch Nostalgia Drag Racing Club'.

Dragstalgia Perfect Light bonus.
7th July: We are pleased to confirm that a bonus Eurodragster.com / Bad Habit Racing Perfect Light Award will be available at this week's Dragstalgia at Santa Pod Raceway.


The Eurodragster.com Perfect Awards are usually posted at UK National Championship events but sponsors Cath and Tig Napier of UK Modurstang Pro ET team Bad Habit Racing have kindly offered to post £50 for the first 0.000 Reaction Time at Dragstalgia.

The Perfect Light Award will become available at the start of qualifying, currently Willys Wars Q1 which is scheduled for 17:00 on Friday, and from that point will be available to all racers in all classes. As ever, the money will only be awarded for the first Perfect Light of the event. As this is a bonus event, if the Perfect Light Award is not won at Dragstalgia then it will remain at £50 for next week's STP Summer Nationals at Santa Pod Raceway.

Eurodragster.com decals are not mandatory to collect the Perfect Light Award but we would appreciate if it they are carried, although we do of course understand about decals on period-correct cars and bikes. If you would like to carry Eurodragster.com decals then they are available in Signing On.

The next Eurodragster.com / Twister Racing Team Perfect ET Award sponsored by Andy 'Fadster' Hadfield and Bob's Photo Finish Award will be posted at the STP Summer Nationals.

Carla and Rick at Hudiksvall.
7th July: Many thanks to expat UK racers Carl Pittau and Rick McCann who made their first appearance at Hudiksvall last weekend:

It felt as if we'd been to prison and were suddenly released without charge. Or if we'd been kidnapped and then let go without ransom. Or maybe we were still locked up in the cellar and this was all a dream.

But no, we were really loading up the cars and the motorhome with food and beer and hope, and the sun was shining on us. Fully vaccinated and prepared to abide by as much social distancing as appropriate, we reinvented the loading operations and the checklists, forgetting half the stuff we needed until the last moment, then rechecking that we hadn't forgotten anything. We got away with almost all the essentials, bar a micro data card for the RacePak recorder and the card adapter, which meant no data could be read at the track on Carla's car, but we figured that if we got there ok, we raced, and didn't break anything, we'd call it a success.

Carla's car had a rebuilt TH350 with a Coan clean neutral valve body, which would prove to be a little unpredictable, and new double calliper rear brakes, which we hoped would help her hold the car better on the start line and manage a little more RPM.

Rick's car had the engine we put together using the block from the Rick Watters combo and the heads from the John Gulius combo, which was fine and helped Rick win two championships in a row, but was now on "limp mode" as we had to use old headers which were not designed for it, and did not have any of the carb spacers, this equipment being all still at the dyno with our new combo, not yet ready to tango due to fuel delivery issues. In addition, using the old headers meant that we did not have any AFR sensors, so more guesswork than usual was needed.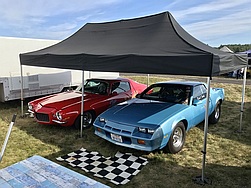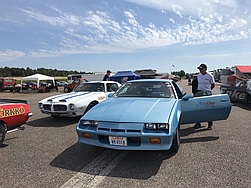 We arrived at Hudiksvall in splendid sunshine and sweltering heat, and received a warm welcome by the most charming and friendly officials, but things got off to a bad start when we found ourselves pitted on rough, bumpy grass. As we unloaded Carla's Camaro it immediately got itself into a massive wedgy with our pit mat, which got totally scrunched up and tangled under the suspension and trapped behind the headers. We struggled and cursed and got into a wrestling match with the mat, much to the amusement of our fellow racers, and ended up having to cut it up to free the car.

We managed to use the bits we cut off to have the mandatory environmental ground cover under the sumps, but still worried that the hot headers might set fire to the long grass as they really, literally, were in the weeds.

The weather was fantastic and we hardly saw a cloud for 3 days. It's a good 1/8 mile track, much recommended and praised by everyone who had an opinion on it, but the start line did get a bit tricky when it got really hot later in the day.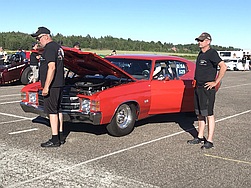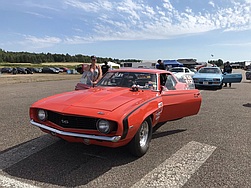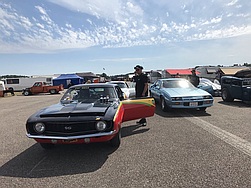 Carla's car hooked up fine on the first pass, running the 1/8 mile within 6 thousandths of her last run at Tierp Arena, so we concentrated on Rick's car which was about 1 tenth slower and launching flat, with no wheelie. Since our weather station went AWOL we checked with our good friend Björn Bondesson, whose very knowledgeable crew chief Leffe Andersson shared all figures with us. However we couldn't continually bother them, so had to guess that the air was later not that good despite the very low humidity, so we switched to a leaner carb and loosened the front shocks and the launches improved a lot. The meeting had an unusual format in qualifying, which was run as time trials but each run also counted for qualifying position, which meant that we could all go out whenever we liked. This allowed us to make adjustments and decide to go out when ready, without worrying of missing a session. However we discovered on the second day that we could not take Carla's car for granted, as she span the tyres in the sweltering heat, and noticed that a few more of the cars had this problem. She hooked up well the next run but span again, and worse, on the final qualifying pass.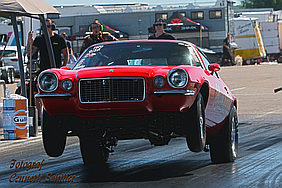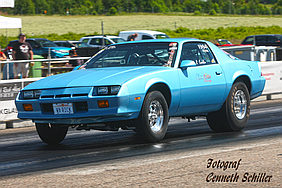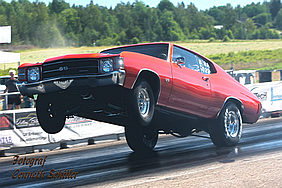 As it was impossible to dial for this inconsistency, we decided to assume that we'd hook up, so Carla's dial in was 6.65 and Rick's dial in was 6.31. Sadly Carla chopped the tree a little too far and pulled a -0.001 against Erik Wallin, who however had a good run and a 0.02 reaction, so might have been hard to beat even with the double zero on the good side. Rick got through to the second round by beating Lars Nyberg with a 0.03 light but found his demise in the second round against event winner Thomas Strand, when he broke out by 5 thousandths. Thomas did have an 0.02 against Rick's 0.04 but as he ran 5 hundredths off his dial in he might have been beaten by a better judged finish line. There's not much time or space to judge it in a 1/8 mile race though, especially to the thousandth! Fortunately losing against an excellent racer and nice guy to boot makes the bitter pill a bit easier to swallow!

Carla did have a consolation prize though, she was awarded a trophy for best reaction of the meeting, a 0.0007. The trophy was collected on her behalf by event winner Thomas Strand who kindly sent us a photo of it, the award is colourfully called "Kobra På Granen" (Cobra on the Xmas Tree) which we found great fun.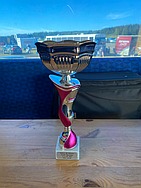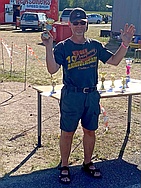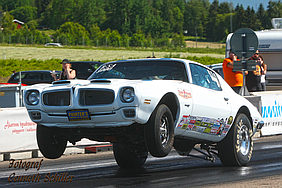 Erik Wallin pulled a red light in his turn against Björn Bondesson in the second round, Björn then met Ari Körkko in the third where he was handed yet another red light. Björn and Thomas then faced each other in the final, and this was a heads-up final, no breakout, as both cars run in B Stock Automatic. Björn had a slight time advantage over Thomas, but he span the tyres and handed the win to Strand.

This was a repeat of the final in Norway in 2019 and to Thomas's credit the outcome was the same.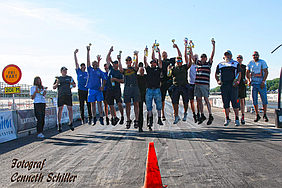 All in all it was a great 3 days, fantastic to be out racing again after nearly 2 years, everything worked and we didn't break anything!

Team Heaven & Hell would like to thank the SMK Hudiksvall officials, the track owner and the marshals for the warm welcome and their hard work, in particular Pentti Kykyri and Britt Sundqvist, Lars Bodén for ensuring that Rick was included in the field, Team Bondesson for their support (in particular the indefatigable Åke Hedberg for helping us on the fire up road and the start line) and last but not least Cenneth Schiller for letting us use some of his photos to illustrate this article.

Photos by kind permission Cenneth Schiller, Thomas Strand, Carla Pittau.

Dragstalgia racers announcement.
6th July: Many thanks to Santa Pod Raceway events co-ordinator Dan Melrose who has sent the following announcement for racers attending Dragstalgia:

"As we count down the days to Dragstalgia this weekend, we have some important information for racers for the event.

Firstly, gates will be open on Thursday from 12pm to 7pm. All tickets and vehicle passes will be at the gate, and each racer will get two vehicle passes with their entry. All racers in the invited race classes must sign on at the beginning of the weekend, which will be done with paper forms just like the old days. For those planning to run on the Friday RWYB, a separate form must also be completed.

For the Custom Car Invitational racers, they will need to collect their two vehicle passes from the ticket collection point on arrival. CCI racers will also need to sign on for each day that they are running.

There will also be a minute's silence for Dennis Priddle at 11:10am on Saturday, just before the first qualifying round of the Cannonball. We encourage everyone to be trackside for it.

The full track schedule is now available online at this link. We hope to see everyone there and have a great weekend at Dragstalgia 10."

Dragstalgia ever-presents 2021.
6th July: Your Editor has been consulting his notes, entry lists, record books and everything else he can find about Dragstalgia and has compiled a list of racers who have contested every Dragstalgia since 2011:
Joe Bond
Mark Bracking
Keith Crampton
Andy Hadfield 
Bob Hawkins 
John Hobbs
Nervous Nick
Ray Turner
Rob Tyrrell
Paul Watts
Many others have participated in every cacklefest or have crewed at every event. There are no less than thirty eight racers making their Dragstalgia début this year.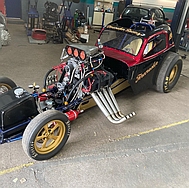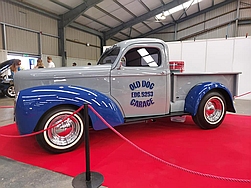 New for Dragstalgia: (pictured left to right): Adam Clayton's Firecracker Topolino, Paul Watts' Alkypone '34 Altered and Steve Young's Old Dog Garage '41 Willys pickup.

Finally we have compiled an easy-to-print entry list for this weekend's Dragstalgia class contestants. You can take a look at the PDF-format Guide by going to our event coverage page.

JT's Speedfest.
6th July: Many thanks to Pro Modified and Super Pro ET racer John Tebenham for sending a few exclusive pictures from the American SpeedFest held at Brands Hatch last weekend for which Don Scott organised a drag car display, featuring John's, Don's, Lola Cavey's and several others: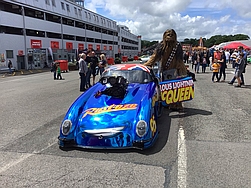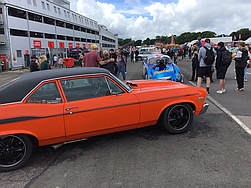 "Amazing weekend at the American SpeedFest, massive thanks to Don and Alex the man at Brands. Rain every morning for an hour and then hot, hot, hot. Met some great ex racers (Nick especially) and a pro mod race team soon coming back... It had everything for everyone, do it next year, you will love it, we did.

For more shots and video of the day see Grace Roaf's album on Facebook.

Web site updates.
6th July: Photographer and Dragstats webmaster Ashley Dale has published a gallery of photos from last weekend's Jetfest at Melbourne Raceway to his Flickr page. Ashley says "It was a great weekend, despite the best efforts of the weather". You can see his photos by clicking here.

Photographer Paul Lister has updated his Dragcaranon2 web site with photos from Festival of Power Unlocked 2021. To see his FoP gallery, click on this link.

Julie wins at Norwalk LODRS.
6th July: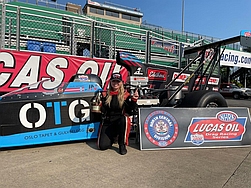 Congratulations to Julie Nataas for winning Top Alcohol Dragster at the NHRA Lucas Oil Drag Racing Series, North Central Division, Cavalcade of Stars presented by Budweiser at Norwalk, Ohio on Sunday.

Julie, with Randy Meyer Racing, qualified no.2 with a 5.194/271.35 in a tough field with twelve cars attempting to make the eight car ladder. She defeated Duane Shields in round one with a 5.280/275.45, Robin Samsel in the semi final with a 5.350/269.83 (0.005 RT) and in the final ran a 5.323/273.27 to defeat Jasmine Salinas.

This is Julie's fifth regional title (she also has three national titles). Julie's next Lucas Oil Drag Racing Series race is at Columbus Ohio 17th-18th July.

BDRHoF Dragstalgia auction.
5th July: The British Drag Racing Hall of Fame is pleased to announce a Dragstalgia Grand Auction & Sale of artworks, artefacts and memorabilia generously donated to the organisation to assist in the raising of essential funds. Separate silent auctions take place on Saturday and Sunday in the Hall of Fame marquee situated in the pits near the grandstand.

Each day's auction will run from 10am to 4pm. Winning bids will be announced at 4.15pm with payments and collections due by 5pm.

Pride of place in Saturday's auction must go to an original painting created and presented by the distinguished motorsport artist, Paul Whitehouse. Since Dragstalgia last took place in 2019 we have lost two of the sport's significant individuals: Top Fuel and Funny Car legend Dennis Priddle died in May and Stu Bradbury, Founding Chairman of the Hall of Fame and formerly Chief Starter at Santa Pod, died a year ago this Dragstalgia weekend. Paul Whitehouse's painting depicts one of Dennis's most renowned entries, the John Woolfe Racing Monza Funny Car, guided back to the line by the figure of Stu.

Furthermore, Paul has donated 25 limited-edition prints of his recent 'Gladiator' painting, depicting Bootsie's Vega-bodied Funny Car, for sale in the Hall of Fame marquee.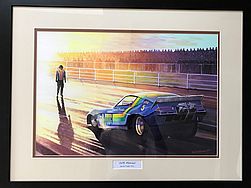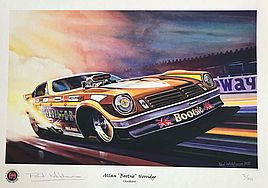 In addition, a rich array of memorabilia kindly provided by donors at home and in the United States will be available for auction and for sale. Items include models, prints, posters, books, t-shirts and engine components, many signed by stars such as Tommy Ivo, Art Chrisman, Don Prudhomme and 'Rat Trap' Ron Hope.

The Hall of Fame will be pleased to welcome visitors to view and place bids for auction items, and to buy sale items, from 10am each day.

The Dragstalgia Grand Auction takes place with the kind permission of Santa Pod Raceway.

The Hall of Fame is indebted to all who have so kindly donated items.

Betty Boop does Dragstalgia.
5th July: Many thanks to former Santa Pod announcer and photojournalist Mike Collins who has supplied another piece on Dragstalgia, first published by American Autoparts in Retro Ramblin's, this time from 2012. The main subject is the second Dragstalgia at Santa Pod Raceway, including Wendy Baker's Time Warp funny car vs Rockin' Ramon van der Weurf's Wild'r At Heart, Dave Gibbons' fire burnout, and the Allard Chrysler joining the cacklefest, with photos of the unidentified Betty Boop.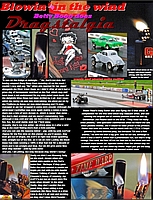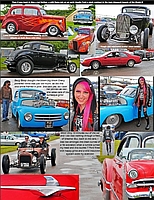 Mike's presentation of Blowin' in the wind: Betty Boop does Dragstalgia (7.4 Mb pdf) can be seen by clicking here or on the pictures above.

Kevin Cerasale.
4th July: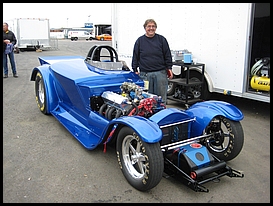 We were saddened to hear of the passing of hot rod builder, gearbox specialist and crew member Kevin Cerasale yesterday after a long period of ill-health.

Kevin was well known as a builder of race cars and hot rods, owning race car construction firm RCCS (Race Car Chassis Services). One of his many projects was the pictured Brogie roadster which he built in the early 2000s in between doing work for customers. Although Kevin had intentions of driving it, the car which is still owned by Kevin, eventually ended in the hands of Super Comp/Super Gas racer Paul Letchford, for whom Kevin had previously built a '68 Camaro.

Kevin also had many years experience of transmission building and in 2013 was appointed by Eurodragster.com sponsors Jeff Bull Race Engines and Transmission Specialties as their dedicated transmission builder. He was a great and selfless help to many sportsman teams including Paul Letchford's, Paula and Stan Atkins, Jeff and Belinda's, Martyn Jones, for whom he built the 'Another Small Fortune' dragster, and making some modifications to the back end of Terry Gibbs' Obsession Motorsports Camaro when he was running it in Super Gas.

Paula said "He was a great friend a very valid crew member for many years. Also very knowledgeable in all areas of the sport which he loved very much. We have many great times with Kev on and off the track and lots of lovely memories.

"I will never forget when Stan and Kev went to USA to look for a motor home and ended up going for a meal together at a steakhouse. Stan said "I don't like the look of this Kev!" Kev assured him that it was fine, himself and Carol had been many times to this steakhouse in California so reluctantly Stan agreed to go in, saying to Kev on the way in "If I am bad tomorrow I will bloody kill you!" Guess what - at 3 o'clock in the morning Kev is running to the bathroom with the steak exiting both ends, then at 6 o'clock Stan follows suit. Both he and Stan were laughing about it last week. He will be sadly missed by us and the whole drag racing community".

Dennis decals available.
4th July: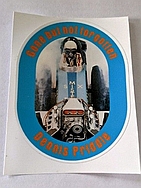 Keith Lee brings us news of a tribute planned for Dennis Priddle by some of his old friends at the upcoming Dragstalgia event at Santa Pod next weekend.

Former crew members Brian 'Star' Savidge and Phil Pead came up with a plan to produce stickers which they hope competitors will carry on their machines, to honour the man who was such a huge name in the history of the sport.

"Dennis enjoyed his trips to recent Dragstalgia events so much, that it is a fitting meeting for this to happen. Brian wanted to use the overhead shot of a Mister Six burnout - which was Prid's favourite racing shot - as the centrepiece of the design. I called ex-Custom Car snapper extrordinaire Roger Phillips, who was more than happy for his iconic picture to be used. Dave Burton arranged for the sticker design and production at John Burton Signs, ready for the event."

Any Dragstalgia entrant who would like to run with one of these stickers, please see Brian, who will be running his rapid black 32 roadster in the RWYB sessions on Friday. Paul Harris, who is planning to run the Priddle tribute Monza for the very first time, will also have some available in the Funny Car pits.

Post-FoP points posted.
1st June: Many thanks to Yvonne Tramm for forwarding the latest points standings in the UK National Drag Racing Championhips and SPRC Club Championships (cars and motorcycles) after the Festival of Power. You can check out the UK and SPRC points on our points standing pages by clicking here, or by clicking the Points Standings link under News in the main menu above.

Points for ACU bike classes will be published at a later date.

Tallhed Midsummer Festival report.
4th July: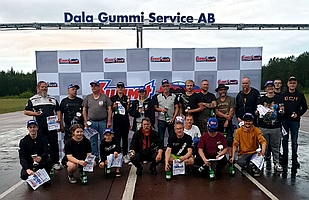 Thanks to our good friend Lena Peréres for reporting on the latest EDRS round, the Tallhed Midsummer Festival, for dragracingeurope.eu. Lena says: "The hard working trackcrew managed to round up this year's Midsummer Festival before the rains came. Event number three in the Summit Racing EDRS Series is done, and here´s the event winners (photo right © Linus Wallberg).

"98 contestants showed up at Tallhed Dragway, Orsa Sweden, under the midsummer sun. Riders and drivers could race during two out of the planned three days of racing. After some rain disruption, the organizers decided to run the finals in all classes on Saturday night, as bad weather was forecast for Sunday".

Full qualifying and elimination results for the Tallhed Midsummer Festival can be seen at www.dragracing.eu by clicking on the link on the left hand side of the page.

The next round in the Summit Racing EDRS Series is Haapsalu in Estonia this weekend, and we'll bring you a summary in due course.

Swift snippets.
4th July: A very Happy 4th July to all our American readers and friends, whereever they are based. Have a great day guys.

A very Happy Birthday today to Santa Pod Racers Club Race Secretary and longtime supporter of the sport Kathy Taylor, have a great day Kathy from all of us.

No-Prep demo at Lydden Hill.
3rd July:
Many thanks to No Prep organiser Paul Marston who has announced an opportunity to compete in an additional demo date for the class:

We have been approached by Lydden Hill and asked if we would be interested in running an informal demo of No Prep on Sunday 25th July. We have performed a site visit and found a piece of the circuit that works for our needs right in front of the main grandstand. It's 1/8th mile with braking. You can arrive on the Saturday if you so wish.

We will run some kind of competition but it's just for fun. There are noise restrictions like there are at all motorsport venues nowadays. The limit at 3000 rpm is 105db, so full quieter exhaust only, please. Its a small tyre, street car or daily driver kinda deal. Please support this if you live locally as the intention is to run more events like this next year.

It is free to entry but you need to book in, space is limited so please only book with us if you are coming. The pits are modern tarmac and there is electrical hookup available.

Call Paul on 07831 650230 or FB Paul Noprep or email pmdragracing@gmail.com this is part of the Custom Cup event and there is a lot more going on so it should be a nice event. Our thanks to Lydden and Shaun at Quadriga Car Club for inviting us.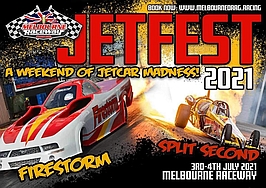 Jetfest at Melbourne Raceway.
3rd July: This weekend Melbourne Raceway hosts Jetfest, Jet cars, drag cars, drag bikes, run what ya brung, a weekend of Motorsport madness.

Tickets are still available on-line at the Straightliners web site and you can still camp over and have an awesome weekend.

Racing starts at 10:30am. The booked-in jet cars are Roger Goring with Firestorm and Julian Webb with Split Second, both of which put on an amazing show last weekend.

The ever-expanding ranks of drag cars and bikes will run in their usual formats and in addition there will be an open track for anyone with a car or motorcycle to enter Run What Ya Brung.

Felspeed update.
3rd July: Former Pro ET racer (Editor's note: from 2015-17, see below left photo from 2016 Main Event) Colin Felstead, now based in Dayton, Ohio, has been in touch with an update on what has been keeping him busy lately:

The build on my 70 Torino has been slow of late, I had to organise another fabricator for the chassis as the other shop had no time.

Step up Kohlbacher's Kustom Speed and Fab, in Huber Heights, a personal friend of "Ohio" George Montgomery and true a Ford fanatic, in a city where GM reigns supreme.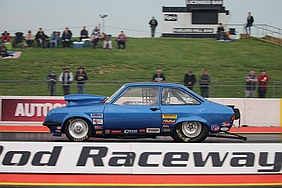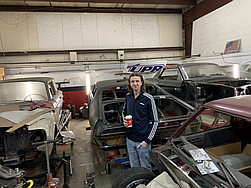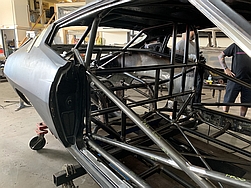 I met George at his shop in Dayton at the start of the year, I am planning to have him dyno and tune my engine for me, he has a book out and I sent a signed copy to my Dad for his birthday. We spoke about his trip to Santa Pod in the 60s. A real pioneer.

Direction and plans of the car have changed somewhat, I wanted to go the Super class style, but with no-prep and the street car scene just exploding, it had to be. A nice way to build it as I have Street Eliminator in mind if it ever moves to Britain, my favourite class since I was a kid.

The chassis is now keeping the stock front frame rails, a rule of which 99% of classes mandate. It is truly a unique fabrication, tucked up tight and follows the lines of the windows, it will be a 3/4 tube chassis certified to SFI 25.5C and 7.50 in the quarter. Now I haven't even watched 1/4 mile racing in a long time. I am, to be honest a convert to 1/8 mile racing, debate amongst yourselves but come see some fast small tyre stuff and you'll agree, it all gets done in 660 ft.

However, the direction is towards an 8.50 index / 5.30 index style car, which use a max of 10.5W rear tyres, stock front frame rails and min weight of 2800lbs, a "junior outlaw 10.5" car if you like, I would need a bigger powerplant so eventually would like to go twin turbo big block Ford, or something more modern, a Coyote.

My local track is Kilkare in Xenia, I have Edgewater near Cincinnati, National Trail near Columbus and Norwalk is about 3 hours north. Then Indianapolis is only a 2 hour drive away, so I'm pretty spoilt for tracks.

I keep up to date with Eurodragster (good boy - Editor) and watch the live stream of Santa Pod when I can, always cheer on my Pro ET compatriots, I hope I can coincide a race meet with a visit when COVID travel restrictions lift.

Bike classes dates change.
2nd July: Many thanks to to Santa Pod Racers Club Secretary Ian Marshall for letting us know about a championship calendar change that affects the Green Light Nationals and the European Finals:

Due to changes in the FIM E-calendar in 2021, the European Finals at Santa Pod Raceway will now hold a round for all ACU Drag Bike classes, as well as the SPRC Club Classes. The event will be open to European Entries, providing that all Covid restrictions are removed and we can then permit non UK entries (our fingers are crossed). This also means that the Green Light Nationals 21st-22nd August will no longer be a double header event for the Bike classes. The entry form will be changed accordingly for the Green Light event.

Riders requiring further information please contact Ian Marshall at Santa Pod Racers Club, ir.marshall@btconnect.com" or 44(0)1933 313625, office hours please.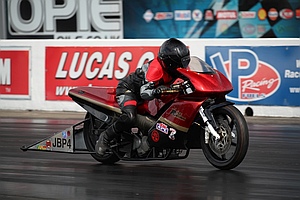 Junior Drag Bikes at FoP.
2nd July: Thanks to Junior Drag Bike organiser Ollie King for a report on a great weekend for the class at the Festival of Power Unlocked. Ollie said "here in their own words is their sum up":

Megan Talbot (left) - A few ups and downs throughout testing and qualification days but we got through it and came 2nd qualifier with Casey Holgate as number 1 qualifier. First round was against Lyra and a big well done to her for learning how to stage and for always being happy! You're already an awesome rider. Had a bye into the final against Hollie King who broke out by only a small amount, big well done to her, so I ended up with the 1st. Would like to thank all my sponsors, my Mum and all at Santa Pod. See you at the Summer Nationals.xx

Richard Willcox (below left) - Not the day we were hoping for, got to the fire-up lanes for Q1, the throttle housing disintegrated, we put a new one on, went to go for Q2, the throttle cable had jumped out of the slide in the carb, we raced to fix that and then the bike wouldn't rev past half throttle, it had now decided it had enough. The 125cc motor was going in, we got the motor out only to find the box of parts and spares was full of water and probably ruined so missed Q3.

Saturday morning dad managed fix the throttle issue we made Q4 got a time of 16.9 but still problems, swapped the jet and bike backfired damaged the reed valve so missed q5 and q6, reed valve semi fixed with help from Scott Collier but bike still won't fire looks like the coil might have now failed, that was us out for the weekend.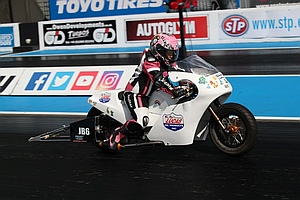 Lyra Humber (above right)- I'm Lyra, I'm 8, I did nine races this weekend, the most I've ever done. I went super fast and beat my Personal Best time my auntie Casey is amazing and done good. Megs, well done on winning, you're cool, and massive well done Hollie, you're doing great. Thank you Santa Pod, an amazing weekend, love Lyra xx

Hollie King (below left) - My name is Hollie, and this event was my first full event. We managed to get all the rounds of qualifying in, with one red light. My first run in eliminations was a bye run, since Richard's bike wasn't working and I ran bang on my number, then I was up against Casey in the semi finals and she broke out so I took the win. Into the finals with Meg and I lost since I broke out. Very happy with 2nd place.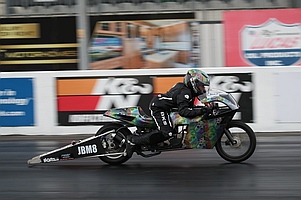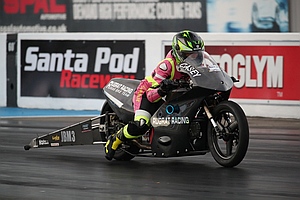 Casey Holgate (above right) - We arrived at Pod on Thursday evening and set up ready for the next day's racing. We got up early in the morning and signed on and then scrutineered /We had a bit of a wait as they dried the track and we had our first qualifier at 11.30. First qualifier went well I dialled a 10.00 and ran a 10.07, good enough for no.1 qualifier so was very happy with that, my second and third qualifiers were good again, not as close as my first run but I was still happy as I was still no.1 qualifier.

On day two the bike was running really good and was liking the cooler air and I managed to break out twice, running my pb of 9.8 @ 65mph so wasn't too disappointed and was still no1 qualifier. Day three first round of eliminations and i had a bye run unfortunately My bike was missing gears, so Dad had to do some repairs before the next round. Next round was against Hollie and I knew this was going to be hard, as this would be the first time that I would be leaving second on a staggered start. It was a close race, but I broke out by 0.0123 and lost to Hollie, well done to Hollie on her first event and well done to Megs for winning after all the troubles she had with her bike.

Well done to all the Juniors on some great racing. The next event is the Summer Nationals in three weeks, let's see what that brings.

Williams Bros team report.
2nd July: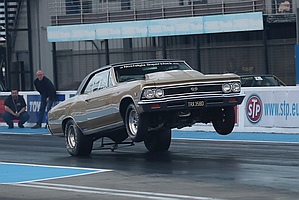 Thanks to Holley Marshall of Williams Bros Racing for supplying a report on a busy weekend for the team at the Festival of Power:

Now we're back and settled after a fantastic weekend of racing, it's time to recap the event for the five cars we had running!

Starting off with Pro ET, both Gary Carr and James 'Ollie' Oliver were running in this class for the weekend. Both cars qualified well with Gary ending up sitting in the no. 4 spot at the end of day 1 and Ollie sat in 16th. The field was tight in Pro/ET this weekend!

By the end of day 2, Gary had stormed his way to the no.1 spot with a incredible 8.300 on a 8.83 dial in…also a PB! Along with many other 8.8 second runs, the car is proving to be very consistent with the WBR Race Engine! Great job Gary!

Ollie qualified 15th with a 9.195 on a 9.18 dial in, also with a great set of runs behind him showing the consistency of his Pontiac even with his infamous monster wheelstands!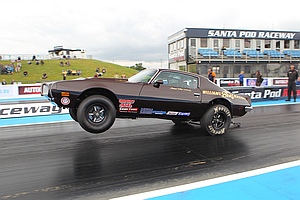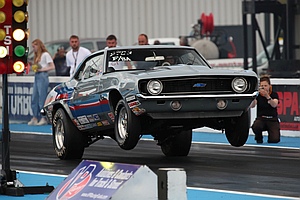 Moving onto Super Comp. Gary was also running in this class too, doing a brilliant job of learning how a different class worked and adapting to running to an index of 8.90. After a few qualifiers of running into the 8.8's, Gary ran a 8.96 in Q6 to move him up to the no.5 spot.

Next is Comp Eliminator, with 3 cars running in the class this weekend, we were certainly kept on our toes! Dan Williams had a multitude of 10.2 sec runs during qualifying to put him in the no.3 spot going into eliminations.

Nic Williams got the top spot in comp, storming his way to no.1 after Q2

Spencer Tramm debuted his '69 Camaro, newly imported from America; this weekend, the car ran fantastically, and Spencer qualified in the no.4 spot. It was great to see him back on track!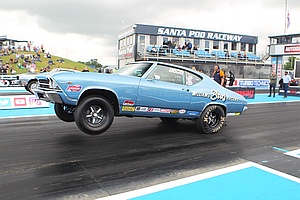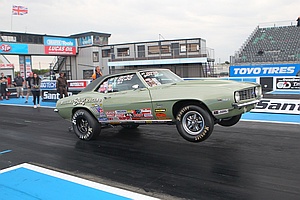 Onto eliminations, in Pro/ET, both Ollie and Gary made it to the second round, with some great races with Simon Fulton and Darren Law with the Wicked Lady dragster.

In Super Comp, Gary unfortunately didn't pass the first round due to a red light against Steven Hudson.

Onto Comp Eliminator, all 3 cars made it past the first round with Nic and Spencer on bye runs and Dan defeating Robin Orthodoxou in the Chaos Bros altered. Dan faced and won over Nic in the second round and Spencer lost out to the eventual event winner, Jordan Payne in E2, it was a great race!

Dan then faced Jordan Payne in the final, Dan ran a great 10.10 but wasn't quite enough to catch Jordan in the 'Sticky Situation' Corvette. Congratulations Jordan!

Overall, we come away very happy from a great weekend of racing and can't wait to be back out at Dragstalgia in Nostalgia Super Stock!, we hope to see you there!

Storm coming.
2nd July: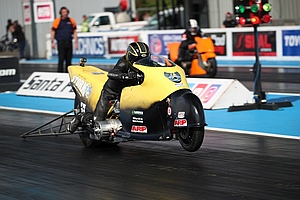 Many thanks to Storm Drag Bike rider Lorcan Parnell for sending us his report of the team's frustrating weekend at the Festival of Power, with some light on the proverbial horizon at the same time:

After the Springspeed Nationals in May we looked closely for the source of the misfire and found that the fuel pump was severely worn and unable to supply the pressure we run. With a good used spare in place we looked forward to putting in a decent performance at the three day Festival of Power meeting, postponed from its usual Easter date, but it was not to be.

A water leak from the ice tank, fuel leak, and an unintentional lane change in front of Jiri Lukes (sorry Jiri!) took care of three of our six qualifying chances. We missed one due to working on the bike, and pulled a red light when hot methanol fumes from the earlier fuel leak forced Lorcan to leave early. Which left us with one chance, at the final qualifying session of Saturday evening.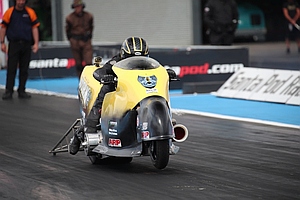 A decent burnout, wait for the green and get to the end of the track would see us in the eliminations, right? Wrong. On the launch a clutch component came loose (actually stripped the bolts holding it in place) depriving the clutch of CO2 pressure which holds the clutch pack together. Lorcan eventually limped the bike slowly over the finish line, but the Santa Pod timing gear had already timed out at 30 seconds and the run didn't count.

It wasn't all bad though, despite not making the eliminations. The red light run was something in the 6.7-6.9 range at 200+mph with turbo speeds encouragingly well under control and on only 45psi boost (compared to 60psi on our PB 6.56 run). Clutch slip was evident at the end of each gear too, due to the loose/leaking clutch component, so it would have been even quicker if everything had been functioning correctly.

Stu Crane was fast and consistent all weekend, a winning combination and a worthy winner! Congrats to Stu and Team Warpspeed! We know the Warpspeed team supported by Dan Wagner in the USA will be tough to beat in the Funnybike class this year, but we also know what we need to do for next time and look forward to it. Until then, keep storming!

Swift snippets.
2nd July: We have a birthday on the team today. A very Happy Birthday to Diana, who tells us she will be celebrating by having a road trip to Clarkson's farm, whether this involves farmyard work is currently a mystery. Have a great day Diana from all of us.

Bug Jam, Mopars deadlines approaching.
30th June: Many thanks to to Santa Pod Racers Club Secretary Ian Marshall for sending us a reminder that the closing entry date for Motorsport UK classes competing at the upcoming Bug Jam (23rd-25th July) is this Friday, 2nd July and that for the Mopar Euronationals (30th July-1st August) is 9th July. As usual a surcharge may apply to entries after the closing date.

Entry forms can be found at this link on the Santa Pod Racers Club web site.

Dragstalgia preview.
30th June: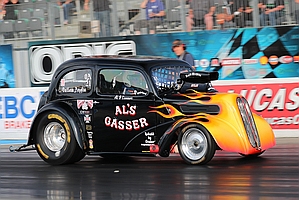 Dragstalgia 10 takes place at Santa Pod Raceway from Friday 9th to Sunday 11th July 2021.

Like the 32nd Olympic Games, the 10th Dragstalgia should have been a highlight of 2020's sporting summer. While uncertainties yet hover over the Tokyo bash, the grand Santa Pod celebration of sixty years of British drag racing will now illuminate summer 2021 before an enthusiastic audience, albeit one still limited in accord with the Government's ongoing pandemic protocols.

After Covid stymied 2020's planned international participation, it will be a very British affair. Dragstalgia 10 is a vintage lifestyle weekend devoted to race cars, bikes and hot rods from a bygone era, and all the retro favourites will be here.

Nitro and methanol 'Nostalgia' Funny Cars and Fuel Altereds will battle for bragging rights in the popular 'Cannonball' format with fast Front-Engined Dragsters. Outlaw Anglias, the Gasser Circus, the Wild Bunch (Nostalgia dragsters and altereds), Supercharged Outlaws, Nostalgia Superstockers and the Willys Wars (who would have imagined so many examples of the 1940s American brand would be extant in 21st Century Britain?) will keep the track busy all weekend.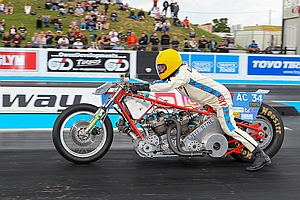 On two wheels, there will be historic Pro Stock Bikes, while the National Sprint Association's entry list showcases some of the motorcycles that set records and scorched the dragstrip decades ago.

And if further illumination is needed, the FireForce 3 Jet Funny Car will be on hand to light up, and smoke out, the track. In keeping with the old-time flavour, Showmanship Trophies will reward such achievements as Best Appearing Car and Team, Best Burnout, Best Wheelstand, and Best Backup Girl or Guy.

Off-track displays include Autoglym's Show & Shine and the National Street Rod Association's 'Blast From The Past', while Hottie's Vintage Village fills the Vintage Fair marquee with all manner of retro delectables. Along with club displays, there are the usual funfair rides, traders, bars and catering to keep the whole family occupied, fed, refreshed and entertained all weekend long.

Dragstalgia's 10 th anniversary celebration takes place from Friday 9th to Sunday 11th July 2021 at Santa Pod Raceway, near Wellingborough (NN29 7XA). Ticket prices start at £25, and £5 for children aged 5-15, and must be booked in advance at www.santapodtickets.com or by telephoning the Box Office at 01234 782828. There will be no admission on the gate. Full event details are available online at www.santapod.co.uk/dragstalgia.php.

Dragstalgia spectator tickets will sell out, so booking now is recommended to avoid disappointment.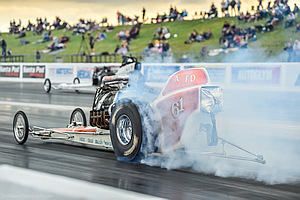 Dan Melrose, newly appointed Santa Pod Raceway events coordinator, added "Ahead of Dragstalgia, the decision has been made to merge the Slingshot Showdown into the Nostalgia Cannonball class to create a bumper field of pro cars for the event. As many will understand, the current Covid situation has prevented many of our regular European competitors from racing at Santa Pod, and thus the decision was made to create one class to provide a better spectacle for competitors and fans alike. It's a new format for the Slingshot drivers to get to grips with, but we know they'll be gunning for the regular drivers of altereds and funny cars who will also be competing for Cannonball glory over Dragstalgia weekend".

You can see the updated entry list on the Santa Pod Raceway web site at this link, and a limited number of tickets are still available at santapodtickets.com.

Editor's note: as part of Eurodragster.com's coverage of Dragstalgia 10, we will publish lists of debuts and those who have attended the most races in the event's history.

Mike Collins' Anniversary Blues.
30th June: Many thanks to former Santa Pod announcer and photojournalist Mike Collins who has resurrected a piece he had first published by American Autoparts in Retro Ramblin's in 2011. The main subject is the first Dragstalgia at Santa Pod Raceway and also other memories from that year, including the induction of Harlan Thompson into the British Drag Racing Hall of Fame, and the anniversary of the first all-UK Top Fuel Dragster match race back in 1968.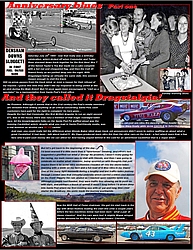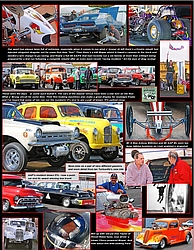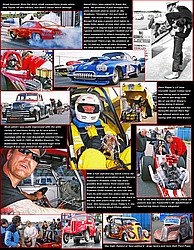 As always with Mike's articles, he covers a tremendous range of subject matter and is not shy in offering his opinion on aspects of the sport, such as cacklefests and media accreditation. We emphasise his views are personal to him.

Mike's presentation of Anniversary Blues (3.5 Mb pdf) can be seen by clicking here or on the pictures above.


Festival of Power photo roundup.
30th June: In addition to our galleries from the Festival of Power other photographers have been hard at work publishing their work:

Our good friend and occasional contributor Callum Pudge has published 464 photos to his Pudgeys Pictures Facebook page. Callum said "Although the extended restrictions limited the amount of spectators, it was still really nice to see so many people on the bank! A really nice atmosphere and some exciting racing". (Pictured: Antti Horto launching at the Festival of Power, © Callum Pudge).

Photographer Alice Fairhead, daughter of VW Pro racer Graham Fairhead, has also published a large gallery at at her Facebook page AF Photography. Alice says "I was trackside Friday covering for Ian Blackett which was my first time trackside for Top Fuel and my dad Graham ran a new PB in VW Pro, so it was a good weekend for me".

Also posting photos to a Facebook page is Brian Slater, a fan from the stands and bank since 1974.

Web site updates.
30th June: Video interviews recorded in early June with two of the racers who were to become winners from the Festival of Power (Funny Car winner Andy Raw and Pro Modified victor Kev Slyfield) have been released on the Motor Mouth channel from Santa Pod Raceway. Well worth a watch.

Photojournalist Steve Moxley's report on ACU drag bikes at the Springspeed Nationals has been published on the Eat My Ink website which you can read by clicking on the link.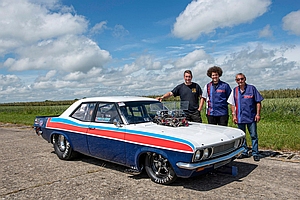 Clastres report and media.
30th June: The French drag racing organising body Association Trophee Dragster, under its leader Eric Angeloni, ran its 14th European Dragster competition at Clastres Raceway on 19th-20th June. Results can be seen at the ATD's new web site and points standings are at this link.

Billy Gane was the winner in a 20 strong Super Pro ET field. After qualifying 6th with a 8.507/261.02kph on a 8.49 dial in, he defeated Patrick Dubois's GTO in round one, Laurent Arnaud's Corvette in round two and then had a bye to the semi final where he came up against and defeated Olivier Coulon's supercharged 2nd generation Camaro. Fabien Dubois in his dragster was unable to make the call for the final allowing Billy to take the trophy on a single.

Many photos from the event have been posted which we list below: Altered racer Clarissa Czekalla also posted to the ATD page, you can see her photos by doing a search on the page. (Picture of Billy and team © Lisa Bahr photography)

Lucas Oil Cannon Motorsports wins.
29th June: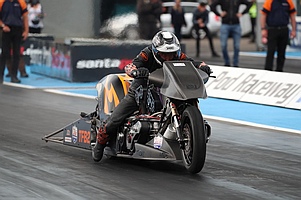 Many thanks to team manager Chris 'Cannon' Hannam for sending us the Lucas Oil Cannon Motorsports team's account of their race last weekend with Neil Midgley riding:

"Wow, what a weekend that was!" said Chris, "Having just taken stock of what we have actually just done, I am so proud of our super team as the Lucas Oil Cannon Motorsports bike WON the event.

Our unique DOHC top fuel nitro twin made five strong straight passes during the weekend, qualified up top at number 1 with a new personal best of 6.28 which included world class 1/8 mile numbers. The weekend was topped off by winning the ACU UK Top Fuel Bike class at The Festival of Power held at Santa Pod Raceway in the UK."

The team had a reasonably trouble-free weekend with only one small tuning glitch which resulted in piston and valve damage. This was remedied and the bike was all set and ready for the first round of eliminations on the Sunday. The team had a solo run in the semi-finals and after looking at the data, team manager Chris Hannam made the call to stay safe and only stage the bike to save the motor from any potential damage.

Chris continued "We were ready for the final to run hard and fast and destroy another cylinder if it meant we could get the win. Unfortunately Al Smith who did a great job in beating Steve Woollatt suffered more technical problems and we were left to run the final on our own. We really did not know what to expect, but ran a fine but lazy 6.46 at 202 mph.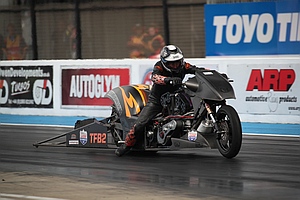 On checking the data we had taken too much fuel away, the engine is still brand new and we now have data to tune from. We know we are getting close to perfect as the bearings now only need changing once a day and the Lucas oil is like new coming out. The best news is we are now seven hard and fast runs in on the new primary drive setup so I'm hopeful our troubles on that front are now behind us. We now have a plethora of data to work with to go fast, the bike will now be stripped and serviced for the third round of the ACU UK Top Fuel Bike championship, the STP Summer Nationals at Santa Pod on July 17-18.

One very notable point was the outstanding track the Santa Pod crew gave all of the teams and they really have this off to a fine art so thanks guys. Thanks also to Keith Bartlett for keeping alive the dream of not only a world class track, but the plans for the future are impressive, so support Santa Pod Raceway where you can.

Thanks also go to the entire super team for getting the job done and of course to Neil for a fantastic riding job as always.

This win also means that the Lucas Oil Cannon Motorsports team keeps and extends the lead in the 2021 ACU Top Fuel Bike championship. All this is made much easier by our sponsors Lucas Oil, Cannon Engineering, MRE, and Pär PiPPi Willén."

The Lucas Oil Cannon Motorsports 2021 event schedule looking forward:

Sat 17th - Sun 18th July: The STP Summer Nationals
Thu 9th - Sun 12th September: The FIA/FIM European Finals
Sat 25th - Sun 26th September: The STP National Finals

JT's t-shirt bounty.
29th June: Many thanks to Motorsport UK Pro Mod and Super Pro ET racer John Tebenham for sending us a report of his two race cars, and a fundraising effort at the Festival of Power.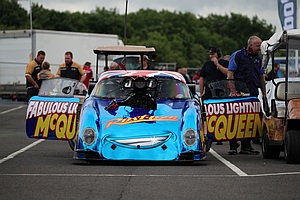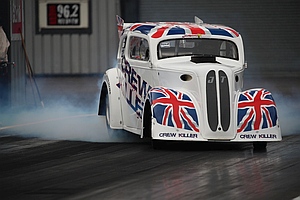 Thanks for all those who bought t-shirts to raise funds for Dave Rowlands' charity. On another note, we turned up all ready and keen to race, however the Pop didn't drive properly and Richard Walters came and helped us (what a great guy) with the gearbox.

Then we ran the Corvette but had bearing problems. We ran 3 x 9.05-ish times with the Pop, was really pissed and even going to change class, and then Mars bar (Paul Marston) sussed the engine needs heat. Wow - 8.888. We then ran 4 x 8s with our great ICE engine it just loves heat, and gained heat two tenths. It was strange, I still really don't understand why.

Next time hopefully we can bring more. Sorry about Elaine Hancock as, wow, she's great trying to beat my burnouts. But she will be back. At the end of the day, we just didn't bring enough.

Relentless FoP for Ben.
29th June: Many thanks to Outlaw Anglia racer Ben Kennedy who has sent us a report on how he fared after his top end incident on Saturday at the Festival of Power:

On Saturday afternoon, our second run of the day started as planned but certainly didn't finish as well. We tuned the car up more than it has been so far with our new set up, and around the 1000ft I see what I thought was smoke come up from the front of the engine I let off and looking at the data I had let off in 0.05s after the pressure loss

. With that, I no longer had control. I tried to hold it and press the brakes but at that point I was now a passenger. I remember a hard right and hitting the wall but, believe it or not, I didn't feel a thing from then, and I don't remember much either.

The top end track crew said that I had hit the wall three times and gone up on the two left side wheels, with just luck, the rims didn't touch the track and the car come back down on to all four wheels. I got straight out of the car, checked it over and taken off to the medical centre.

After I was released it was a waiting game, the Motorsport UK guys scrutineered the car and then called and said she was ready for release. We got back to the pits with the help of my crew, passers-by and the Outlaw Anglias.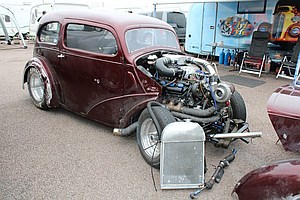 So why?! It looks like the pressure got too much and burst open the radiator tank. Water went up, then straight under the wheels and as any racer will know, you are just along for the ride after that.

Myself and my crew Katie would like to say a massive thank you to all the crew and medics at Santapod for keeping me safe, the Outlaw Anglias for all your your support and being such a great class/family to be part of, and the fans for all your donations and words of support. It really has taken me aback that so many people care and want to help wherever possible and to Eurodragster for allowing me to post (Editor: you're welcome, any time). We will be back, the plan is for Dragstalgia, we will see, but the crash has finally helped me name the car. So thank you all again from OA115 - RELENTLESS.

Warpspeed Racing at FoP.
29th June: Funny Bike racer Stuart Crane of Warpspeed Racing has posted a report on his Festival of Power outing, which produced a win and both ends of the ACU Funny Bike record:

We went testing on the Thursday and had a few issues (head gasket) so changed a few thing's to resolve some issues. Then in qualifying we were rewarded with a 6.49 @ 205 mph which also reset the ACU ET record and speed record and really proves how strong this combination really is.

We are still really on a soft tune up, I know this all sounds stereotypical but I can honestly say it is there is room for more for sure. We then ran three 6.50's in a row to prove the reliability of the combination and used the opportunity to change my riding style to compliment the combination. With qualifying number 1 in the USA at the XDA and winning that meeting and then qualifying number 1 and winning this meeting, the Warpspeed engine combination is definitively proven!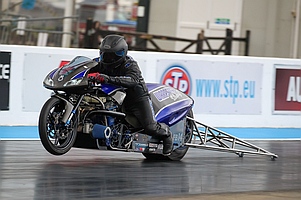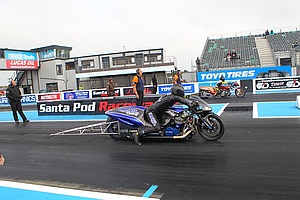 I am currently taking order's from all round the world for these engines now and getting enquiries almost all the time, so I'd say that's mission completed. There are a lot of people involved in this team including sponsors that make this all possible. My two main crew guy's that wait on me hand and foot for days and days, Dan Wagner for just being the baddest man on the planet when it comes to tuning a bike and Steve Nichols for just being the best guy for tuning help also.

Thanks to Owens Developments for jumping on board and sponsoring us also Hel Performance for great products. Thanks to Maxx ECU also for a great product and great service. Leek's Landscapes also put up the contingency money so thank you for sponsoring the class . If there are any other sponsors looking for an opportunity to be apart of a world class team please get in contact we can arrange any opportunity big or small, See you all at the next round.

Kauhava cancelled.
29th June: We are sad to report that due to a complaint about Kauhava's environmental permit, the Finnish Hot Rod Association have had to cancel the Finnish Championships at LSK Business Park, Kauhava on July 8-10, 2021, incorporating round 2 of the Fueltech Nitrobike Showdown.

LSK Business Park will not receive an event-specific permit on this schedule. The fate of the other Kauhava events this summer will be clarified on July 5, 2021, when the decision by the administrative court where the relevant party has filed the complaint will be published.

Motopark's August event will still be held in the same way as their earlier rounds. Competition fees for those who have already registered for the Kauhava competition will be refunded as soon as possible.

Summer Nationals entry deadline extended.
28th June: Many thanks to to Santa Pod Racers Club Secretary Ian Marshall for announcing an extension to the entry deadline for the STP Summer Nationals on 17th-18th July 2021.

There are quite a few racers who have missed the Summer Nationals entry deadline, but would still like to enter, so click on this entry form link which will be available until late Wednesday 30th June with no late fee.

Beware counterfeit safety harnesses.
28th June: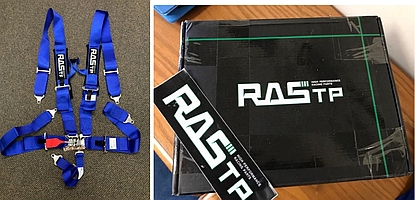 Many thanks to FIA Technical Delegate Frans Steilberg who has brought to our attention the following urgent bulletin from SFI Foundation:

Please note that SFI has found harnesses sold by RASTuning Parts which bear counterfeit SFI labels stating that the manufacturer certifies that their products meet the applicable SFI Specs.

RASTuning Parts harnesses have not been submitted for testing by SFI, and RASTuning Parts is not enrolled in any SFI program.

It should be noted that for any spec program, certification that products meet the minimum standards is made by the submitting manufacturer. Products are NOT certified, endorsed, or approved by SFI.

Necessary measures should be taken to ensure that items purchased from this source are not allowed to be used where compliance with the relevant SFI Specifications are required. Please contact SFI with any concerns or inquiries about questionable product.

Counterfeit products may appear with or without brand names. Genuine SFI conformance labels contain hidden security features and slightly different fonts and materials, but the above illustrations should assist in visually identifying the affected parts.

Festival of Power results.
28th June: Congratulations to the winners at the weekend's Festival of Power at Santa Pod Raceway:

Top Fuel Dragster match race final: Susanne Callin 10.0597/81.68 def. Antti Horto (broke)
Funny Car Cannonball: Andy Raw 5.7635/192.11 (1000ft) def. Kevin Kent (broke)
Motorsport UK Pro Modified: Kev Slyfield 8.4145/111.66 def. Wayne Nicholson 9.2332/97.77, DQ red
Track Worx Comp Eliminator: Jordan Payne 7.3905/184.26 (7.94 index) def. Dan Williams 10.1031/128.65 (10.70)
Be Fast R Super Comp: Leah Kellett 8.9839/147.66 def. Darryl Howells 8.9249/130.20
Dave Grady Super Gas: Andy Harrison 9.9982/132.07 def. Bob Molden 9.9718/124.92
Peter Nee Super Pro ET: Ron Bartlett 8.2849/157.36 (8.26) def. Tom Atkinson 8.9119/151.55 (8.92)
Modurstang Pro ET: Will Clark 9.8101/133.71 (9.82) def. Marc Huxley 10.1215/131.28 (10.22)
Hutchinson & Dibley Sportsman ET: Gary Lake 14.1557/96.64 (14.09) def. Rob Creswell 13.5429/104.55 (13.70) DQ red
Topspeed Automotive Street Eliminator: Andy Bond 7.4772/208.00 def. Al Williamson (no-show)
Lucas Oil Junior Dragster: Lara Bartlett 8.0409/80.07 (8.05) def. Luke Mugridge 8.4458/77.73 (8.46)
Renegade Outlaw Anglia:Jedd Guy 7.2651/182.80 def. Colin Millar 7.6107/176.45
VW Sportsman: Rob Creswell 16.0033/75.77 (13.70) def. Ethan Lisle 19.7609/67.85 (19.85)
VW Pro: Adrian Solly 11.3590/123.48 (11.00) def. Lee Cordery (12.25) 12.5711/103.35

Banks Night Club Top Fuel Bike: Neil Midgley 6.4653/202.56 def. Al Smith (broke)
Taylors Trophy Super Street Bike: Alan Morrison Jnr 7.0283/198.81 def. Steve Mead 7.1175/204.42
Leeks Landscapes Funny Bike: Stuart Crane 6.5216/207.92 def. Dave Peters 8.3830/143.43
Suzukiperformancespares.co.uk Comp Bike: Louis Davies 7.1613/179.22 def. Sean Mills 8.3338/134.41
JKE Race Works 8.50 Bike: Jay Roe 8.7360/131.30 def. Joe Elliott 8.7542/157.97
Atlantic Fluid Tech 9.50 Bike: Craig Wright 9.5680/134.43 def. Rick Sawatzki 9.4887/140.35
Blood Cancer UK ET Bike:Phil Pratt 9.0568/138.53 (8.94) def. Matt Jones 10.3435/139.88 (10.10)
Eurodragster.com Junior Drag Bike: Meg Talbot 10.2593/65.52 (8.99) def. Hollie King 11.2874/56.60 (11.33)

Subject to official ratification the following records were set. Congratulations to:

ACU Funny Bike ET: Stuart Crane 6.492
ACU Funny Bike speed: Stuart Crane 207.92
ACU Super Street Bike speed: Steve Venables 214.89
(editor's note: Steve ran 218.95 in eliminations however the 214.89 was not within the 1% required back-up and so the lower speed becomes the record under the 'too fast' rule)
ACU Comp Bike ET: Louis Davies 7.026
ACU Comp Bike speed: Sean Mills 198.02

The following Santa Pod Raceway track records were set. Congratulations to:

Comp Bike ET: Louis Davies 7.0263
Funny Bike ET: Stuart Crane 6.4922
Super Street Bike ET: Steve Venables 6.8008
Super Street Bike Speed: Steve Venables 218.95

Many thanks to Andy Marrs who has updated his table of UK and European bests which you can check out by clicking here or clicking on Data, then UK European Bests at the top of any Eurodragster.com page.

In addition, many racers set personal bests during the event. One notable incremental is Antti Horto's 3.0382 eighth mile incremental, believed to be the quickest such ever run in Europe. Other notable firsts included the above track records, the quickest Super Twin Bike ET by a British team with Neil Midgley's 6.2842, and Pro Modified racer Nick Davies running his first five, 5.9738/242.55. The bump spot for the eight bike ACU Super Street Bike field was 7.3553; although ACU bump spots are not tracked, this is believed to be the quickest to date and quicker than the FIM all-time bump spot for an eight bike field of 7.589 set at Kauhava, Finland in July 2019. We don't have space to mention all the new PBs, but congratulations to all.

Congratulations also to Super Comp racer Paul Hudson who won the Eurodragster.com/Team Twister Perfect ET Award supported by Andy 'Fadster' Hadfield of £75, and Super Pro ET and Super Comp racer Mark Coulsell who was the winner of the Eurodragster.com/Bad Habit Racing Perfect Light Award supported by Cath and Tig Napier, also receiving £75. Both awards have been reset to £50, the Perfect Light Award being made available at Dragstalgia from the start of Friday qualifying and for all racers from that point, and the Perfect ET Award being next available at the STP Summer Nationals.

Bob's Photo Finish Award was carried over from the STP Springspeed Nationals where elminations did not take place. Our sponsor Bob Roberts kindly agreed to double awards of £50 each to the closest races in each of the Junior and Senior (adult) classes. Congratulations go to the winners in Lucas Oil Junior Dragster, Jack Taylor and Harry Redshaw whose round one match-up had a win margin of 0.0103s, or 14.19 inches (Editor's note: another race had a win margin of 0.0102s however the distance was calculated as 14.69 inches due to the faster speed). In the senior (adult) classes, congratulations go to the winners VW Sportsman racers Polly Judge and Laurence Clark whose first round match had a win margin of 0.0005 or 0.87 inches. We will be in touch with the winners in due course.

Thanks to Kieran Letts of the Santa Pod Timing Crew for sending us detailed timing data which we have posted to our timing data area which you can see by clicking on Data, then Timing Data at the top of any Eurodragster.com page. Official results can be seen at Santa Pod's Official Results Site.

You can check out our John Woolfe Racing-sponsored Festival of Power reports, results and galleries by clicking here or by clicking on the Event Coverage link at the top of any Eurodragster.com page. Please join Simon in thanking Julian and Diana for their hard work over the race weekend, and many thanks to those who gave feedback on our coverage.

Tig's altitude record.
28th June: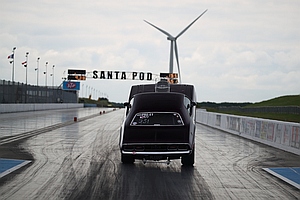 One team that was only able to make a brief appearance on track at the Festival of Power was Perfect Light Award sponsor Bad Habit Racing, aka Tig and Cath Napier whose Dodge Challenger suffered its most extreme wheelstand to date, the car almost (but thankfully not quite) reaching the dreaded 'tipping point'. Cath got in touch to give us a damage report:

The car has bent and twisted wheelie bar mounts, (but the bars themselves look ok); the perspex scoop is toast. The sump is cracked but repairable at home, a couple of the header primaries need a tweak. The driver needs new pants. Looking at the video I took, there is a point where the rear right tyre is off the ground, albeit very slightly.

We are sorry for the track downtime, although fortunately the diaper stopped it being a lot worse. Thank to the track crew for sorting us out so quickly with their usual efficiency, and to everyone who enquired after Tig and Habit.

We'll be at Dragstalgia and the Summer Nats, but with the Ruby Barracuda".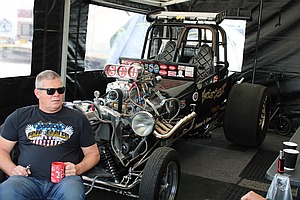 Twister's assisters.
28th June: Many thanks to Perfect ET Award sponsor Andy 'Fadster' Hadfield of Team Twister for letting us know his team will be expanding, in a good way, for Dragstalgia at Santa Pod Raceway on 9th-11th July:

"Dragstalgia will be an exciting time for Team Twister. We will be joined by the amazing Pro Mod crew of Blown Bird. Kev Slyfield, Tony Underhill and James 'Woody' Woodford will be crewing for me and bringing their wealth of expertise to my humble little hot rod. I cannot wait to show them some real hospitality.

"This just makes this event that little bit more special, thanks lads".

With the additional input from the crew of the five-second-running Motorsport UK 2015 Pro Mod champions, we can surmise the personal bests of Twister (7.5643 and 180.62) will come under some pressure.

United Modified Cruisers at FoP.
28th June: Many thanks to Travis Smith for sending a report of Hutchinson & Dibley Sportsman ET team United Modified Cruisers which took part at the weekend's Festival of Power:

What a weekend for the United Modified Cruisers race team, driver Steve Mellors, racing Hulk MX5 came fourth, reaching the semi final in Sportsman ET, what a event for a first time racer, it's not every day you can say you came fourth on your first event. The weekend wasn't all plain sailing, we hurt the gearbox in Q5 and with no spare decided to help out Carl Magedera with the Tesla, assisting him on the starting line, but it was back to racing Sunday morning.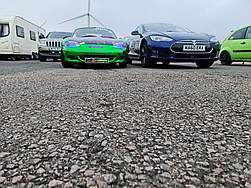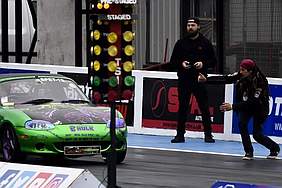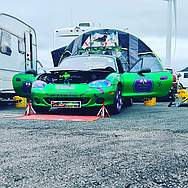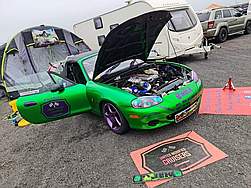 Steve dialed in a 16.40 for the elimination rounds, and ran 16.4112 winning his first ever elimination round which gave him a bye run in the quarter finals, we decided to do a slow and steady run for that, so to protect the gearbox; it was then semi finals time and Steve went for the same dial in 16.40, but unfortunatley broke out, handing the win to Rob Creswell in the Audi RS4.

Hulk MX5 will be back for the Summer Nationals with a new gearbox, a massive thankyou for the help and support from everyone all over the pits, especially the Sportsman ET & VWDRC guys.

We would also like to thank our sponsors and supporters, Able Assist Ltd and BSC Graphics.

Web site updates.
28th June: The Mad Welshman has updated his Flickr site with two large albums from last week's Melbourne Nostalgia Drags/No Prep event. Mad commented "It was fantastic to see the event so well supported and organised throughout the weekend!" You can check out Mad's pictures at this link.

Get well soon Jack Williams.
24th June: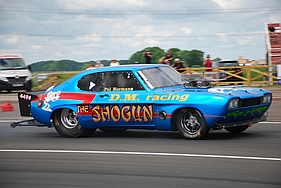 Many thanks to Pel Norman of Super Pro ET racing team D.M. Racing for passing to us a get well message to crew member Jack Williams, who fell seriously ill last week:

Jack at just 19 Has been coming racing with us since he was 16 and has never missed a meeting. He even jumped in the bus and made the fateful trip to Malta where he suffered his own misfortune as he fell off the pit bike.

Jack was supposed to be with us at Melbourne last weekend for the No Prep Big Tyre Shootout but didn't make it as he felt unwell. As it transpired Jack was rushed into hospital on Saturday.

Sadly Jack is now on a kidney dialysis machine with blood clots on his lung and pneumonia. Best wishes from the D.M. Racing Team Pel, Stretch, Pokie, Markie, Jasper and Nigel. Get well soon Jack, as we can't work out this new fuel tech system without yer as we're all dinosaurs...

We're sure the whole of the UK drag racing community will join us in wishing Jack a speedy recovery.

ACU Points posted.
24th June: Many thanks to ACU Championship Co-ordinator Ian King for letting us know the current ACU points after the Springspeed Nationals.

The latest ACU points can be viewed at this link or via our points standing page.

Gasser Circus Retro Show report.
24th June: Many thanks to 'Nervous' Nick Brooke-Langham for a report on the Gasser Circus at the Retro Show at Santa Pod Raceway last weekend:

As Brits we are known for having a preoccupation with the weather, and for drag racers, this weather watching can reach new heights. On the run up to the Retro weekend at the Pod, many racers were either checking their phones, or carefully listening to the various forecasts during the week. It appeared to be one of those touch and go weekends, which by Thursday was potentially a showery weekend with Saturday receiving the bigger portion of dry, and therefore favourable racing conditions.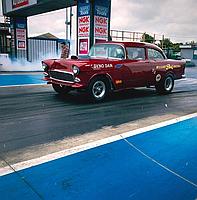 When Friday arrived, so did the largest downpours witnessed so far this year. Those racers who were seeking to gain entry to the Pod were a hardy bunch, with others opting to arrive first thing Saturday morning. The Gasser Circus was expecting 13 Gassers on site, but that dropped to 12, when one of the drivers was literally taken sick. The Gassers were massed by the side and at the entry point to the Fire Up Road. Arriving Saturday morning in the dry conditions, it appeared we may arrived on washing day, as the first few railings had been turned into a make shift washing line, with various items of clothing laid over them, in an effort to dry them out. The very unlucky owners being Billy Jones and Stacey Chandler who had been soaked through as they bravely battled putting up their tent as it tried to float away on Friday evening.

As more drivers and their cars arrived, there was some juggling going on, and not the variety that involves balls, this one being trailers and support vehicles, so the Gassers could take up residence. By the time we were called for our first round of qualifying, all 12 Gassers were ready to race, included in these was Jason Pickett in his recently acquired 55 Chevy. This was set to be a weekend of getting to know his car, and by the end of qualifying he had achieved that occupying the number 7 spot. But I am getting ahead of myself here, as the task of qualifying can be laden with issues and so it was amongst the gathered Gassers.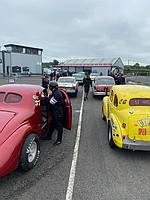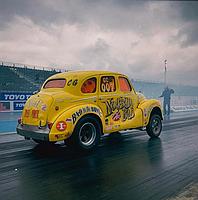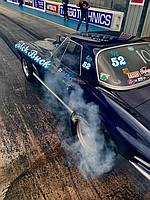 Although we are effectively racing the clock in qualifying, it's always exciting coming to the line against another Gasser, when I took 'Nogbad the Bad' round to burn out, I was going to lining up with Martyn Hallam in his 'Whiplash' Willys. Martyn had not raced since 2019, and through the grapevine we had heard he had made changes to his high flying Willys. He had and sat between the chassis rails was a glorious Hemi. He like all of us was keen to see what it would do, unfortunately after his burnout the car died and had to be rolled back. I was on a single and unbeknown at that time, possibly the worst run I have ever experienced, as I left the line and raced towards 5,000 rpm the car began to shake as the one period correct item from the mid-60s that none of us want to experience came calling as the front wheels began a shimmy. Within the car this was being transmitted most notably through the steering wheel. I shifted and accelerated thinking I could power through this. Wrong decision, with fillings coming loose, I let the car shake itself to a stop, before finishing the run in a stunning 25 second pass.

Other drivers were also experiencing their own problems, with Steve Matthews suffering a loss of oil pressure in his 'Honky Tonkin' 57, Billy Jones suffered a fuelling issue and had to be pushed back after his burnout. By Round 2 Steve's lack of pressure was still requiring resolution so he was a no show, and unfortunately Martyn was still having problems with his new Hemi, and only made it out of the burnout, before the push back came along. Round 3 of qualifying delivered 11 drivers into Eliminations the following day, which saw 'Honky Tonkin' amongst them as the issue with oil pressure appeared to be fixed. Number 1 qualifier was Slick Mick Allen in his 'Quick Buck' Corvette.

Saturday night had been cold and wet, and Sunday was overcast with a mist like rain falling making everything damp then wet. We knew we could be in for a long wait, and with no track action and the time fast approaching 1 o'clock thoughts had turned to the drive home which for many was several hours away. Billy Jones decided to prepare his Willys Coupe for its journey. So the wheels on the rear were removed and treaded tyres and wheels swapped in. The car was driven onto his trailer and he and Stacey secured the car. A few minutes later and we got the words we had been longing to hear, '10 minutes and we want you in the fire up road'. As drivers and crews warmed their engines and checked their cars, Billy and Stacey had a decision to make. They made the right one, and in a speed that most F1 crews would admire they had the car unstrapped, off the trailer, slicks back on and ready to race.

Once given the nod that eliminations were on, the Gassers all headed for the empty Fire Up Road, and wasted no time in getting to the end of it, to ensure we stayed ahead of any rain that could still be seen in the surrounding clouds. The crew at Santa Pod had once again done a superb job of getting the track ready to race, and as the first Gasser Mick Allen's Corvette came round to race he was determined to make the most of it. Being number 1 qualifier and with and odd number of Gassers racing this meant Mick was on a by turn, he duly clicked off an impressive 10.54 @ 130mph. Next up was Sean Milsom in his 'Ain't Misbehavin' Morris Van, who by virtue of Jason Pickett having left the building, was also on a bye run. Sean dialled a 10.10 and ran a wheel launching 10.11 @ 132 mph in the gloom of the day.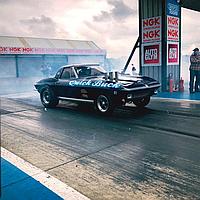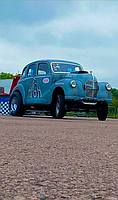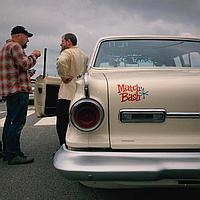 The first pairing to come to the line was Graham Barton in his 'High Anxiety' Devon, lining up against the gorgeous Pop of Tom Margesson and John Gumble 'The Tinsel Town Hustler'. Graham dialling 10.74 and Tom 11.27. He left and Graham set off after him and as the two cars headed for the finish line they were side by side, but Tom stayed just ahead and crossed the line first having run 11.31, Tom took the win with Graham breaking out with a wicked 10.62 pass.

Next up was Brian Gibson in his 'Identity Crisis' Dodge lining up alongside Jason Hollamby driving 'Jumpin Jalapeno' Falcon. Brian dialled 11.30 and Jason 11.66. As the tree activated Jason was off and moments later Brian pulled a wheelie and the chase was on. Brian soon pulled alongside before edging ahead, and crossed the finish line fractionally ahead of Jason. However, the win light was above Jason's lane as Brian had broken out with an 11.27!

The final pairing had 'Nogbad the Bad' lining up against 'Grumpy Grizz' of Billy Jones, both cars edged to the line with Billy set to a small amount of chasing as he had dialled 10.60 and I had dialled 11.60. Leaving the line I didn't see red, and by ¾ track Billy had closed in on me, we both hit the line together, and as usual I had no idea who had won. Back in the pits it became clear as I had run 11.62 and despite him touching the brakes, Billy had broken out with 10.68. I was through!

Quarter finals, the day had not brightened up and the gloom was prevalent as the first pair came to the line, this was 'Nogbad the Bad' dialled in at 11.60 and 'Jumpin Jalapeno' dialling 11.66. This could be close, but Jason never surrendered the lead from the start and moved on to the semi-finals with 11.85 to my 11.76.

The next two cars were green, with Sean 'Chili' Milsom in his 'Ain't Misbehavin' Morris, and Tom Margesson in 'The Tinsel Town Hustler' Pop. Both cars still running their previous winning dial in, Sean 10.10 and Tom 11.27. Tom was first to leave and a wheel standing 'Ain't Misbehavin' was soon following, unfortunately too soon, with Sean leaving a cherry on the tree. This meant that in only his second event with the Gasser Circus Tom was through to his first final, as the winner on this side of the ladder had a bye to it.

The final pairing pitted Steve Matthews in 'Honky Tonkin' against Slick Mick Allen in the 'Quick Buck' Corvette. Steve had 9.91 on his rear screen and Mick was showing 10.50. The cars appeared to almost leave together, and when they crossed the line Steve was ahead and the winner with a 10.21 @ 132 mph with Mick on the end of a 10.57 @ 121 mph.

Semi-finals came round really quickly as the weather was looking ever more ominous, and the crew at the Pod were just as keen as we were to run our race to a conclusion.

Both Steve and Jason's crews guided their cars into the burnout boxes and they began frying the hides. As they both approached the starting beams, we could see that Jason had dialled in an 11.70 and Steve had retained his 9.91 from the semi-final. This meant roughly a 2 second loiter on the line would be required by Steve. As the tree activated Steve went onto his Transbrake, but the car rolled forward placing what must be an infuriating Cherry on it, handing the win to Jason who was already gone and on his way to the final.

The drama wasn't over even though Tom had a bye to the final he was still required to stage and break the beams. He duly did this and launched off on a run, only for the track to fall silent as the car's engine died and it rolled sedately to the 60 foot mark. The issue was quickly located as the cable had come out of their MSD killing the engine. Luckily for Tom this did not stop him progressing to the final where it was another all green affair with the 'Jumpin Jalapeno' of Jason Hollamby.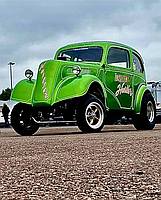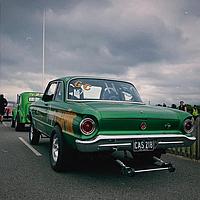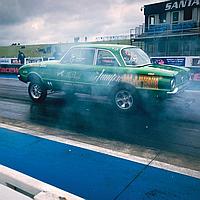 Both cars burnt out and prepared to race the final, the tree was activated and as the lights dropped, both cars left. Jason kept on going whilst Tom's fell silent again, thereby handing the win to a hard charging Jason.

The issue with the Pop again being the MSD cable, which had been pulled out on launch as the battery was found to be moving slightly, but no matter how slight it was enough to cause a frustrating loss. This was not how Jason wanted to win, and it certainly wasn't the way that Tom wanted to end his Stella weekend, but that's racing. Back in the pits, all the drivers gathered round to congratulate Jason on his victory and enjoy the moment he was handed his trophy, and the recipients of the 'Prest for time' Awards received their cash.

The weekend was a challenge, but we would like to spare a thought for the work that all the Santa Pod team do for all racers. Be it the staff on the gates, the signing on room, the commentators, the fabulous pit crew and fantastic track crew, the team that feed us and the team that keep the bins clean and empty, we all thank you, we literally couldn't do it without you. Our thanks also goes to the Neil Melliard's Modern Pinstriping & Lettering, the NSRA, Simon Prest and Renegade Fuels.

The Gasser Circus will be racing once again at Dragstalgia in July. Gasser Circus – Racing the Dream.

New Gladiator body breaks cover.
24th June: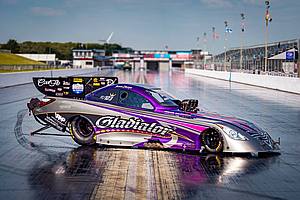 Team Hawk of Mark and Jackie Hawkins yesterday revealed the new body with a fabulous paint job for the rebuilt Gladiator Funny Car driven by Jason Phelps which will be racing at the Festival of Power this weekend:

It all started with a Big Bang...

As many of you will know, our COVID-affected 2020 season was cut down to just one admittedly spectacular 4.7 seconds, that resulted in a huge explosion and an equally huge repair bill...Unfortunately, amongst too many other things to list we lost our beautiful Gladiator #4 body.

This was however one of the few things that we had covered having already bought a new Toyota Camry body for a pre planned upgrade. With the long winter lockdown, movement restrictions and everything taking 3 times longer than usual we set about on the rebuild. Money was tight and with the production proving difficult we fell back on our old and trusted friends to get something/anything thrown together.

Darren West from Power Race Graphics got his crayons and scratched out an idea on the back of a napkin. Steve Taylor at GB Refinish Supplies happened to have an old tin of silver paint holding open a door at his place and a couple of past their sell by date purple rattle cans he said we could owe him for. Dominic and Karon Classic Legends UK and VIP Cars Repair Ltd respectively brushed and rollered the colour on whilst Claus Mocanu at Rushden Graphics went through the scrap bins down there to see if he could find some offcuts to match the designer's ideas.

This is what happens when you throw one together! Gladiator 1980...The winter of discontent...

Thanks to: Lucas Oil Products UK, Cool Flo, ProFormance Metals, Power Race Graphics, Rushden Graphics, GB Refinish Supplies, Classic Legends UK, VIP Cars Repair Ltd, Baumgartner Race Cars, Goodridge Ltd, Pro Detailing Uk, American Autoparts, East Side Custom Tattoo Studio, FGR Motorsport and Jay Manton - Mobile Vehicle Valeting.

Race entry deadlines approaching.
23rd June: The deadlines for three races to be held in the next month are approaching fast. Below are details of how you can enter to race:

The deadline for Dragstalgia, 9th-11th July, for entries in invited classes, Gasser Circus, Supercharged Outlaws, Wild Bunch, Nostalgia Pro Stock Bike, Nostalgia Superstock, Outlaw Anglia, NSA Bikes, Willys Wars, Dragstalgia Cannonball, Slingshot Showdown and Friday RWYB, is Friday 2nd July 2021 at 5pm. You can enter at SPR's racer tickets site the by clicking here.

The closing date for entries for the STP Summer Nationals, 17th-18th July, at normal fees is this Thursday, 25th June. Entry for SPRC National Championship classes, plus SPRC Club Championship in Wild Bunch, Outlaw Anglia, VW Pro and VW Sportsman is available at the SPRC site by clicking here.

The same day, Friday 2nd July 2021 is also the deadline for class entries to Bug Jam, 23rd-25th July, which will be a National Championship round for Hutchinson & Dibley Sportsman ET, Topspeed Automotive Street Eliminator, and SPRC Club Championship round for VW Sportsman, VW Pro with Supercharged Outlaws as an invited class. Entry is available at the SPRC site by clicking here.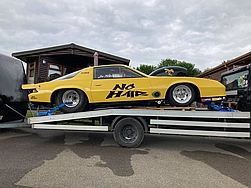 Racers return.
23rd June: Two stalwarts of the sportsman classes are returning to racing this weekend with new to them, or completely new cars.

Long time racer in Pro Stock Bike and Super Gas (Super Comp for a while) Jon Morton has acquired the '92 Camaro (pictured right) raced by the late Paula and Ian Marshall, Paul Woodhead and Paul Watson to race in Super Gas. Jon says "It's received a fresh paint job and driver-appropriate name of No Hair. Jon says "I'm back back after 4 Year exile , the doctor said I was suffering with OCDD (obsessive compulsive drag disorder).


"Thanks to Dan (Page), Neil, and Chalk (Mark White) for all they do for me , and to Paul (Watson) for a smooth Transaction, also to the Fulton Boys for allowing me to be their surrogate for the last few Years . And a big Thanks to Dave Townsend for the very Yellow Paint, and a big Thank you to Luke at WOSPerformance for his continued support". Photo by Dan Page.

Super Pro ET racer Jack Brewster last competed in the 2018 Festival of Power where the Just Mustard Pontiac Firebird made a hard left, contacting the Santa Pod barrier head on resulting in a very bent front end and considerable chassis damage.

Jack has since then commissioned a brand new Pro Mod style Firebird built by Robinson race cars (pictured left), and it's great that he will be returning with the 540ci supercharged engined car in the Super Pro ranks once again; his old car has been sold on for rebuilding.

Anita flies.
23rd June: "When you can't race, you can try something else", says four time FIA Top Fuel Champion Anita Mäkelä, who had her first experience of skydiving yesterday.

"My kids came up with a nice summer surprise for mom, booking a tandem parachute jump (click for video) for me at Jyväskylä skydiving club. It was a nice experience in every way. I was like a bird in the clouds.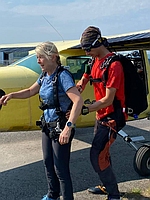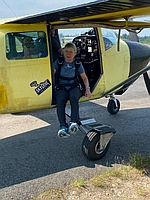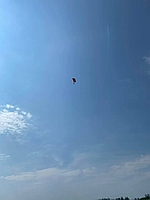 "Big thanks to Lassi-Pekka Ruuskanen; you are a professional! - Kids, now I know, how the birds are feeling, and the cloud really is soft cotton".

Attention in the Santa Pod pits.
22nd June: Many thanks to Adam Bentley of Santa Pod Raceway's timing crew who has announced the roll-out of a new messaging system which will send instant messages to racers with smartphones, and where anyone can find official results:

We are now offering message notifications for class call-outs in conjunction with the pit marshals and PA announcements. These can be accessed through the Discord app, available for both Android and IOS (click on the link to download for your phone type). Just create an account, and join the chat using the app or this link. If racers would like to give feedback after the event, email Racecontrol@santapod.com.

The location of the online notice board for official results has moved to santapodresults.com . Here you can find PDF copies of the official results (qualifying and eliminations) as soon as they are published. If you do see a mistake you should inform a pit marshal or race control as soon as possible.

Editor's note: Discord is not intended for racers sending messages between one another. If you wish to have an update on your vehicle, request for help, or announcement of a personal best published to the ticker on the SPR streaming service, send your message to Eurodragster.com editor Simon via Facebook message or email to simon@eurodragster.com and we'll get your message out immediately.

Signing on at Festival of Power.
22nd June: Many thanks to to Santa Pod Racers Club Secretary Ian Marshall for sending us details of track opening and signing on at this weekend's Festival of Power, 25th-27th June.

The main gates to the track will open at 08.00 on Thursday, 24th June 2021. Racers booked in for the Test Day only will be able to arrive Wednesday.

Thursday 24th June:
08:00 Main Gates open
10.00-18.00 Signing on open
16.00 Scrutineering for bikes.

Friday 25th June
07.00 Signing on open. Scrutineering in your own pit bay for bikes – no specific order. There will be no scrutineering for cars unless you are asked to visit scrutineering, or as a class are required to visit the scales following a run.
09.30 Track open for qualifying/eliminations.

Saturday 26th June
07.00 Scrutineering (Bikes only) & Signing on opens
09.30 Track Open for qualifying/eliminations.

Sunday 27th June
07.30 Signing on open
09.30 Track open for qualifying/eliminations.

The detailed running order and printable entry list can be seen in our event coverage page.

Festival of Power Perfect awards.
22nd June: £350 is up for grabs at this weekend's Festival of Power courtesy of Eurodragster.com and our sponsors.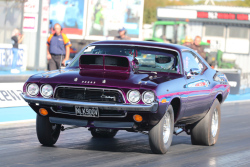 This weekend's Eurodragster.com/Bad Habit Racing Perfect Light Award has been rolled over to £75 after it went unclaimed at the STP Springspeed Nationals. The money will be paid to the first racer at the event to record a Reaction Time of 0.000 seconds. The Perfect Light Award is available in all classes during both qualifying and eliminations, but will only be awarded for the first Perfect Light of the event. The Perfect Light Award is presented in association with Cath and Tig Napier of Modurstang Pro ET team Bad Habit Racing.

Decals are not mandatory for the Perfect Light Award but we would appreciate it if Eurodragster.com decals are carried. Eurodragster.com decals are available in Signing On or from Eurodragster.com staff.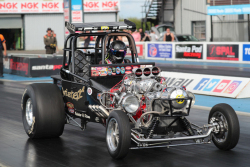 The Eurodragster.com Perfect ET Award supported by Andy Hadfield and the Twister Race Team has also been rolled over to £75 after it went unclaimed at the STP Springspeed Nationals. The money will be paid to the first racer at the event to run +0.000 on index or dial-in. The Perfect ET Award is available in Peter Nee Super Pro ET, Modurstang Pro ET, Hutchinson & Dibley Sportsman ET, B Fast R Super Comp, Dave Grady Super Gas Shootout, Lucas Oil Junior Dragster (eliminations only), VW Pro, VW Sportsman, JKE Race Works 8.50 Bike, Atlantic Fluid Tech 9.50 Bike, Blood Cancer UK ET Bike, and Eurodragster Junior Drag Bike. but will only be awarded for the first Perfect ET of the weekend. The Perfect ET Award is presented in association with Andy 'Fadster' Hadfield of the Twister Race Team.

Decals are not mandatory for the Perfect ET Award but we would appreciate it if Eurodragster.com decals are carried. Eurodragster.com decals are available in Signing On or from Eurodragster.com staff.

Bob's Photo Finish Award, which is presented in association with Eurodragster.com sponsor Bob Roberts, will award £50 each to the racers involved in the closest race of eliminations at this weekend's event. As the abbreviated STP Springspeed Nationals didn't have eliminations, Bob has kindly agreed to two awards at the Festival of Power, one for junior classes (Lucas Oil Junior Dragster and Eurodragster Junior Drag Bike) and the other for the adult (senior) classes.

The closest race will be decided upon distance rather than time since, for example, 0.001 seconds at 230 mph is further than 0.002 seconds at 110 mph. For this reason the official timing data will need to be consulted so the winners will be announced here on Eurodragster.com as soon as possible after the event and the winners will then be contacted for their preferred method of payment.

Bob's Photo Finish Award is open to all classes during eliminations only and although Eurodragster.com decals are not mandatory we would appreciate if it they are carried. Eurodragster.com decals are available in Signing On.

Eurodragster.com to sponsor Melbourne Raceway.
22nd June: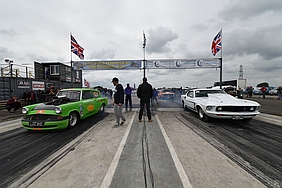 Following our successful visit to Melbourne Raceway for the No-Prep Nationals, we are proud to announce the beginning of a sponsorship collaboration with Melbourne Raceway. Eurodragster.com will make a cash injection towards the development of the facility including the emergency braking area and pit works and will be pleased to continue this for a number of years.

Melbourne Raceway provides a desperately needed track for the North of England, which served it since 1977. Under management of the Straightliners Organisation headed by Trevor Duckworth, work has proceed apace to re-lay the first eighth of the racing surface and make spectator facilities better than ever. The pit layout has turned a necessity into a virtue and marshalling and running of events goes smoothly with a minimum of downtime. With further funding, Melbourne can potentially become a National Championship facility once again.

Melbourne Raceway announced "We are absolutely delighted by the sponsorship from one of our most cherished drag racing organisations".

No-prep Nationals results.
21st June: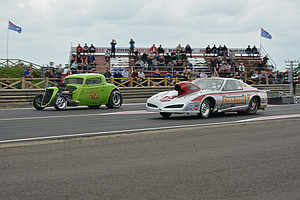 Congratulations to the winners at this weekend's No Prep Nationals held at Melbourne Raceway:

Eliminations

Big Tyre: Pete Youhill (Firebird) def. Marc Manning (Ford '34 Coupe) (see photo)
Small Tyre: Phil Drewitt ('54 Anglia) def. Chris Goodale ('69 Camaro)

Motorcycles: 6.00 class: Maxine Taylor (BMW 1000RR) def. Stuart Donald (Suzuki GSXR 1000)
6.50 class: Leigh Williams (Hayabusa) def. Ashley Hodgson (Suzuki GSXR 1000)
7.00 class: Dave Grundy (Triumph Street Triple) def. Daniel Leather (Suzuki GSXR Turbo 1100)
7.50 class: Rob Kneeshaw (Suzuki GSXR 750) def. Colin Fallows (Yamaha FZR 600)
Classic Legends Class: Mark Taylor (Suzuki GSX '82 1428cc) def. Chris Urwin (Suzuki GSXR 1985 750cc)

Quickest ETs (car classes)

Pro Extreme: Darren Peart (Ford Cortina III '72) 5.72
Outlaw Street: Sally Woolner (Chevy Camaro '67) 6.70
American Superstock: Paul Smaile (Chevy El Camino '75) 6.43
NSCC: Russ Pursley (Dutton Pheaton '89) 6.16/123
RWYB Cars: Andrew Murphy (B Sting Topolino altered) 6.73

The event was a great success with the many attending vehicles able to make a large number of passes. Big Tyre winner Pete Youhill made a generous gesture by immediately donating his winnings to the Melbourne Raceway Appeal.

You can see our coverage of the No Prep Nationals, sponsored by John Woolfe Racing, with on-track and off-track galleries by former editor Tog, at our event page.

Mali returns to the track.
21st June: Many thanks to Melbourne Raceway track record holder and Funny Car racer Mark Flavell for giving us an update on an important member of his team who after being away from the track for too long, made the journey this weekend:

We sat out the June event at Melbourne after taking the inaugural win in Pro Extreme at Melbourne in May. But we did attend as spectators to enjoy a great event, watching the no prep classes battle it out and took crewman and great mate Mali Rigg back to the drags for the first time in seven years.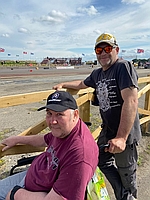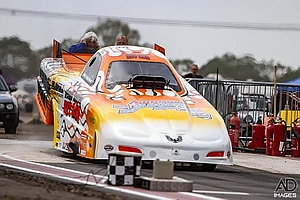 Many know Mali who sadly had a severe stroke seven years ago and has been living in Poplars Care Home pretty much ever since. COVID has seen us all denied the chance to visit him for a long time but as soon as we were allowed and we had the opportunity, we seized it and had a great day out together. I'd like to thank everybody that sort us out and came and said hello. The disabled viewing is organised and readily accessible for wheel chair access with clear viewing. We all had a BRILL day, hopefully to be repeated when we return to compete in Pro Extreme in the Steel River Hot-Rod Alcohol Funny Car.

Retro Show affected by rain.
21st June: A rain-affected Retro Show still allowed the main invited class groups, Gasser Circus, Nostalgia Pro Stock Bike and Supercharged Outlaws to make runs at Santa Pod Raceway on 19th-20th June.

In Gasser Circus, there was a field of 11 cars which had three qualifying sessions against dial-in. No.1 was Mick Allen's Corvette with a 10.513/130.61 on a 10.50 dial. In eliminations Jumpin' Jalopeno with Jason Hollamby defeated a broken Tinseltown Hustler driven by Tom Margesson.

Nostalgia Pro Stock Motorcycle saw an excellent field of eight riders make the call for three qualifying sessions. Kevin Melling (Kawasaki H2 750) took the no.1 spot with a 8.644/152.63 and he became winner of the competition with Claire Rule (Suzuki GSX1100) as runner up. For a great pairing lanes video of the riders by Daniel Blight, see this Facebook video.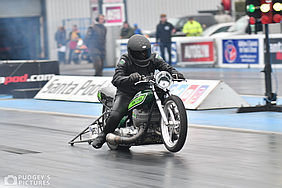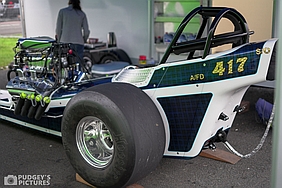 Pictures: Kevin Melling (Nostalgia PSB) and Mick Hannah (Supercharged Outlaws), photos courtesy and © Pudgey's Pictures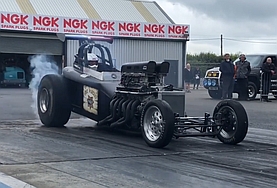 Seven cars made the call in Supercharged Outlaws with Joe Bond returning to the cockpit of the Nuthin' Fancy alky slingshot, running a half pass of 7.5091/117.77 for quickest pass of the group which ran four qualifying sessions. See below for Andy 'Fadster' Hadfield's report on the class.

In RWYB action, congratulations go to Ben Rushforth (pictured right), who brought out his Hot Pursuit 23T altered, powered by a V12 Jag-based engine, and went 7.79/169 on nitrous on only his third pass, backed up by a 7.805/169. The car has a string of previous owners including Jonny Mac (when it was known as Mc's Rat) and Phil Sweeney (when it was called Bone Idle), and the body goes back even further with previous names cited as Tantrum, Reckless Rat, and Paranoia.

You can see the results of the Retro Show at Santa Pod's official results site and we will post a gallery, with Kieran also producing video for Mk1Kieran.

Supercharged Outlaws at Retro Show.
21st June: Thanks to Supercharged Outlaws co-ordinator and Eurodragster.com sponsor Andy 'Fadster' Hadfield for providing a report on the class's Retro Show:

There were plenty of ups and downs weekend at the Retro Show with a good showing for some and disappointments for others.

Keith Freeman was having lots of fun with the El Loco '32 Ford five window altered and the car was going really well with his new suspension set up.

Mick Hannah suffered oil pressure issues in his slingshot dragster, a real kick in the teeth given the long trek from Scotland, but he's a step closer to a reliable package.

Roy Wilding struggled to get grip on the RWYB track in his slingshot dragster but got Chariots of Fire up to the big end and got some useful data for the next meet at Dragstalgia 10.

Neil Townson's welcome return with the Northern Spirit '32 Ford altered saw him get some good track time and the team are thrilled to be back at the sharp end.

Mike Couch suffered gearbox issues in his slingshot dragster with a leaking front seal, it's a bugger to repair trackside so Mike decided to save his powder for another day.

Gary Parkes had oil pressure issues and decided to retire early and save the motor, very wise choice!

Joe Bond and the Nothin Fancy slingshot dragster crew tested today and netted a 7.50 at a 1000 foot shut off, a fantastic result and real promise!

Des Taylor and the Team Thundergod 23T altered has real success and netted a new PB of 7.77, Duncan Beard working hard to get the car dialled in and its working!

Team Twister, Andy's 23T road-legal altered, has gearbox issues that were just frustrating and made no runs.

Thanks to all the Teams who attended and to Santa Pod Raceway and the marshals for their hard work in giving us a track despite tough conditions.

Web site updates.
21st June: Photographer Colin Donisthorpe has updated his Flickr site with events from 2020 and this year's Springspeed Nationals. By following this link you can see galleries going back thirty years, well worth a visit.


Dragstalgia fire burnout roll call.
19th June: Santa Pod Raceway Events Manager James Forster has been in touch with a request for racers willing to perform a fire burnout on Saturday July 10th at the 10th Anniversary Dragstalgia:

As Dragstalgia approaches, it's time to cast our thoughts to one of the more "eye-catching" parts of the event with the fire burnouts.

If anyone would like to submerge themselves in a petrol fueled ball of flame for one of the most spectacular photo opportunities of the year, please get in touch with James on james@santapod.com. All of the usual rules and regs apply ie. front engined, rear wheel drive, open wheel cars only.

Entry list update.
18th June: Many thanks to to Santa Pod Racers Club Secretary Ian Marshall for sending us the first version of the STP Summer Nationals and Bug Jam 34 entry lists.

Teams are reminded that entry at standard fees closes on 25th June for the Summer Nationals and 2nd July for Bug Jam. A surcharge will occur for entries received after this date.

Festival of Power preview.
18th June: There's just a week to go until Santa Pod Raceway's Festival of Power Unlocked and three days of action-packed drag racing entertainment awaits.

Traditionally held over the Easter weekend, this year's event has been rescheduled to 25th – 27th June and whilst restrictions won't be totally lifted, there's a thrilling line-up in store!

The sound of Top Fuel Dragsters will once again reverberate around Santa Pod as these nitro-burning machines gear up for the long awaited first match race of 2021. Drivers Susanne Callin and Anti Horto will be behind the wheels of these 10,000bhp Top Fuelers.

There's a Funny Car treat in store, call it a match race for the ages – old versus new, David v. Goliath. Three Nostalgia FC racers, Tony Betts, Andy Raw and Rob Elsom, will seek to upset three modern stars of the Euro Funny Car Series, Steve Ashdown, Jason Phelps and Shelley Pearson, in a ground-pounding battle for flip-top bragging rights. The Funny Cars will be running on Friday in the evening session starting from 6:00pm, with three qualifying sessions for Pro Modified, Top Fuel Bike and Competition Eliminator also taking place on Friday alongside sportsman qualifying.

Five fearsome Jet Cars are ready to throw some flames as they take to the track for exhibition runs. Fireforce 3 and Firestorm Jet Funny Cars, Fireforce 5 and Split Second Jet Dragsters, and Oklahoma Willy Jet VW Bus will be taking to the track on all three days. Solo runs will be performed by all jets, but you'll also get to experience the unique sight of side-by-side jets as they battle it out for fun!

Adrenaline fuelled entertainment takes place in the Live Action Arena with stunt shows galore featuring the mighty Monster Trucks 'Podzilla' and 'Swamp Thing' as well as professional stunt driver Terry Grant and freestyle stunt bike rider Lee Bowers.

The full timetable for the weekend is available here.

Saturday day spectator tickets are sold out and Sunday day tickets have limited availability, but tickets are available for Friday including Funny Cars and Jets with three day admission with camping also available on the Santa Pod Raceway ticket site.

Eurodragster.com will report live from the event with daily photo galleries, and Nitro FM will be welcomed back alongside SPR's streaming video service.

No Prep 4 preview.
17th June: This weekend, No Prep 4 takes place at Melbourne Raceway. The No Prep field of 37 cars, 10 in small tyre and 27 in large tyre is shown at this link. In addition to this Outlaw Street will be represented by 22 cars coming from across the country for their second round of 2021.

You will be able to keep up with the action by going to our coverage page sponsored by John Woolfe Racing where we will be posting live reports and daily galleries. Thanks to former editor Tog for dusting down his cameras and lenses and make the trip to Melbourne Raceway to capture the event.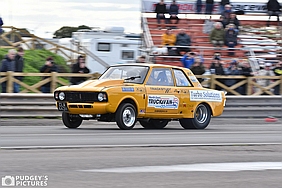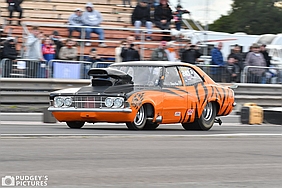 (Photos: Ian Walley and Dave Peart, © Callum Pudge)

Much work has been done to Melbourne Raceway to improve it with the ultimate aim of bringing it up to championship standard. Since the reopening in 2020 with a relaid racing surface and grandstand, improvements and repairs have been made to the pit area and return road with improvements to the start area buildings too.

It's still not too late to apply for tickets for the event; run what ya brung racers and spectators should go to the Straightliners web site to apply on-line. Further down the page, if you wish to donate to Melbourne Raceway, fundraising continues to raise £45000 to extend the braking area and tarmac the far side of the pits. You can see the progress at the Melbourne Raceway Community Facebook Page.

Spy picture solved.
17th June: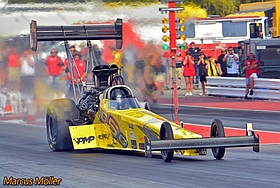 Many thanks to Aidan Heatley Smith of the Ant Hill Mob Dragracing Team for solving the puzzle of which Top Fuel car has been headed overseas from Sweden, posted yesterday:

"We have purchased the ex Stefan Gunnarson Top Fuel operation, so this will be the second top fuel car we have imported from Sweden in the last year (Editor: the other was the ex-Patrik Pers car)! Racing is completely dormant in Canada. We can't cross the border, yet we can watch and cry while racing continues in the States a few hours from us.

We are buying the car to up our program, we currently have no spares, so it will help us tremendously, and we will be ready for when the border opens and hopefully get to some NHRA races finally!"

If you have a spy picture of your own to send, please contact the Editor at editor@eurodragster.com.

Web Site Update.
17th June: The Mad Welshman has updated his Flickr site with a large album from last week's Private Test Day, as he says, "the perfect excuse for a Monday off work!" You can check out Mad's pictures at this link.

Mosten Test & Tune.
17th June: A test and tune held at Mosten Raceway last weekend attracted 58 competition vehicles, 25 cars and 33 motorcycles with some European stars of drag racing going for their first hit since 2019. The track had been resurfaced for 2020 but, due to the pandemic, no racing took place. With a massive effort by many people the track was brought up to racing condition and the 2021 season looks more promising, with Mosten Raceday planned for 2nd-5th September.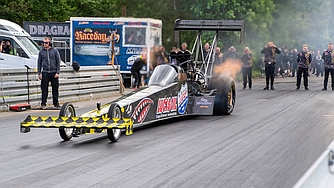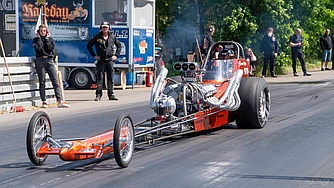 Among those trying out the new surface were Top Fuel racer Stig Neergaard (above left) who achieved a 0.9845 60ft time and then lifted to record 4.8786/155.84kph at the eighth. The quickest time of the day was 4.375/278.78 by Mike Reymond's Mustang which we featured on 11th May, followed by Rene Laustsen's supercharged Firebird on 4.4496/262.52. Stig's former nostalgia slingshot dragster was also making passes, now owned and driven by Svend Larsen (above right) with a 565ci Reher Morrison unblown combo in place.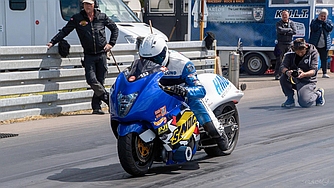 On the motorcycle side, Super Street Bike racer Mogens Lund (above left) tested a new fuel system to make some low boost passes at soft settings, his best being 5.1999/238.62. Second quickest was electric bike racer Hans Henrik Thomsen (above right), who had stunned us at SPR last September running a new quarter mile electric record, running at Mosten to an early shutoff 5.5120/157.02. FIM Super Twin Champion Marcus Christiansen also made a hit, Marcus planning to compete in the Fueltech Nitrobike Showdown in Finland.

You can see more photos of the Test & Tune at the Dragracing Club Denmark Facebook page. A full list of who was running and their best times can be seen by clicking on the link on the left hand side of the page dragracing.eu.

Fueltech Nitrobike Showdown round 1.
16th June: Many thanks to Finnish photojournalist Pasi Uponen who has provided us with a report on the Fueltech Nitrobike Showdown round 1 at the Kannon Romu Savo Nationals, Motopark Raceway, Savo, Finland last weekend 12th-13th June: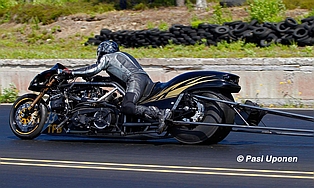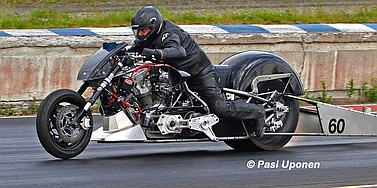 (Pictured: Mikko Rajaniemi and Lasse Leponiemi. Photos courtesy and © Pasi Uponen).

Unfortunately Sunday was a rainy day and we could see only three qualifying rounds during the event. That's why some of the riders didn't get a time and all of them had a lot of problems with engines and set ups. But it was the first race after a long break. It was nice to see two new riders making a few license runs, Marko Lantto and Kalle Myllylä. Soon we will have even more riders on track.

Qualifying results were:

1. Mikko Rajaniemi TFB "Sirpa" 1364 cc 6.991/320.82 kmh
2. Lasse Leponiemi TF Twin 160cid Overkill 7.304/305.57
3. Torsti Kettula TF Twin 168cid PRP 7.388/273.25
4. Aku Lantto TFB Harsh 1699cc 8.423/177.12
5. Samu Kemppainen TF Twin 196cid V60 10.079/255.57
6. Harri Piensalmi TF Twin 186 cid 14.253/92.70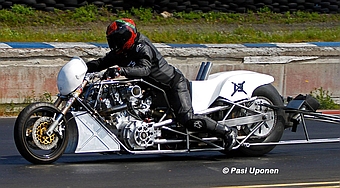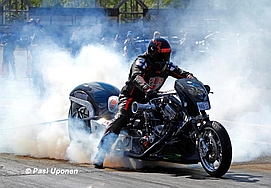 (Pictured: Kalle Myllylä and Marko Lantto. Photos courtesy and © Pasi Uponen).

Pasi commented "Almost all riders had made a lot of changes on their bikes during last winter which was the main reason why they had so much technical problems. Also let's hope that travel restrictions change before the next round, on 8th-10th July at Kauhava, to allow for bikes outside Finland to compete in the Showdown".

Reckless Racing, comprising Aku Lantto and Marko Lantto have posted video of their weekend, with footage of the riders after the race at Youtube.



Spy picture.
16th June: This picture arrived at the offices of Eurodragster.com with the comment "Another Swedish car heading overseas..."

If you know more, or have a spy picture of your own to send, please contact the Editor at editor@eurodragster.com.





Swift snippets.
16th June: A very Happy Birthday from our Nitro Revival Sponsor Geoff Stilwell and all of us at Eurodragster.com to Ron Hope, Fuel Altered pilot and supporter of the British Drag Racing Hall of Fame. Have a great day Ron.

Gardermoen results, photos.
16th June: Results from the Spring Nationals EDRS round at Gardermoen Raceway last weekend 12th-13th June have been posted at ndrg.no. Qualifying results from 12th June are at this link. You can see a gallery of photos from the event at the Johansen Photo FB page of Kim Johansen.

FMV Racing, comprising Odd Erik Fossum in their nitrous Pro Mod Camaro and daughter Trine Fossum in her 555ci Super Pro ET dragster, were at their first race since 2019 after Covid-19 "took a trip into the world".

"For us this was more a test weekend, to check out all the things we have done to the Pro Mod car. Our Stroupe built 68 Pro Mod Camaro is going straight as an arrow, so we are very satisfied. We didn't put so much power in it because we wanted to test the chassis instead of going for low ETs. We hope to get back at the track in August and try to step up a little bit more". Running solo in test mode, Odd Erik ran a creditable best of 6.328/360.25kph.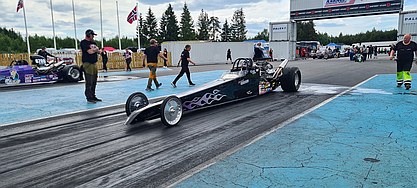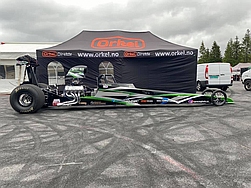 Trine (pictured above right), racing for the first time since 2018, was no.1 qualifier in Super Pro ET, with a 7.700/281.06kph on 7.69 dial. She went to the final of the twelve car field, where she raced 19 year old Madelen Andersen in a BBC-engined dragster (pictured above left). Trine pulled a red on the way to a 7.588/284.16 on 7.58 dial, allowing Madelen ran a 8.696/227.06 on her 8.45 dial and take the win.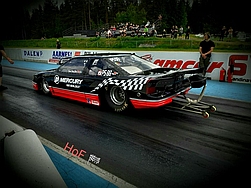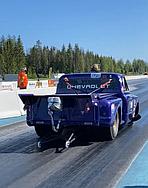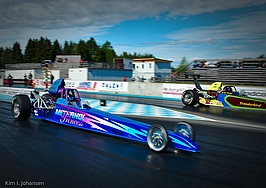 In Pro Street, Renate Rosén Skinne (pictured above left) won in a field of four cars, of which two were unable to take the green in the first round. Renate, who qualified 2nd ran 7.603/291.71 to defeat the Chevy Pickup of Fredrik Gravningen (pictured above right) who ran 7.839/253.69 after getting off the line first by two tenths.

(Pictured above right: In Super Comp, the dragsters of Julie Andersen and Mats Wanvik met in qualifying. Picture © Kim Johansen).

Dragstalgia entry looking good.
15th June: Being one of the largest meetings of the year, Dragstalgia racer spaces are overall subject to limits. Also, one of the benefits of coming out of lockdown is that the event already has a large number of applications as shown in the current entry list.

Don Scott, organiser of UK Nostalgia Super Stock has been in touch to ask if the 50+ racers in his class can finalise their race entries as soon as possible, which will allow other racers applying for Custom Car Invitational Run What Ya Brung more chance of a place in the pairing lanes.

We would imagine this line of thought might apply to other classes. The page for class entries is at this link, and the closing date for entries, bearing in mind the above message, is strictly Friday 2nd July 2021 at 5pm.

00Heaven championship car tracked down.
15th June: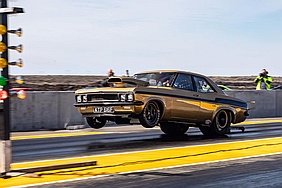 Remember the feared "00Heaven" Vauxhall VX4/90 with its 582ci engine, raced to eight championships, four in each of Super Gas and Super Comp, by Stuart Doignie in the UK 2015-18?

A viewing of Youtube videos by videographer Jakob Cecil of Icelandic drag racing's championship event held on 12th June in Hafnarfjörður showed this legendary car running in the Doorslammer class over the eighth mile. You can see the video by clicking here or on the photo above (photo © B&B Kristinsson).

The car is now run by Stefán Kristjánsson who won the Doorslammer category. Other categories fought were Open Class in which the dragster of Stefán Helgason defeated the similar car of Ingólfur Arnarsson, and Top Sportsman (9.99 index) where Hilmar Jacobsen in a Saleen Mustang was the winner. True Street, Standard, and three motorcycle classes.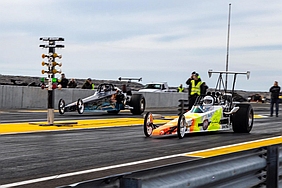 The local newspaper Morgunbladid reported "Conditions for racing put in place by the organising body Kvartmíluklúbb have recently changed. Active members of KK have put a lot of effort into making the area (a 25 minute drive from Reykyavik) much more accessible and the area has served many motorsport disciplines.

These include both a quarter mile and a sand drag track, as well as a circuit area and off-road terrain, to name but a few. It can be said that the area offers much more possibilities than before in terms of events for motorsport and it is a big part of the service to the ambitious competitors who practice and compete in motorsports, as well as general driving instruction".

You can follow the activities of Iceland's Kvartmíluklúbb on their Facebook page.

Clastres race coming up 19th-20th June.
15th June: Since 2015, Association Trophée Dragster (ATD), based in the Allier region of France, has been organizing its competitions on the Clef des Champs site at Clastres Dragway. The only track in France exclusively reserved for drag racing also has in its favour the quality of its welcome and its facilities. Racers will compete against each other three times during the summer on the 402.32 m of the Axon straight line, which corresponds to a quarter of a mile.

The first round will take place this weekend, 19th-20th June, with other rounds on 31st July-1st August and 4th-5th September and spectators welcome at each round (spectators can pay on the gate). For this 14th European Dragster, the organizers will welcome pilots from all over Europe who will compete in four categories. Super Pro ET and Pro ET are joined by the Street Run ET category, for modified road vehicles and finally Junior Dragster for 8-17 year olds.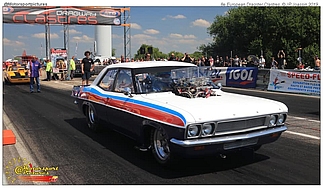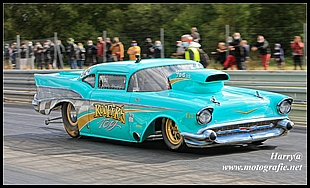 Pictured: Billy Gane and Peter Wacker. Pictures © Motorsport Pictures and Harald Czekalla

The entry list can be seen at this link, and contains plenty of entries from France, Belgium, Germany, Luxembourg, Netherlands, Spain, Switzerland – and one from the UK, Super Pro ET racer Billy Gane. We look forward to hearing about Billy's progress as the first team to venture overseas from the UK since Brexit and lockdown!

Taking their place in the run what ya brung will be former UK Pro Mod champion Bruno Bader, long time Pro Mod racer Peter Wacker and Walter Strobel's new Camaro which we showed a few months ago.

In April ATD launched a new website association-trophee-dragster.com, in which you will be able to find everything you will need in the future: registrations, results back to 2004, rankings, history, the ATD webstore and many other things !

They said "Some details are still to be refined but it's almost 100% operational and automatically translated to English! Thanks to the Webmaster who did a remarkable job to make the website: beautiful, attractive and practical".

For latest details, head to ATD's Facebook page.

Quick times at Hudik Raceway.
14th June: Hudik Raceway, Sweden held their second event of the year this last weekend following a test & tune on 23rd May. The eighth mile Swedish facility was at last able to invite spectators into the facility and Britt Sundqvist was able to post video of some of the quicker runs at the Hudik Raceway Facebook Page.

Some of Europe's heaviest hitters were present at the track which was evidently in great shape. Mattias Wulcan was the quickest of all with his Wulcano running a best of 3.7154/332.10kph for a new track record. Fellow and reigning (2019) FIA Pro Modified Champion Jan Ericsson ran a 3.8834/ 309.28 in his Pro Mod legal Camaro.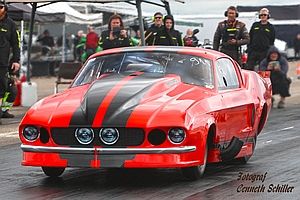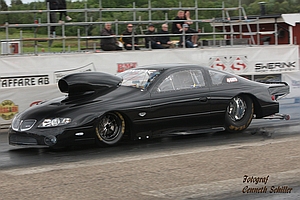 Pictured above: Andres Arnover and Niklas Heikkilä. Photos courtesy and © Cenneth Schiller.

Others who were present, electing to run at Hudik rather than compete at the Dooslammer Tour at Kjula Raceway, included Estonian Andres Arnover in a new twin turbo Mustang (3.8930/321.24), multiple FIA Champion Michael Gullqvist (4.0517/299.83), Jimmy Ålund (4.3271/265.36). Making a return after running in Comp Eliminator for over a decade was Niklas Heikkilä who ran 4.2302/271.77 in his new Pontiac GTO with a Sonny's 705ci naturally aspirated combination.

You can see results from Hudik by clicking on the link on the left hand side of the page at www.dragracing.eu.

FHRA Motopark rained off.
14th June: The first round of the 2021 FHRA championship which was also a round of the Summit Racing Equipment EDRS series, was held at Motopark Raceway. Finland at the weekend. The FHRA said:

It's a pleasure to see how the acceleration nation arrived in large numbers to follow the first race of the season. The audience was able to surprise both the event organizer and the track owner positively. The crowd really came in and the atmosphere was great among the audience. I don't think there have been so many people seen in the acceleration times since the 90's Midsummer celebrations!"

The race was preceded by FHRA Street Mayhem & Test n´Tune Day in which several drivers gained their 'oven fresh' licence for racing. At the beginning of the first day of the competition on Saturday, the track held a quiet moment in memory of Pasi Häkkinen, who was involved with the Motorpark track as his life's work and the family of whom were sent condolences by the assembled crowd.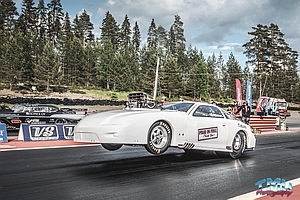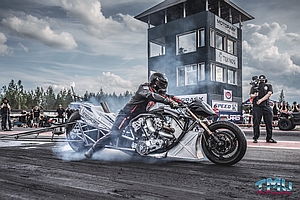 Pictured above: Lasse Niskavaara and Aku Lantto. Photos courtesy and © TMu Photography, also at teemumultisilta.myportfolio.com.

The competition went well and a total of two qualifying sessions were run. The intention was to run two races over the weekend, but due to the rain, Sunday's race was not run. The Fueltech Nitrobike Showdown 2021 race was also at the track and there was a handsome number of nitro bikes entered. These 'rattlesnake royal' class gladiators brought their own addition to the race and were definitely a reason for many to come to Virtasalmi over the weekend. The presence of the Vintage Drags group was also a special feature to the race.

In Top Doorslammer, Tero Laukkanen qualified no.1 with a 4.168/294.47kph. The list of qualifying times after two sessions was
Tero Laukkanen 4.168/294.47
Hannu Flink 4.178/281.02
Jari Sokura 4.352/291.62
Lasse Niskavaara 4.397/276.16
Mikko Siironen 4.556/259.41
Henri Halikka 4.774/250.76
Jaakko Lauhasmaa 4.837/231.39
Tomi Stamblewski 5.222/222.96
J Nyberg 11.665/49.93
Sadly that was all that took place in Top Doorslammer as the rains came.

The FHRA track team and FHRA Crew did a tremendous amount of good work on the track and the series next moves to Kauhava on 8-10 July.

Mälardalen Open 6 report.
14th June: The Mälardalen Open 6 race took place at Kjula Raceway last weekend on 12th and 13th June. The entry of 95 racers ran in 11 classes, plus run what ya brung. The quickest class was Pro Street Car, where Roger Kullander qualified no.1 with a 7,6168/ 286.51. Roger reached the final in eliminations where he came up against no.3 qualifier Mikael Norén. Mikael came out as winner running 7.755/273.40 to Roger's 8.194/282.2.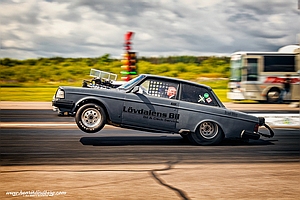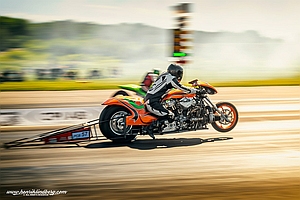 Pictured above: Fredde Carsting (Street) and Conny Karlsson (Pro Comp Bike). Photos courtesy and © Henrik Lindberg Photography.

In 4to6 Pro, the final was a single for no.2 qualifier (8.3225/264.41) Björn Lundin after no.1 qualifier Kristian Sjöberg (7.9976/271.29) was a no show along with his competion Kin Norgren in round one. Kristian's run was the quickest of the class.

You can see full results by clicking on the link on the left hand side of the page at dragracing.eu and Henrik Lindberg's great photos of the event are in this Facebook album.

Spy picture.
14th June: The pictures below arrived at the offices of Eurodragster.com with the comment "On its way to its UK owner soon, can you tell what it is yet?"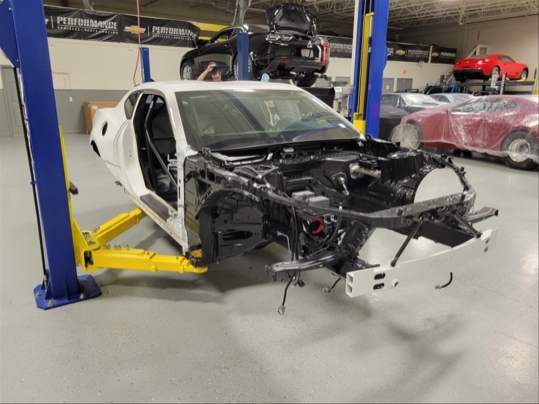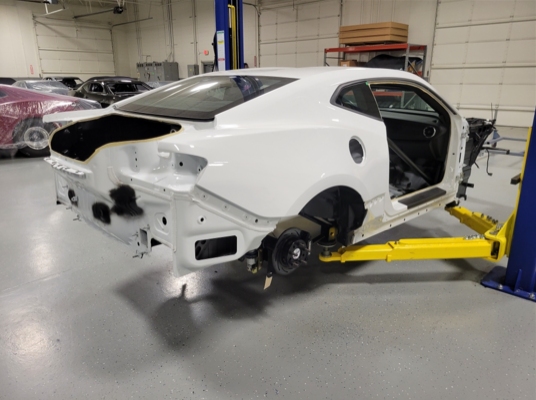 If you know more, or have a spy picture of your own to send, please contact the Editor at editor@eurodragster.com.

Crail Raceway hosts mag themed events.
13th June: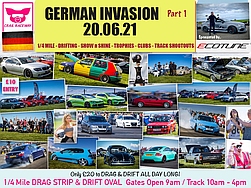 Crail Raceway, Scotland's one and only dedicated ¼ mile Drag Strip (with drifting), re-opened for business on 9th May and has hosted three events in 2021 so far.

The first event, held without spectators, was Total Vauxhall on 9th May, with seven track awards, top five Vauxhall and top non-Vauxhall, as well as Top 5 show n shine, Best Club Stand and a 'Best Non-Vauxhall' trophy. You can see photos of the event here on Crail Raceway's FB page.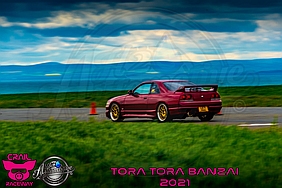 The second event was Tora Tora Banzai day on 23rd May, sponsored by Grant Swan Racing Team, including great Japanese cars and club stands, with what organisers believe is the fastest 1/4 mile car time ever seen at Crail Raceway, 9.329/162.5 - from the Ecotune Audi RS3, to the undoubted chagrin of Jap car enthusiasts on the day. Spectators were allowed to attend and you can find a huge gallery of photos from the event at the Facebook page of H2o Automotive.

Following the traditional ¼ mile Thrash & Drift held on 6th June, Crail Raceway plans another marque based event on 20th June, German Invasion. Sponsored by Ecotune, there is no requirement to pre-register for the ¼ Mile, Drift Oval or Static Show/Top 5 Cars, and numbers of spectators allowed by the local Fife Council will be greater than the Scottish Government restrictions. Entry for the ¼ mile plus drifting will be £20, and spectator entry will be £10 (£5 for 12-16 year olds and free for under 12s). You can see more details with a log of times recorded at Crail's web site.

JT out and about.
13th June: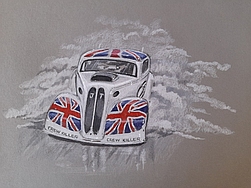 Many thanks to Pro Mod and Super Pro ET racer John Tebenham for providing a preview of his plans for the Festival of Power on 25th-27th June:

Another five at hopefully 240 mph in The Fabulous Lightning McQueen and a 150 mph in my mad Ford pop is our goal at the amazing Festival of Power, coming very soon to Santa Pod. Both cars are in bits, but are nearly there, the white car broke the gearbox (well it was me actually doing the crazy burnouts). I have been told to do smaller burnouts, NO NO NO, we are just taking more spares. It still can't do 150 mph, one day...

The Blue car needs pistons, crank, blower, the engine is in bits but we are going to be there and we want to win. Another five at a hopeful 240 mph would make our weekend.

We have an amazing support crowd who always buy T shirts and posters from us, which really helps us to run the weekend. I drive both cars at 100% you can probably tell, that's probably why I break them so bloody much but, like Colin Theobald says, I'm The Entertainer. Also we are also headlining American Speedfest at Brands Hatch on 3rd-4th July, it's an amazing weekend, get a ticket and come and say hello, we are at the entrance with the blue car. Oh yeah, and the little white Pop on show as well. Dont miss it, JT (The One Man Show).

Pop picture courtesy and © Mick Smith

More Unusual car sales.
13th June: Many thanks to Unusual car sales U.K. administrator Nigel Taylor for supplying an update, with pictures and prices, of the tastiest drag racing cars for sale on the page:

"Nearly 25,000 members now on the Unusual car sales U.K. page, it's been great to help out drag racers like Andy Carter, Steve Neimantis, Tony Betts, Paul Watson, Williams Bros Racing, Paul Dale, Ian Marshall, Col Law, Colin Millar, Brian Huxley, Wayne Saunders, and many more.

"The site has grown into more than just a sales site, It is now a big Hot Rod, Drag Racing community listing over 100 useful contact numbers in the hot rod world, show dates, parts, services, advise, and anything else connected to the scene.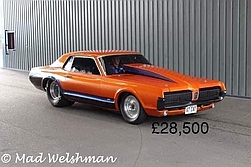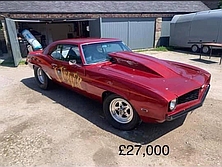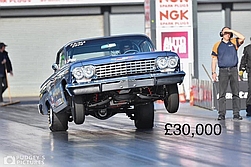 "A massive Thank You to Mike Gates of Hayling Garage for all your support, and the level of cars that you now get in stock is just superb, with many more on their way including Chevy Novas, Dodge pick ups, etc and they not only sell hot rods, yanks etc but also carry out repairs, servicing, exhausts and much more-highly recommend, give Mike and the team a call on 023 9246 2346 and they even offer finance on a lot of the cool vehicles in stock.

Massive thanks also to Jack Lad, my northern dad for all the banta and the ace cars you keep finding.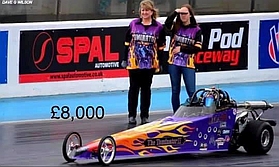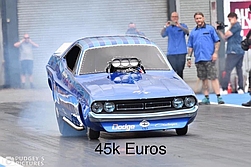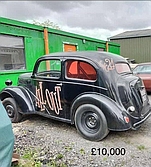 Thankyou to every single person that has got involved with the site and to Simon and the team at Eurodragster.com (thanks! - Editor) and the commentators at Santa Pod Raceway for giving us the mentions!

Spitfire Raceway re-opens.
11th June: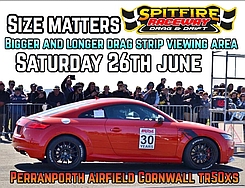 Spitfire Raceway at Perranporth, Cornwall TR5 0XS re-opens on 26th June for drag racing and drifting with spectator capacity and camping. Our sponsor and track operator Lee Child has announced that even if the Government guidelines don't change on the the 21st of June the track can still operate unchanged on Saturday 26th June under the current guidelines. The quick surface has records set at 9.48 from the APR Performance Audi TT RS and for bikes, Mark 'Wolfy' Smith's 9.97/141mph has held for the last five years. Will we see these re-set?

Overnight camping is available for Drag and Drift teams before and after the event at a price of £10 per night per head, kids going free. Racers should pre enter via the following links for drag racing or drifting on line first, then to book your camping call 01872 552856. If there are any roll over credits from April please email Kevin@perranporthairfield.com.

Crash helmet and full driving licence are required for all racers. Show & shine has no charge apart from £10 admission, all vehicles are welcome. Gates are open at 8am with track action taking place 11am to 3pm, All vehicles have a safety check for drag racing and drifting and drag strip riders and drivers should attend a pre-race meeting at race control 10.45am. Spectators, now given a bigger and longer drag strip viewing area, are £10 per person under 16s go free.

Retro Show Lite preview, racer deadline.
10th June: Santa Pod Raceway's Retro Show Lite is on Saturday and Sunday 19th-20th June 2021 with Pre 1995 RWYB, Autoglym Show & Shine, Retro Parking and KitFest Lite.

Race Classes eligible for entry to the event are Gasser Circus, Supercharged Outlaws and Nostalgia Pro Stock Bike (their first outing as a group this year). The deadline for entry for these classes is Friday 11th June and racers that are members of these groups may enter at the Santa Pod racers' ticket shop.

Run What Ya Brung and spectator admission is handled via the SPR ticket shop. Tickets may be bought at any time prior to the event subject to availability.

JapShow gallery, shootouts update.
10th June: With thanks to Kieran and support from John Woolfe Racing, we have posted a gallery of 90 photos from last Sunday's Japshow which you can see by clicking this link.

Sadly, the JapShow shootout planned for the event didn't take place, however, other shootouts are planned for later in the year and racers are encouraged to enter. There will be a FWD only Shootout at Ultimate Street Car along with two more Shootouts where FWD cars can enter alongside compact 4WD and RWD cars at Fast Show Reloaded and JapShow Finale. The entry fee for the USC Shootout is £200 including 2 weekend tickets and £100 for the other events also including 2 weekend tickets. Prize money is £750 winner, £250 runner up if the minimum of 8 cars qualify, plus trophies. This increases at Ultimate Street Car to £1500 winner, £500 runner up, again with a minimum of 8 cars qualifying.

All entries must be proven to have run quicker than 11 seconds to be eligible for the shootouts and all entries are on a first come, first served basis with entries limited to 20 cars qualifying for a 16 car elimination ladder, so if you want to race enter now. Entries are now open at Santa Pod racers' ticket shop.

EDRS championship to start this weekend.
9th June: The European Drag Racing Series, based in Scandinavia and organised by Speedgroup, kicks off this weekend with two events, in Finland and Norway.

Many thanks to Lena Perés for a preview of the round of the EDRS Championship at Motopark in Finland:

Motopark in Finland is first out in the Summit Racing EDRS Series events, on 12-13th June. Jarmo Grönman, chairman of FHRA, has announced that currently there are 104 racers registered, only one of which is from outside Finland, and about 60 Test & Tune drivers booked to show up at Motopark for Friday testing.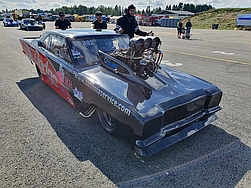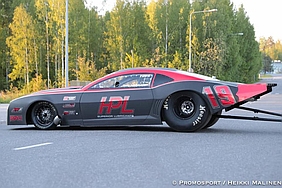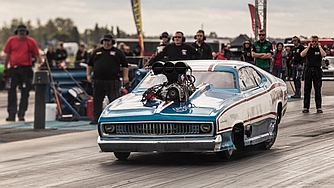 Pictured: Top Doorslammer racers Jarmo Nyberg (Dodge Dart), Tero Laukkanen (Camaro), Tomi Stamblewski (Hyundai), Henri Hälikkä (Duster); photography: Martin Westerlund, Heikki Malinen, TMu Photography.

Lots of cool classes are to be driven down the track. For example, The official Top Doorslammer series which currently has nine entries where you can see, among others, Pro Modified driver Tero Laukkanen with a new livery on his Camaro and Tomi Stamblewski with his twin turbo Hyundai Coupe.

The event is also a round of the FuelTech Nitro Bike Showdown which has attracted 11 entries and now has its own web site at nitrobikeshowdown.fi. Riders include record-setter Jaska Salakari and 2014 FIM Champion Samu Kemppainen.

You can see the entry list of this race at dragracing.eu. A free live stream can be seen at livestream.com/fhra.

Norway's Gardermoen Raceway hosts two days of racing at its Spring Nationals on 12th-13th June, with sportsman classes plus a few licensing runs from the 108 competitors registered. Spectator tickets are on sale on-line at ndrg.no until until 12.00 11 June. Covid rules are in place which you can see at the link.

You can see the entry list for Gardermoen at this page and results will be published on ndrg.no after the event. There will be ten car racers and five bike racers licensing at the event. One of them, six year old Martin-Emiil Petterson, will be licensing for Junior Dragster (yes, six year olds are permitted by Norwegian rules) and is profiled by Lena on the dragracingeurope.eu web site.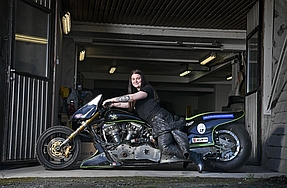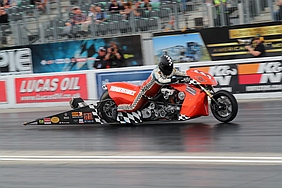 Jan Sturla Hegre is scheduled to run demo passes on his Top Fuel Bike and there are three Super Twin racers, 19 year old Julia Wagner (above left) making her Super Twin competition debut following her licensing in September 2019, Hans Olav Olstad (above right) and Trond J Høiberget. Odd Erik Fossum will be running demo passes in his Pro Modified Camaro, previously seen in Comp Eliminator. One class we haven't come across before is Small Tire Stock Suspension, which we expect does what it says on the tin.

Swift snippets.
9th June: Kieran has uploaded 37 minutes of video from the morning session of Monday's private test day to his Mk1Kieran Youtube Channel. He says: "The 2nd private test day of the year organised by Scott of Yam Yam Racing went down well with around 80 vehicles signed on for a days testing on a fully prepped track. There was a real good mixture of stuff including a huge field of serious FWD cars, a handful of Classic Fords & some American muscle too! Part 2 will follow later today".

Many thanks to Trakbytes webmaster Chris Dossett who has uploaded the latest update to the site. Chris writes: "The latest update to the Trakbytes website has just been uploaded. This time we have a total of 42 new or updated entries, plus 76 new programme covers and a dozen or so new entry lists. Some meetings that previously only contained a few details have been comprehensively updated, something that I will be continuing to address in forthcoming updates. The earliest entry this time is from 1964 (not counting a programme cover from 1931) and the most recent is 1998. There's a few other odds and ends and some record performances in there, so hopefully you'll find something of interest somewhere. I'm always open to receiving any new material or events that readers feel should be included, or indeed corrections to anything I may have got wrong".

Demo vehicles required for this weekend at SPR.
8th June: Many thanks to Santa Pod Raceway events manager James Forster who has a request for drag racing demos for the coming weekend's BMW Show:

Santa Pod Raceway are seeking a few Drag Demos for the BMW Show this Sunday, 13th June. If you'd like to come along and run with a car that runs quicker that 10.99 or a bike that runs quicker than 9.99 please get in touch with James on james@santapod.com.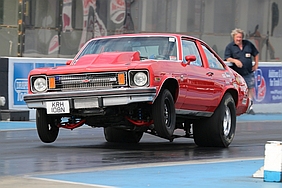 Private test top times, gallery.
8th June: Congratulations to the racers who had low ETs in each of their classes at yesterday's Private Test Day organised by Scott Lewry of Yam Yam Racing:

Class A (FWD treads) Aaron Nunn (Honda Civic) 11.4498/128.69
Class B (RWD/AWD treads) Mark Biggers (Ford Mustang) 8.4051/165.47
Class C (FWD slicks) Chris Backshell (Renault 5 Turbo) 8.8798/167.91
Class D (RWD/AWD slicks) Nathan Freke (Toyota MR2) 8.2986/172.39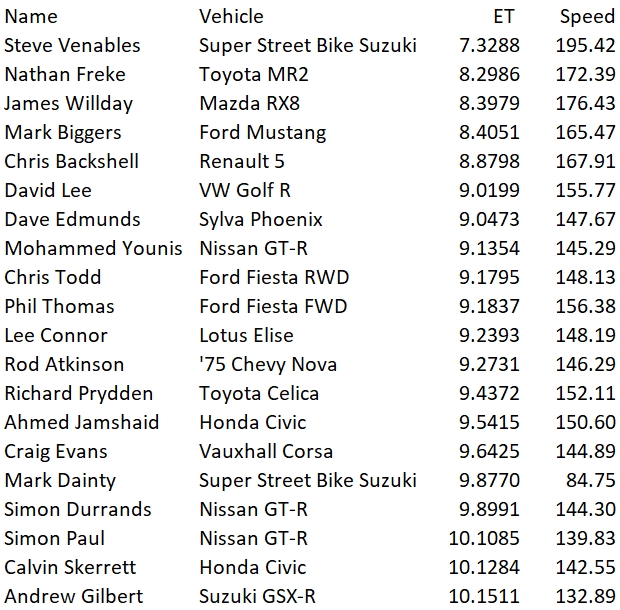 The test day was once again the beneficiary of great weather conditions. With thanks to Kieran and support from John Woolfe Racing, we have posted a gallery of 100 of his photos which you can see by clicking this link.

Streaming video and commentary from the startline tower were made possible by FWD Europe organiser Luke Stevenson who posted the video on its Facebook page.

A big Well Done to Chris 'Scoff' Backshell who ran his first nine in his Renault 5 turbo owned and tuned by his EFI Parts in Runcorn and then followed it up in his first eight. Scoff's engine has had extensive dyno work done by EFI Parts; the engine spec is Renault F4R with concrete filled block, custom Arias pistons, H beam rods, EFI Parts girdle plate, strengthened Clio 200 cylinder head, custom cams, followers & lifters revving to 8800rpm. Turbo is a GTX4202 at 52psi giving 3.3 bar (47 psi) of boost. On each of Chris's quick runs there was plenty of engine smoke from half-track as Luke Stevenson's video shows, but it held together for the amazing numbers.

You can see our top 20 list of runs to the left, congratulations to all those who ran personal bests. Commiserations to David Swift running the rebuilt John Maher Beetle whose engine threw a rod at the finish line, the resulting fire causing David some superficial burns however as a precaution he was transported by air ambulance. He told us this morning "as usual Santa pod crew were amazing and a massive thanks to all involved".

2021 FIA Championship cancelled.
7th June: Keith Bartlett, Chairman of Drag Racing Europe has kindly supplied an update on the 2021 FIA Championship:

After many months of delay and uncertainty on a final decision regarding the 2021 FIA European Drag Racing Championship events at the Tierp Arena (Sweden) in August and Santa Pod Raceway (UK) in September, we have, along with the FIA, reached a decision that even a two-round FIA Shootout Cup will not be possible to hold owing to the Covid-19 restrictions with travel and quarantine regulations.

Although the FIA European Drag Racing Championship was already a non-starter owing to cancellation of all the rounds in the UK, Sweden, Finland and Germany, we had hoped to be able to hold an FIA Cup over the two late-summer rounds in Sweden and England. This is no longer feasible.

The current plan is that each venue (Tierp and Santa Pod) will hold its own event under ASN national rules and permits, making them both now National Events. Any international teams wishing to attend either event are welcome as always.

DRE will now concentrate on setting up the 2022 FIA European Drag Racing Championship, which we all hope will be campaigned over six rounds. Additionally, the management of DRE is discussing with the FIM to bring the FIM European Drag Bike Championship alongside the FIA European Drag Racing Championship at all rounds in 2022.

ACU Springspeed Nationals report.
7th June: Thanks to photo journalist Steve Moxley for letting us know that his report on the ACU bike classes at the STP Springspeed Nationals has been published on the ACU web site.

The next round of the ACU Championship is at the Festival of Power at Santa Pod Raceway from 25th-27th June.

Swift snippets.
7th June: The Mad Welshman has updated his Flickr site with 230 pictures from Saturday at VW Breakout. You can check out Mad's pictures at this link to his Flickr Site. He says "All pictures are available as prints, canvasses, cards, calendars, t-shirts and clothing, posters, coasters, mousemats, stationery and much more".

Mälardalen Open 5 report.
6th June: Last weekend the first competitive event of the Swedish season took place at Kjula Dragway, the Mälardalen Open 5. You can see detailed results by clicking on the link on the left hand side of the page at dragracing.eu and there is a gallery of photos by Henrik Lindberg on his Facebook page.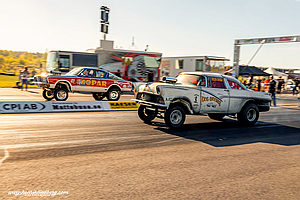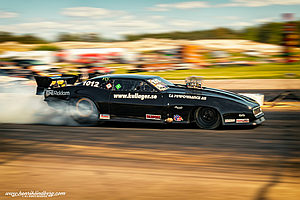 The quickest class was Pro Street (7.6s index) which was won by Anna Knutes out of a field of 11 entries. Anna, in a 632ci BBC engined Mustang built by Jerry Bickel, qualified third with 7.713/280.8kmh, then defeated Thomas Karlsson in round one, and was the beneficiary when Tommy Abrahamsson (above right) was a no-show in the semi final. Anna defeated no.1 qualifier Preben Baerentzen in the final in what looked like a pedalfest, times recorded being in the eight second zone.

Kim Norgren won the 4 to 6 Pro class in his Volvo 142, defeating Jörgen Andersson in the final 8.828/242.9 to 9.378/268.3. No.1 qualifier and quickest ET of the class went to Kristian Sjöberg in his 2.3l turbo Volvo powered Volvo 740, capable of 7s but running 8,049/275.44 in qualifying.

Congratulations to the other winners and top qualifiers in Bracket, Gathoj, Junior Drag Bike, Junior Dragster, Nostalgia Pro Stock Bike, Pro Comp Bike, Real Street, Street, Super Comp Bike and Super Gas Bike.

The next race at Kjula Dragway will be the Mälardalen Open #6 on 11th-12th June, a round of the Doorlammer Tour.

Record broken in Hungary.
6th June: Kiskunlacháza Airport in Hungary was the location of the Drag Wars Hungary vs Slovakia, part of Slovakia's Powerfest 2021 yesterday. Although results are yet to be published to the Hungarian Drag Racing web site we have heard of some of the outstanding passes with video posted on the Hungarian Drag Racing FB page. Peter Révhelyi with the Fenstermen Drag Racing Team alky dragster ran a new Hungarian record of 6.6/337kmh on a test pass. The team are looking forward to competing internationally with their car. Also Arthur Kratochwill of Green Mamba Racing made a couple of test hits in his new Camaro with a blown alky setup running a 8.0/285kmh.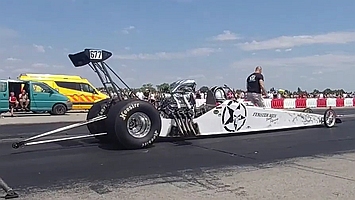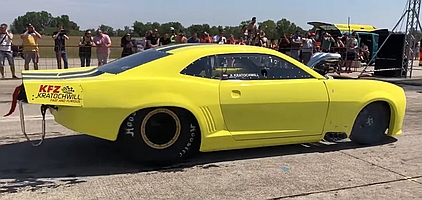 The next round of Powerfest 2021 and of the 'Drag Wars Hungary vs Slovakia' is on 3rd July at the eighth mile Boľkovce Airport in Slovakia.

Photos, video from Hal Far Test Day.
6th June: After an extended break due to Covid restrictions, the Maltese Drag Racing Association got back on track at Hal Far Raceway on Saturday with testing during the day and evening. Photographer Alex Buttigieg posted a gallery of 26 pictures which you can see at his Facebook page.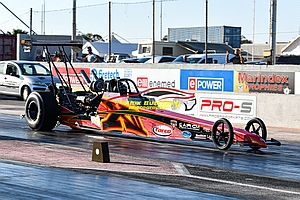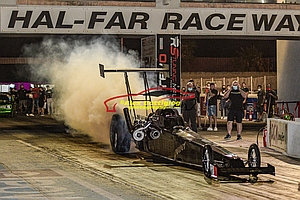 The dragsters of Tyson Debono and Neville Grech (pictured above, photos courtesy Alex Buttigieg) were amongst those testing and you can see individual videos of a lot of the test runs at MDRA secretary Konrad d'Anastasi's Youtube channel.

Yam Yam Racing stream and commentary tomorrow.
6th June: A private test will be taking place at Santa Pod Raceway tomorrow, 7th June. Organised by Scott Lewry of Yam Yam Racing, who put on a number of such events in 2020, around 80 cars and bikes will be taking part. Kieran will be there to photograph for our gallery supported by John Woolfe Racing. If you go to the European FWD Facebook page, you will be able to see a live stream plus commentary from SPR announcer Luke Stevenson.

Swift snippets.
6th June: A very Happy Birthday to Junior Dragster racer Caitlin Wilson, who reaches 18 today from Mum Rachel and the family. Have a great day Caitlin from all of us at Eurodragster.com.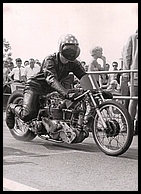 Aad Möntemann.
4th June: We were sad to hear of the passing of Aad Möntemann.

Aad, based in Zaanstad, Netherlands, was a well respected drag and sprint racer both in UK and the Netherlands at Zandvoort during the 1960s and was the first rider in Holland to record a sub 11 second 1/4 on his home brewed 750 Triumph.

In later years Aad was a visitor to Dragstalgia and UK Sprints, contributing to the British Drag Bike History private Facebook group and members can see his posts by clicking here. You can also see some of his video collection on his Youtube channel.

Our thoughts and condolences go to Aad's family and friends.

JapShow Shootout at Jap Show Lite.
4th June: This Sunday Santa Pod Raceway hosts JapShow Lite. Jap Show Lite embraces the world of Japanese cars and bikes, incorporationg a Jap car and bike Run What Ya Brung, Autoglym Show Car paddock, a special parking area exclusively for Japanese cars – and the Japshow Shootout.

Some of the quickest "Compact" cars in the UK will be competing in this new style Shootout, open to FWD, RWD and 4WD cars with 4, 5 or 6 cylinder engines and rotaries. Entries are limited to 20 cars qualifying for a 16 car elimination ladder.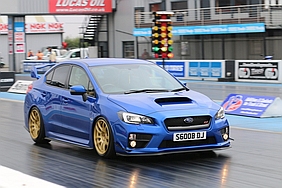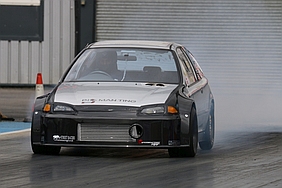 You can see full rules for this competition at japshow.co.uk/shootout.php. The entry fee is £100 including 2 weekend admission tickets to the event. All entries must be proven to have run quicker than 12 seconds to be eligible for the shootout, and gates are open at 8am Friday for ALL competitors.

The prize money, if a minimum of 8 cars qualify is £750 to the winner, £250 Runner Up, plus trophies.

You can enter for this competition at racers.santapodtickets.com. Spectator, RWYB and Show & Shine tickets must be booked online at the Santa Pod Raceway's ticket shop.

We will be posting a gallery of Kieran's photos after the event, plus results from the JapShow Shootout.

Taz Racing roll call.
4th June: Many thanks to Chris Skinner of Taz Racing for sending a report on the RWYB group of cars from last weekend at VW Breakout and a run down of what's happening in the group:

It was great last weekend, with 3 Taz cars running new personal best ETs. We were a bit low on numbers but as the year progresses and restrictions lighten we hope a few more of our cars will come out to play.

TAZ001 - Chris Skinner, red Fiat, 406 small block Chevy, has been running really well last year and this, just dipping into the 9's now and then, naturally aspirated, but last weekend I added a 150hp shot of nitrous which resulted in a 9.31 at 147mph, the quickest and fastest it has ever gone in the 36 years I have owned the car.

TAZ002 - Mark Skinner, orange Fiat, fed up with his older brother Chris kicking his a***, has decided to change from his old small block Chevy to a LS motor with a single turbo which we are currently installing; he will be out next year and it will be pay back time.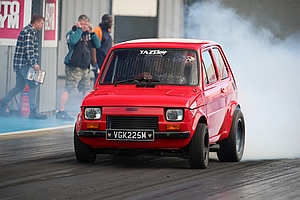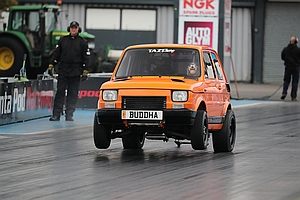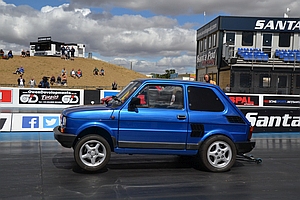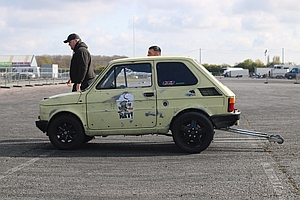 TAZ003 - Lucy Skinner (Chris's daughter), blue Fiat, Toyota MR2 turbo powered, has run down into the high 11's, she hasn't been out for a couple of years but hopefully she will return this year.

TAZ005 - Adam Skinner (my nephew, Mark's son), yellow Fiat (The Rat), Toyota MR2 turbo powered, Adam has upgraded and developed his engine and gearbox and it rewarded him with a new PB of 10.20/136mph although getting the car to keep on the track and stay in a straight line is a bit of a mission!

TAZ006 - Brian Nixon, Anglia (below, top left), naturally aspirated big block Chevy, Brian's car really came together last week with a pair of 8.9s at 150mph and for a naturally aspirated car that is very good. Although Brian has had the help of Jeff Bull's expertise in putting his engine together; on that note Jeff has had a hand in a few of our cars.

TAZ007 - Kev Preston, Austin pickup (below, top right), small block Chevy 434 twin turbo, Kev is the quickest of the group running a 8.7 at 159mph so he is the one to chase although Brian is not far behind him.

TAZ 008 - Lee Denham, Ford Capri, 400 small block Chevy nitrous, has run a 9.26 at 149mph, but there's a lot more to come. He has changed the rear to a ladder bar set up for better launches although if you have seen him I don't think he needed to!

TAZ009 - Den Reynolds, Corvette , 434 nitrous, Den has had his car as long as I have and regularly uses it on the road, his best time on the track is 10.22 although he will now have to better that as Adam is now two hundredths in front of him and he won't have that!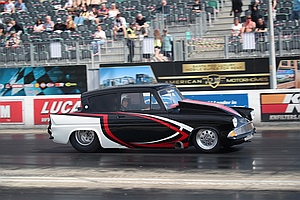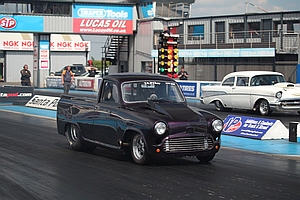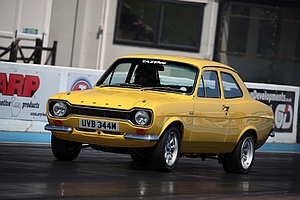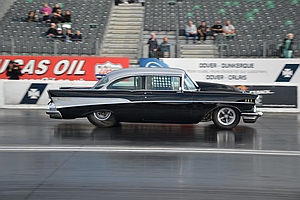 TAZ011 - Darren Scannell, Escort Cosworth (above, bottom left), anyone who goes to Santa Pod has got to know Darren's car with his mad burnouts and nutty launches; he runs regular mid 9's, but if he doesn't its usually a broken gearbox, which if you watch him change gear, you will see why.

TAZ012 - Jeff Thurston, Mustang, big block Ford; Jeff's the oldest of the gang but has the best reaction times, the car runs regular high 9's and has done for a long time, a credit to its engine builder.

TAZ013 - Paul Bentley Corvette LS with Procharger; Paul has been building the car forever so that's why you haven't seen it ,nor have we!

TAZ014 - Dave Arnold, Pontiac, big block Chevy with Procharger, at the moment low 10's but a lot lot more to come, Dave used to be with Surrey Muscle and we ended up adopting him!

TAZ015 - John Dewey, 57 Chevy, big block Chevy (above, bottom right), runs mid nines, I can only describe this car as immaculate, paint, engine, interior all great and goes well too, although being towed back to the pits in France a few years ago by a Fiat 126 didn't do a lot for his street cred!

TAZ016 - Mark Thorogood, 100e Cosworth, ran a 10.9 a few years ago, but then had a argument with the Santa Pod barrier, now fully repaired and with a new bigger turbo should be out later this year.

TAZ017 - Paul Mags, Escort Cosworth, runs high 9's; Paul is a newbie and the main reason he is with us is his wife makes exceedingly nice cakes.

So there you have it who drives what car and how fast ,we race for fun and most of the time we race between ourselves although if there's any other groups out there who fancy a bit of match racing get in touch or come and have a chat at the track. We will be at the Retro show, possibly the Mopar Euronationals, VW Action/Doorslammers and Flame and Thunder, also maybe a Saturday Night Special sometime.

You can Kieran's video of the Taz cars in action in his Mk1Kieran Youtube channel by clicking on this link.

Young photographer submits.
3rd June: Many thanks to GCSE photographer Callum Fowler who has submitted a selection of shots from the startline grandstand last Saturday at VW Breakout, a couple of which we display below (Billy Jones (Gasser Circus) and Rob Nixon (Outlaw Anglia)):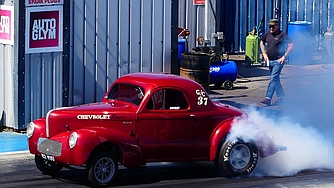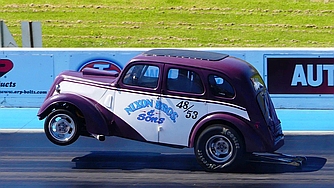 Callum says "I use a Lumix and my iPad with Snapseed to edit and sometimes Photoshop. I would be delighted if you were to use my photos and publish them". Callum's photos show that angles from the grandstands are close enough to the action to give great detail, we look forward to receiving more photos from him in the future.

Festival of Power deadline tomorrow.
3rd June: Many thanks to to Santa Pod Racers Club Secretary Ian Marshall for sending us the latest version of the Festival of Power entry list, which shows 182 entries as of 7am this morning.

Teams are reminded that entry at standard fees closes tomorrow, 4th June.

Dragstalgia call to action.
3rd June:

Many thanks to James Forster, Events Manager at Santa Pod Raceway, for sending details of the racer entry process for Dragstalgia 2021:

The 10th annual Dragstalgia is just over a month away and although it's a year later than it was originally planned for, it looks like we're finally going to be able to celebrate 10 years of the event on the 9th-11th July. Due to Covid restrictions, it's not going to be the worldwide celebration we'd originally planned for 2020 but fortunately for us, we all know there'll be one hell of a line-up from our homegrown entries alone. In a twist of fate it almost feels like the event has come full circle as International entries were few and far between in the first couple of years so we're almost back to where it all began. We are now taking entries and will continue to do so up until Friday 2nd July so if you're planning on coming along to take part, please do get your entry submitted ASAP at: racers.santapodtickets.com.

Please note that the "Pro Race Entry" option is for Cannonball and Slingshot Showdown entries only.



There is however a sooner deadline for anyone that doesn't quite fit into one of our invited classes and that is for the Custom Car Invitational which makes a very welcome return to Dragstalgia 2021. As a staunch supporter of Dragstalgia since its inception in 2011, Custom Car magazine is excited to again be taking an active role in the event with the re-instatement of the Custom Car Invitational. After a brief hiatus at the 2020 event, which never happened, the Custom Car Invitational sessions are back to showcase some of the best vehicles from the UK to join the invited race classes in making some passes throughout the weekend. Apply for your spot by emailing details of your vehicle with an image, and current PB to 2021@dragstalgia.co.uk. Entries for the Custom Car Invitational must be submitted by Sunday 13th June and applicants will be notified soon after that whether they have been successful or not.

For further information and the full event line-up, please see santapod.co.uk/dragstalgia.php.

No Prep prep.
3rd June: Many thanks to No Prep Drag Racing organiser Paul Marston for sending racer requirements for the forthcoming race at Melbourne Raceway:

No Prep 4 at Melbourne Raceway happens later this month 19-20th June; it has all the signs of being the biggest No Prep event the country has ever seen. It is the very first No Prep Nationals to be held at Melbourne; we want to support Melbourne in any way we can to ensure its future survival for everyone to enjoy. Because a lot of competitors will be first time visitors, there are a few things that the competitors will have to do and need to know. Yes, the event will be all the usual features that make No Prep unique - flashlight start, no times, no speeds, 1/8th mile heads up racing with a lot of cash prize money to be won.

Big Tyre is on Saturday; all races will be drawn out of the hat, every single race will feature cash win money. The wins and losses will create a table, from which the top 16 cars with the most wins race in the main race Sunday and the cars that didn't make the cut will race in a second chance race on Sunday. There will be trophies for both the main and the second chance race and cash prize money in the main Race. Small Tyre will be a little more traditional, Saturday features two practice hits, then straight into eliminations. Sunday is the same deal, two hits then into eliminations. There will be prizemoney for each day and trophies.

Event & license requirements

Every competitor has to be a member of the organising club, which in this case is Straightliners which you can join in 'Options' at the foot of the race entry booking.

Every competitor has to have a competition license; if you have an MSA License, that can be used. Otherwise you need to have a NORA92 License. Go on the NORA92 web site and you can purchase either a standard Straightliners license (National Basic - Adult Trials £20.00) or one with medical insurance (National Basic - Adult Competition £55.00)

Entry forms that everyone must fill in

Due to covid restrictions, everyone must go on the Straightliners web site and using promo code NOPREP40 and enter your details, plus you must list the details of your two allowed crew as well.

At the same time you can also enter other Melbourne Raceway classes if you so wish, although you will have a busy weekend racing in No Prep, so bear that in mind.

The forms must be filled in asap please. Your entry is already paid for but for covid reasons these forms are very important. We understand not all competitors do the internet so please spread the word to ensure everyone knows, that way they can get someone to do the form for them if required. This is why we have posted on Eurodragster.com in the hope that all competitors know about this.

We must thank our sponsors, Pro Modified star John Tebenham for putting up extra cash prizemoney for No Prep in Both Small Tyre and Big Tyre, same rules apply as ever with JT. The prizemoney is only paid if the event is completed and we have winners. No Prep competitor Gary Springford, through his company Drag Race Engineering is sponsoring all the Trophies in Big Tyre and Small Tyre. There will also be a special perpetual Trophy supplied by the Alder Barber Family in memory of their father Keith Alder-Barber who we tragically lost to covid earlier this year. Dave Caruso, who partnered Keith in the ownership of Heavy Chevy, will be competing in Big Tyre to honour big Keith's name.

Special thanks to all the PMR Crew who give up their time to marshal and help organise the event, could not do it without you guys. Lastly all the competitors who will make this event what it is, you simply are the show.

For extra crew tickets and spectator tickets please go to the Straightliners website and click on the Melbourne Raceway icon to book. A very big thank you to the Straightliners Organisation for hosting us.

Before it happens, I will apologise now for any mistakes we make, this is the first time that No Prep is attending what is essentially a brand new facility at Melbourne Raceway. No we won't get everything right, there will be teething issues and there will be things that could have been done better, please be patient. We will learn and it will get better, don't expect us to be perfect, but do expect a great show, the very fastest No Prep cars in the country and alot of people having a great time.

Gasser Circus at VW Breakout.
3rd June: Many thanks to Gasser Circus co-ordinator Nick Brooke Langham for sending a review of the class at VW Breakout:

What a triumphant return to Drag Racing in 2021, the VW Breakout event turned out to be, not just for the Gasser Circus but also the wider racing community. The sun gods agreed, blessing the entire weekend with copious quantities of sun and heat.

Strip action kicked off on Friday with a RWYB, with several of the Gasser Circus cars getting heavily involved. Unfortunately, the session was not without incident, the most damaging of these being when Ray Turner (below, left) in his Green Onions 55 Chevy, suffered damage to his new engine in the shutdown area. At times like this, it's always hard to find a silver lining but one later came to light, as it could have been so much worse, as the seven quarts of oil that exited the engine, thank fully did not get under his slicks. However, there was a film of oil on the inside wall of them!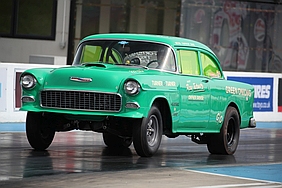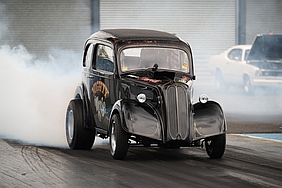 The Gasser Circus pits were rammed, the gathered Gassers included two new Gasser Circus Members, Billy Jones in his 37 Willys Coupe 'Grumpy Grizz' and the duo of Tom Margesson and John Gumble, with their eye catching 'The Tinseltown Hustler' Pop. The latter doing double duty like Ted Booth (above, right) in 'The Mighty Mouse' Pop, in Outlaw Anglia. Also in attendance was the aforementioned Ray Turner & Green Onions, Nick Barnett in the 'B&G Racing' Falcon, Tony Pearson and H in the 'Guzzler' 56 Chevy (below, left), Jason Hollamby in his 'Jumpin Jalapeno' Falcon, myself and Jungle Pat with the Austin 'Nogbad the Bad' (below, right), Slick Mick Allen and his 'Quick Buck' Corvette, Ray Irish in his 'Gas Junkie' Willys pickup, Wobbly Graham Barton in his 'High Anxiety' Devon, Steve Matthews in 'Honky Tonkin' 57 Chevy, Lee Pike making a welcome return with 'Honky Tonkin' 2, one half of the Gibson brothers in the form of Brian with his 'Identity Crisis' Dodge, Paul Dominey now in sole ownership of the 640 Austin and current reigning champion Sean 'Chili' Milsom in his 'Ain't Misbehavin' Morris van.

Saturday arrived and the fire up lanes were soon busy, with qualifying laying ahead. I think it is fair to say that most drivers were a little rusty but that was soon eradicated as everyone once again got to grips with their cars. Within the class, there were new combinations being put through their paces, with varying degrees of success. A new engine was not the exclusive domain for Ray Turner as Jason Hollamby was keen to get passes on his new 460ci engine, 11.87 was the kick off point. Steve Matthews showed once again his passion for racing in the Circus, with what was his 3rd Big Block Chevy in the past 18 months! Graham Barton was also keen to see what his new transmission and back axle would bring. 10.7 was the answer for Graham and for Steve is was a very pleasing 9.65 @ 136 mph.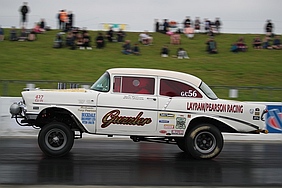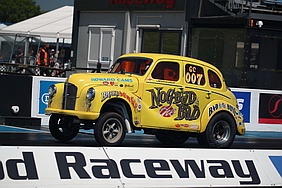 Ray Irish did not receive his Dart block in time so had a stand in engine on duty this weekend which was not blown. So it was a new experience for him, especially on his final qualifying run of the day, as during the burnout he became aware of a strange vibration, highlighted by his shifter performing a shimmy. As he brought the Willys to the line the issue appeared cured, but ran a slow 11.74. Once back in the pits, he checked the car over and was rather surprised to see the bell housing on his transmission had a crack in it. On closer inspection the crack had gone from one side to the other. Thereby ending Ray's racing weekend. He was not the only driver to miss out on Sunday, as Brian Gibson on his 3rd qualifying run rolled into stage, followed by his customary loading up the car (which can be seen via his back axle) and the moment he left the line the prop shaft UJ decide it had had enough of the strain and disintegrated, leaving the prop hanging down and Identity Crisis motionless on the startline.

Billy Jones and Tom Margesson had both announced their arrivals in the class ending their day with Billy posting a 10.72 and Tom an 11.04. Number 1 qualifier was Nick Barnett with a series of 11.44 runs on an 11.44 dial in, with Number 2 qualifier being Graham Barton. The ladder was set for Sunday, now the evening festivities could begin.

Santa Pod often organise a fly past or brief air display and at 22:52 on Saturday night those who looked skyward were treated to without doubt the fastest flypast seen at Santa Pod, as clearly visible in the dark sky was International Space Station as it orbited earth, scurrying above the sky at 17,000 mph! A rare treat to see it.

Sunday morning caught many unawares as it was bitterly cold and overcast, surely the weather was not about to turn. The sun soon burnt through and some very pink/sore spectators and racers could be seen nursing and regretting their lack of sun cream the previous day. In the Gasser Circus pits we had already lost three Gassers to mechanical gremlins, and it appeared this would soon be four. Jason Hollamby and his crew were battling an issue with their fuel regulator, and despite their best efforts, they could not control the flow of fuel and it was swamping the carb. Jason was telling me that he would have to withdraw as he only had a few minutes before Round 1 of Eliminations. Just then Dean Maudsley arrived in the pits driving his '37 Chevy gasser, and Jason joked with me that he could use Dean's regulator. Suddenly, he realised what he had said, and Jason's Pirate came rushing to the fore, and he and his crew had soon press ganged Dean into handing over his regulator. With swift work by the crew 'Jumpin Jalapeno' was back in the game.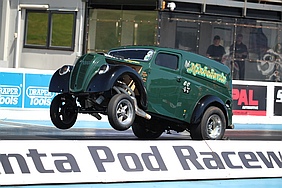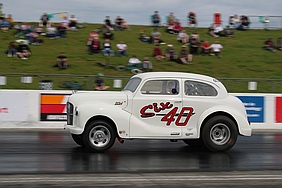 The breakages provided a few bye runs on the ladder, but it also provided some great pairings and of particular note were when it delivered two sets of twins, with two Pops and two Devon's lining up against each other. Ted Booth taking on Tom Margesson who unfortunately red lit while Ted ran 10.59 and Graham Barton taking on yours truly. Graham thought he had also red lit, where in fact he had cut a good light consigning Nogbad to a defeat. Elsewhere, Tony Pearson took the win over Paul Dominey (above, right) with a stout 10.74, as Paul broke out, Lee Pike red lit against Jason Hollamby, and Billy Jones took the win against Steve Matthews when Steve couldn't quite catch him. The breakage bye runs saw Sean Milsom, Mick Allen advance with Number 1 Qualifier Nick Barnett. Mick was keen to get as much seat time, as his he could as he was struggling to keep the Corvette running at anything under 3000 revs!

Billy Jones could not quite believe the debut weekend he was having in the Gasser Circus, and it just kept getting better. In the quarterfinals he was up against Ted Booth, and at the end of their race Billy had another win, running 10.57 on a 10.57 dial in. The next pairing had Jason Hollamby 'Jumpin Jalapeno' burning out alongside 'Guzzler' with Tony Pearson at the wheel. Tony dialling a 10.65, Jason 11.79. At the gantry the win light went on in Jason's lane as Tony had run a 10.64, such short margins is what drag racing is all about.

'B&G Racing' Falcon with Nick Barnett then took on Mick Allen, in his Corvette with the injection stacks shooting out of his engine bay. Mick ran through at 129 mph but Nick took the win running 11.50 on an 11.40 dial in. The final pairing pitted Sean 'Ain't Misbehavin' Milsom (above, left) against Graham Barton in his 'High Anxiety' Austin. Sean had dialled 10.09 and Graham 10.70, Sean knew it would be a close race, perhaps too close? The tree activated and as the cars left the line, a red bulb was lit, this one sitting squarely in Sean's lane. Sean stayed on it and broke out just for good measure running 10.05!

With Honky Tonkin and Honky Tonkin 2 previously eliminated, Lee and Steve decided to have a grudge race (below left), for bragging rights, both cars performed their burnouts and left the line hard they were side by side but by three quarter track Lee was edging ahead, and stayed there taking the win with a stonking 8.91 @ 151 mph with Steve finishing with a great 9.62 @ 136 mph.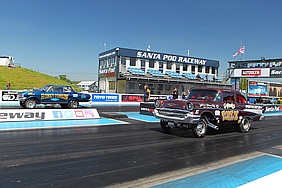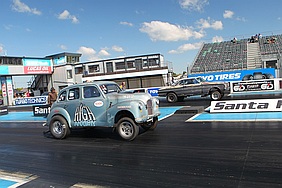 Now it was semi-final time the two pairings being Nick Barnett against Billy Jones, racing a car built originally and raced in the Circus by Nick and Ryan Welch. Graham Barton taking on Jason Hollamby. It turned out that both semi-finals were settled by break outs with first Billy running 10.51 to his 10.56 dial in and Jason running 11.74 to his 11.80. Billy was not down at all, as this was his best ET of the weekend.

The final pairing was arguably a reflection on qualifying as Number 1 and 2 brought their cars round (above right). Stout burnouts took place with Nick choosing to run the left hand lane. Graham was in his unflavoured right lane with the car being left hand drive. When the tree activated Nick was off, but there appeared a momentary hesitation from Graham, and although he gave it all he could, he could not get up with Nick who took the win with an 11.42 on an 11.40 dial in. Both drivers were well chuffed with their respective weekends work, but more than anything else we were all so pleased to be back racing with a superb group of Gasser racers, not to mention the great team at Santa Pod who keep us safe, fed and watered while at their venue. All that was left to do was to hand over the winners' cash and wicked trophy both from Neil Melliard (below), and the 'Prest for time awards'. The best bit is we get to do it all again on the 19th June.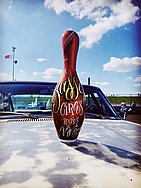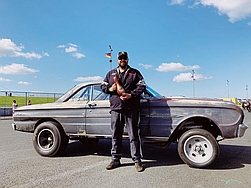 The Gasser Circus are delighted to continue their sponsorship with the National Street Rod Association and Neil Melliard's Modern Pinstriping & Lettering, and introduce new sponsors Simon Prest and Renegade Fuels.

Gasser Circus – Racing the Dream.

Swift snippets.
3rd June: A very Happy 60th Birthday to Kjell Pettersson, former Track and Racing Operation Manager at Santa Pod Raceway and Race Director and event adviser at Mantorp Park and Tierp Arena. We hope you have a great day Kjell, and see you soon.

Breakout from Tight Fit.
2nd June: Many thanks to Wild Bunch dragster owner Russ Heaven, now based in Spain but still in touch with the British drag racing scene and son Steve Heaven who is currently running and driving the Tight Fit slingshot:

What a weekend, the sun shone and the dragster was ready after some major updates on the heads and fuel system. The engine had only been put back together the weekend before and was yet to be run. Thursday morning, Steve left Swindon in the tow truck to pick up the trailer only to have half the exhaust system fall off. While checking underneath, the truck he found out why his fuel mileage was so bad, there was a leak on the LPG system!

On Friday morning the dragster was fired up for the first time this year. It didn't sound right, lots of fettling with timing and fuel followed, but then disaster!...no oil pressure. The sump was removed and the oil pump checked - it had failed. So a run out to Topspeed Automitive and a new pump and gasket were purchased and fitted. The car was fired up and all was ok but the team had lost all of Friday's test day.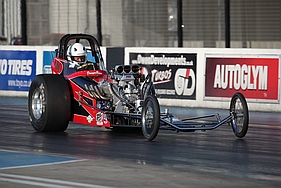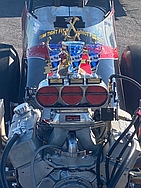 The first test run netted a 8.79 run with a new PB speed of 161.38 but another problem had reared its ugly head, oil was leaking out of the front of the valley gasket. The sealant that the team had used was out of date and had failed, so repairs were made but this meant sitting out the next run. The dragster was fired up again but there were more problems with the distributor, which was fixed eventually but that meant another missed run.

After that the car ran great. The team of Steve, Dave and Diana finished the meeting with a new PB of 8.32 and over 161 mph and came home with a hatful of trophies. The team would like to thank the Wild Bunch, especially Pete and Rob, for all their help, Diana for doing all the running around and, of course, all the crew at Santa Pod for making this a great meeting. Thank you also to Mr. Mopar himself, John O'Sullivan, for all his help and with the machining of our heads.

Wild Bunch Spring Nationals report posted.
2nd June: Wild Bunch co-ordinator Claire Meaddows has published brief news from the 'Spring Nationals' at VW Breakout to the Wild Bunch website.

The word 'brief' is actually a bit of an understatement, as Claire's race reports are very detailed and contain many snippets of racers' successes and getting over their disappointments. Being a lifestyle event, the Wild Bunch ran in qualifying to establish a fixed dial-in; Sunday's competition was to find out which racer gets closest to their dial-in on average. Here are the top four from Sunday to whom congratulations:

1st Place: Phil James in 'Rampage' 0.043 average
2nd Place: Matt Hollins in 'Cheap Thrills' 0.072 average
3rd Place: Graham Rawlings in 'Little Digger' 0.168 average
4th Place: Steve Heaven in 'Tight Fit' 0.177 average

See the Wild Bunch web site for all news about the class and its history as far back as its founding year 1995.

Speedfest slots available.
2nd June: Nostalgia Super Stock co-ordinator Don Scott has been in touch to mention that there are two available slots for his static drag car display at Brands Hatch Speedfest on 3rd and 4th July, Independence Day.

This event which should see full crowds, NASCAR style racing and a great atmosphere and doesn't clash with a Santa Pod NSS round, as their next race is at Dragstalgia a week later.

Talking of which, Don is hoping for a field of 50 cars meaning a 64 car ladder at Dragstalgia, and his own Superbird back in the thick of competition. "It had no major problems, although I had to be towed back from the start line due to the oil pressure switch suddenly started leaking from behind the dash, a five minute fix by Jack Bishop and then back out again, which I hope allays people's concerns that the 'Bird was out of the competition".

"I reckon we are the most exciting and fast growing class there is ... but then I would say that…".

Gredzinski new book to focus on '80s.
2nd June: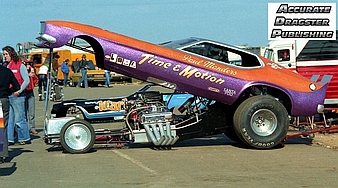 Many thanks to photojournalist Mark Gredzinkski for letting us know about his new project:

"Just a quick thing about my drag racing book. Being as I'm called Accurate Dragster Publishing, I felt I'd better get on and do a drag racing book! Following the ongoing success of my truck book, Midnight Movers which has had only happy customers and positive reviews (I'm relieved to say - one never knows!) I intend doing a book for the end of the year. Its only in the planning stages but collating and scanning pictures has commenced.

"The emphasis will be on quality. I have had great feedback from purchasers of Midnight Movers I have a reputation to keep.. I've contacted my printer and priced it all up as it needs to be viable as I make my living doing this and I have more titles planned.

"It will cover drag racing in the 1980's which is sometimes a forgotten decade but had many significant aspects to it. Not to mention, cars and bikes too. At least 90 percent of the pics will not have been seen before, so it promises to be a book that most fans will relish!"

Mark promises more details later as work progresses and has sent a photo of Paul Manders' Mustang Funny Car from 1980 to whet our appetite.

Swift snippets.
2nd June: Happy Birthday to former Santa Pod Race Director, drag racing fan and Eurodragster.com team nutritionist Syd McDonald. Have a great day Syd and see you soon.

The SPRC club points have been updated with bike classes including Top Fuel Bike, Funny Bike, Super Street Bike, Comp Bike and Junior Drag Bike. Thanks to Yvonne Tramm for the updates which you can see by clicking here.

M&Ms at Springspeed Nationals.
1st June: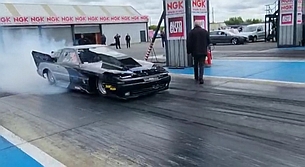 Many thanks to Michelle and Mark Turner, aka M&M Racing, for sending us an exclusive report on the successful conclusion to Mark's licensing for Super Pro ET at the Springspeed Nationals.

Ok, so we are week in from STP Springspeed Nationals at Santa Pod Raceway and it can only be described as a exhilarating and frustrating weekend! Having arrived and got the pit setup on Thursday afternoon, after a very windy night Friday dawned wet and windy. We took down what remained of the 'heavy duty' gazebo and prayed for the dry spell in the weather that never came. The plan had been to complete Mark's licensing runs and then turn the engine up to see what the car would run before qualifying, the weather had other ideas and the day was called in the early afternoon.

Saturday started dry and a lot less windy we warmed the car and got it ready for qualifying and to complete the required licensing half pass with a parachute release. With Mum and family watching on from the grandstands we had zero drama on this one apart from the cherry on the tree, we qualified 16th. So back to the pits and from looking at the timing ticket we made some adjustments to the engine and picked up the launch rpm, again the weather had other ideas and the day was called at about 4pm.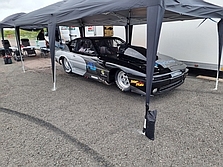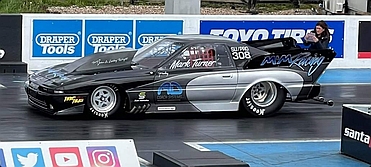 On to Sunday and we were told that there would be another shot at qualifying before going on to eliminations. So with a few things turned up we went out with a few goals first for Mark to complete his first full pass and get his licence and to solidify our qualifying position. Dialed in with an educated guess 8.75, Mark performed a perfect burnout and rolled into stage; he cut an 0.03 light and a solid 9.47 to get back his 16 spot.

Back in pits talking with John and Lesley Wright, we thought something didn't look right with the timing ticket which prompted us to take an extra careful look over the motor, at this point it was spotted that we had only been getting about 75% throttle due to the setup on the carb linkage. Adjustments were made akin to removing the training wheels from the car and we were ready for our round 1 race against Dave Russell in the van with no name but again the weather had other plans and the event was called.

So here we are with the accidental throttle stops removed, the launch turned up and the driver legal to race but we will have to wait for the Festival of power to see what the car is capable of running. Grateful thanks go out to John and Lesley Wright, Luke 'pro-jack' Shakeshaft, Paul and Dave and Michelle for keeping us all fed and watered and for the great camera work on the start.

Post-Springspeed points posted.
1st June: Many thanks to Yvonne Tramm for forwarding the latest points standings in the UK National Drag Racing Championhips and SPRC Club Championships after the STP Springspeed Nationals. You can check out the UK and SPRC points on our points standing pages by clicking here, or by clicking the Points Standings link under News in the main menu above.

Points for ACU bike classes will be published at a later date.

VW Breakout racer snippets.
1st June: A much appreciated VW Breakout came to a successful conclusion on Sunday 30th May at Santa Pod Raceway. Following yesterday's results and our full event coverage, today we focus on the racers who either sent in, or posted on social media, their comments.

Nostalgia Funny Car driver Andy Raw (below left) said "Wow, what can I say, VW Breakout, what an absolutely brilliant lifestyle event - we learned a lot with the Nitro Bug as we have made some big changes to the car. I can't thank enough our dedicated crew, these boys and girls worked tirelessly the whole weekend, and even managed to put an unplanned extra run at the end of the meeting to close the show. Thanks to our sponsors for making this possible, Cool Flo, Fastec Racing Ltd, Lite-Steer, TSR engine conversions and Jason Phelps of FGR Motorsport".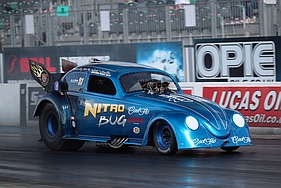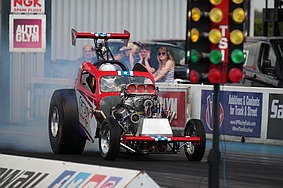 The quickest Supercharged Outlaws racer on site was Robbie Grabham (above right) in the Freddie's Revenge blown alky altered at 7.055/193. The team have sorted the machine to the point that talented driver Robbie can handle it with confidence. The team remarked "With PB's being set on every increment on the track we are all chuffed as nuts. I'd just like to thank everyone who congratulated or wished us well over the weekend, the response we have had from everyone has been fantastic!"

Fellow alky altered competitior Gary Parkes said "What a fantastic week end we had, a new PB 7.8/176 mph; thanks to all at Supercharged Outlaws for their help and advice. We had a few issues, severe bouncing and nearly ending upside down after the finish, big thank you to all the Santa pod safety crew and ambulance. Then the rear wing decided to leave the cage and smash into the rear body And after all that, getting ready for the last run we couldn't get any oil pressure. On investigation in the workshop on Monday the team turned the engine over and had full oil pressure. That's a relief for us sorted out other issues brakes etc and now to building a new rear wing I do need a 12 foot parachute if anyone has one. A big thanks to Carl Bergfeld in making it all happen to get into the sevens and thanks to Christy Bergfeld and Chrissy Parkes".

You can see Outlaw Anglia racer Jedd Guy's report yesterday, wife Jemma added "We were so chuffed for our customers and fellow racers Mick Taylor and Colin Millar who came away from VW Breakout as Winner (Mick) and Runner Up (Colin). Mick came to us over winter for some new bigger headers to be put together for him and for some other bits to be mounted. Colin had a new four link, new track locator and we mounted the new wing and twin chutes".

Brian Nixon wrote following a successful OA race for brother Rob Nixon (below left). "This was probably the best weekend I've ever had in 50 years of attending race meetings at Santa Pod. It was hard the imagine the car hadn't even been started since last year until Tuesday. The new artwork was literally still wet, having only being added by the incredibly talented Sam Trench who managed to fit me in at the last moment and completely got what I was looking for. We honestly didn't think that Saturday's qualifying high could have been topped, but there you go, and we got all the way to the sportsman finals. I have to thank my wife Alison who puts up with and supports me, Rob Nixon who knows no fear and always has the answer, and Donna Nixon our chief entertainment officer for her boundless enthusiasm. Thanks to all the OA family".

Eurodragster.com sponsor Jon Webster (below right) was the quickest OA at 7.15 and showed visible improvement in avoiding tyre shake for the first couple of hundred feet, who knows what would have happened if he had more runs?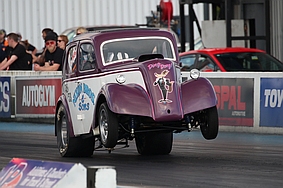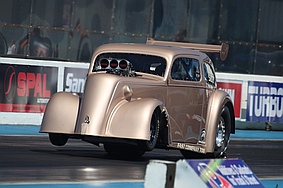 Fellow racer Doug McClure said "First time ever racing for me, what an absolute amazing weekend. I'd like to thank everyone who helped me. I'd also like to say I was made very welcome by everyone. A big thanks to Mark Bracking and Rachael Raych Hamilton and Matthew Mcclure. Roll on Dragstalgia weekend, well done everyone!

Less lucky with various engine woes were Peter Butler, Adam Cuthbert Gary Bird and Ben Kennedy; we hope they can return to the track asap.

Class co-ordinator Don Scott (below right) summed up Nostalgia Super Stock: What a weekend, lovely weather and a fantastic array of race cars and racers, loads of PB's all weekend and some fantastic close racing as always.

Starting off, well done to Dave Billadeau (below left) for taking the win, and Rob Tyrrell taking the runner up spot, well done both, a fantastic effort. Well done to everyone that took part and made this class what it is, the most exciting and fast growing class there is, and looking forward I can see it only getting better.

Commiserations to those that suffered breakdowns and failures, sadly there were a few this weekend, a racer's car on the trailer during an event is not good to see but inevitably part of this sport we love so much. I hope you guys get the problems sorted in time for Dragstalgia. Many thanks to Andrew Bishop for all the running around to get all the pairings sorted.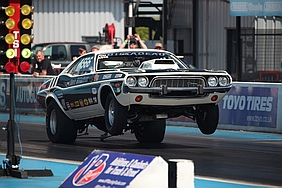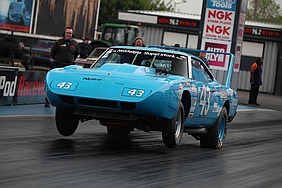 Finally, many thanks to my crew Yvonne O'Rourke and Grace Roaf and Grace's friend Dave for all the help etc, the 'Bird ran strong but with 19.2 slippage through the drive train due to a failing converter it was never going to be that consistent, but i got through a couple of rounds of eliminations before being put on the trailer by Dave. Thanks also to Jack Bishop for sorting out a broken oil pressure switch for me.

Dragstalgia is in around five weeks time I believe, so lets get ready to put on another great performance with what I believe will be a huge field of cars ... see you all there!

Gary Carr, one of the quicker runners and getting close to the 8.90 cut off for the class said " It was my first ever competitive bracket run in my life and I went out in first round, I've got a lot of learning to do and looking forward to the challenge with a great bunch in UK Nostalgia Superstock Thanks for an awesome weekend.

Jacob Kopasz returned to the track to race in VW Heads Up six years after his last Junior Dragster race, in a Golf Mk4 with fellow ex JD racer Rhiannon Bellenie on the crew, however Jacob was not able to make the 11.99 cutoff for competition, running a best of 13.830/102. Dad Bruce Kopasz in a Porsche 924 suffered the same fate, with a best of 12.504/121, as did three other racers.

Dave Lea (below left) of 15 Degree Racing in a nitrous VR6 engined Golf, sporting a new CG motorsport clutch, qualified 13th, just below the cutoff with a 11.801/119, but during eliminations showed more consistency and reliability than his peers. In round 1, Dave was the recipient of a bye-run when Adrian Solly's R32 turbo Audi A3 suffered multiple gearbox breakages. You can see a video account of the Adrian's L8 Goose woes by crew member and VW Up! racer Charlie Roberts via Youtube.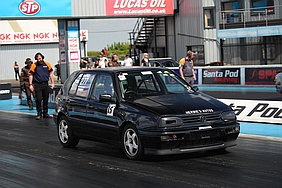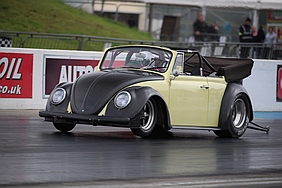 In the second round Dave again benefited from a bye run when Jacob Bailey's turbo VR6 Jetta was a no show, suffering a broken drive shaft. Gaining in confidence, Dave ran new PB of 11.403/119, realising he was already into the final with a 'competition bye' from the 13 car ladder.

On the other half of the ladder, Richie Webb (above right) in his RJ Volks Performance Beetle Cabriolet qualified first with 9.400/143, then had a bye in round one (9.830/137), a defeat of Graham Fairhead's Type 3 Fastback in round two (9.301/151), and then really turned it on in the semi final with a 8.165/164.87 defeat of Paul Jordan's Polo.

But in the final Richie suffered breakage meaning Dave singled to a 11.998 for the win, to show that reliability and consistency were the key to winning this heads up race.

There were some outstanding passes from the large Run What Ya Brung contingent. A group of twelve Wild Bunch cars ran their own class within the RWYB and were joined by many VWs, Outlaw Street and Taz Racing. Outlaw Street racer Simon Paul (below left) sent us this account of his weekend:

"I had a great day at the VW Breakdown event at Santa Pod on Saturday. I just did one run in the morning RWYB session in my Nissan GT-R - but what a run it was! I got a great launch with a PB 60ft time of 1.5443 and went on to break into the 9 second zone for the 1st time with 9.8465 @ 142.47mph! It is 45 years since I made my 1st run at Santa Pod on 28 March 1976 - so this was a great way to celebrate this anniversary!"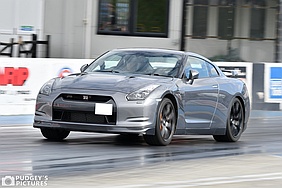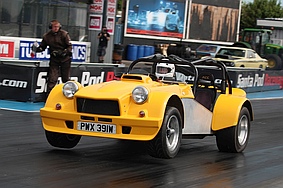 Others with notable runs included Russ Pursley (above right) and his 434ci SBC V8 powered Dutton Phaeton kit car which ran down into the eights (8.7454/151.12), a string of runs for Steve Mitchell in Snow White (best 9.5739) and Dominic Sharpe's Firebird which went into the nines 9.7916/140.79. Three Taz Racing cars had PBs, Brian Nixon (Black 105E) 8.93/150, Chris Skinner (Red Fiat 126) 9.31/147 and Adam Skinner (Yellow Fiat 'The Rat') 10.20/136. On the VW side Dave Crowhust brought back the rebuilt Wanger, now showing Carbuilder.com lettering and running down to 9.9211/132.55 on its first time out.

More photographs of action from VW Breakout are from Alice Fairhead, a sample of whose work you can see at the AF Photography Facebook page. Alice says "I have got around 1500 photos in total so more are available if people are interested." You will be able to contact Alice using Facebook Messenger, via her e-mail afphotographyalice@gmail.com or by mobile phone on 07413 088768.


Earlier news